With the cooperation of the Yunus Emre Institute (YEE), the "Festivals in Malatya!" event will host festival directors from Kosovo, Macedonia, Hungary, Italy, Albania and Montenegro.
Under the context of the Malatya Film Platform, a panel will be organized on Nov. 11. The panel, which will host international festival directors from six countries, will discuss the popular making-of processes such as the application and evaluation processes in addition to choosing festival demos.
The festival makers, including Edmond Topi as director of Dea Film Festival, Luigi la Monica as the director of Lecce European Film Festival, Andro Martinovic as General Director of Cinema for Montenegro, Nita Deda as the project manager of DokuFest, Vjosa Berisha as the festival director, Fatos Berisha as the art director of Pristhina Film Festival, Aneta Matovsk as the program coordinator of Manaki Brothers Film Festival and Geza Csakvari as the art director of Miskolc Film Festival, will also meet festival lovers in Malatya. For the schedule of the festival, which will bring local and international filmmakers together in Malatya, you can visit the festival website and follow the daily timetable for films and events.
Entire city becomes a festival venue
The Malatya International Film Festival goes on expanding its scope in its eighth year. The sections the "Festival is Here" and "Maybe a Film Comes to the Village" will bring together thousands of cinephiles this year.
Thanks to the "Festival is Here" section, children, individuals with disabilities, guests in Syrian camps and elders residing at seniors centers will experience festival joy. And under the context of "Maybe a Film Comes to the Village" section, all the films on the festival schedule will be displayed in all districts of Malatya. Both sections mentioned will offer 11 films and 19 displays in total.
Films in Children's Shelter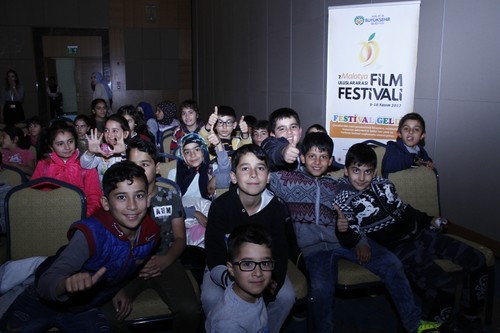 As part of the program "Festival is Here," children who live at Malatya Children's Shelter Complex which offers service under Ministry of Social Policies, will have the chance to experience cinema. Offered with an aim to feed children's interest in cinema, festival films will be on display between Nov. 10 and 15.
Festival removing barriers
This year's festival will offer six films, three of which are supported with audio description and sign language kits while the other three are suitable for cinephiles with walking disabilities. At the display halls, which are specially designed with access and physical needs of individuals with disabilities in mind, cinema lovers will be offered venues where they can enjoy their time. Attracting great deal of attention last year, film screenings that are realized with the attendance of nongovernmental organizations in Malatya, rehabilitation centers, sports clubs and cinephiles, will be more far-reaching this year.
'Festival is Here' for the elderly
Nursing home residents will enjoy the 8thMalatya International Film Festival like they did last year. Elderly residents, who will be offered outstanding Yeşilçam films (the sobriquet that refers to Turkish film industry). They will go on a nostalgic journey on Nov. 10.
Time to get to know cinema
With an aim to reach settlements that don't have any acquaintance with cinema thanks to "Maybe a Film Comes to the Village" event, the festival will spread the joy of the festival to all of Malatya. "Festival is Here" and "Maybe a Film Comes to the Village" offer very special films and events selected by special education teachers and academics.
Honorary Awards
This year's honorary awards for the festival will go to acting masters Perran Kutman, Şener Şen and master director Osman Sınav while the Cinema Labor Award will be given to makeup artist Derya Ergün. In addition, owner of Malatya Yeşil Cinema Halls Hüseyin Yeşil and Fono Film CEO Cemal Okan will also be given awards.
Finalist Projects for Film Platform
The finalist projects of Malatya International Film Platform, which will be held for the first time this year under the context of the 8th Malatya International Film Festival, have been announced.
Malatya International Film Platform, which will be realized under the context of the festival between Nov. 11 and 15, 2018, has eight finalist projects selected by a pre-jury.
"Beyaz Ekmek" ("The White Bread") by Murat Eroğlu, "Bir Tutam Karanfil" "("A Handful of Cloves") by Bekir Bülbül and Büşra Bülbül, "İntiharımdan Kocam Mustafa Sorumludur" ("My Husband Mustafa is Responsible for my Suicide") by Cüneyt Karakuş, "Itirilmiş Cennet" ("The Lost Paradise") by Ferec Süleymanov, "Nisyan Makamı" ("The Point of Oblivion") by Ayşe Nur Gençalp, "Qurd" ("The Wolf") by Rufat Kerimzade, "Reqqas" ("The Dancer") by Orhan Ağazade and "Zamanımızın Bir Kahramanı" ("A Hero of Our Time") by Miraç Atabey are the finalist productions.
Three projects selected by the main jury, which consists of Turkish scriptwriter and director Mesut Uçakan, Iranian distributor Mohammed Attebani and Azerbaijani scriptwriter and director Orxan Fikretoglu, will be granted the Screenplay Development Support Award worth TL 30,000 ($5,600).
Crane in the leading role
Stating that preparations are almost complete for the 8th Malatya International Film Festival, which will host distinctive cinema films and important guests from various countries, festival director Suat Köçer said, "We promoted the exploration coming with diversities at this year's program. Cinema is an art that overcomes boundaries, impossibilities, diversities and that brings nations together. With such motivation, we preferred to adorn the festival poster with a crane which is symbolized as the messenger of emotions and accepted as one of the leading figures in Anatolian folk culture."
"Having a wide coverage in folk literature taking part in tales, epics, ballads and poems in addition to passing down from generation to generation, the crane has an important place in Islamic philosophy and in various beliefs and disciplines in Anatolia. By the way, it is a migratory bird. For this reason, we tried to offer it as a symbol of the unifying power of cinema that brings together people with similar emotions all over the world. The crane motive used on the poster is designed by Neslihan Özceylan with an understanding compatible with the patterns of traditional Turkish arts."
Nuri Bilge Ceylan's masterclass
Selected as the jury president for the 8th Malatya International Film Festival's International Feature Film Competition, world renowned director Nuri Bilge Ceylan will share his experiences with filmmakers at a masterclass on Nov. 12.