Creating a piece of literature requires real talent. From poems to novels, from plays to prose, they are all a process of deep thoughts, inspiration and creativity. Every literary form seeks a different literary technique, tone, content and even length. When it comes to length, two types of prose are always compared: The novel and short story. While some think that writing a novel is more difficult than a short story because of its length, others think that writing a short story is risky and dangerous because of its deepness.
However, there is one certain thing that short stories do, they say what they want to say in a much shorter way, and this makes their work harder. Author Neil Gaiman says: "Short stories are tiny windows into other worlds and other minds and other dreams. They are journeys you can make to the far side of the universe and still be back in time for dinner." This supports how these stories convey their message in a short period. Every sentence in these stories is vital and has deep meaning.
The same goes for short films. They try to tell their perspectives in a much shorter time than feature films, and like short stories they try to convey their point in fewer pages. They are like messages in a bottle.
Italian-American filmmaker Martin Scorsese said about his short film "The Audition," which he shot in 2005 starring Robert De Niro and Leonardo DiCaprio: "A short film is even tougher in a way because it has to be a film. It has to be not something that is a prologue to a bigger work, it has to be contained in of itself."
Maybe this is the most difficult part of shooting a short film. The director should present not a preliminary production, but a comprehensive film that can convey to spectators its meaning in a short time. The time that is given for character and environment introduction and the development of events is so limited in short films as compared to features. They deserve to be appreciated for such difficulties along with their being an artwork.
Within this context, the Malatya International Film Festival comes to the forefront as one of the organizations that shows respect to short films. The festival has four main competition categories, and two of them are the International Short Film and National Short Film Competitions.
International Short Film Competition
The jury members of the International Short Film Competition at the 8th Malatya Film Festival, which closed yesterday, were Iranian filmmaker and festival director Amir Masoud Soheili, Mehmet Bahadır Er and Lina Bokhary, who has been the head of the Cinema Department at the Palestinian Ministry of Culture since 2015. Five authentic films competed in this category. The first one is Iranian director Rasoul Iranzad Aghamırlu's "The Slaughter," which tells the story of a lonely hunter who has a double character. Azerbaijani director Ruslan Aghazadeh's "Short" was the second film. The film revolves around a protagonist named Sakhavat. He is too short to do his military service, and no one in his village allows their daughter to marry someone who has never served in the army.
The next film was Egyptian director Mahmoud Samir's "Red Velvet," which depicts the story of Nancy, who suffers sudden cardiac arrest on the silver screen. The fourth film of the category was "The Teacher," directed by Maxim Elagin. The film focuses on the lonesome life of a retired literature teacher. Even if he does not like the modern world at all, it will break into his house one day. The last film was Violeta Trincado's "Zacarias." The story of the film concentrates on the meeting of a homeless man named Zacarias, a man in a suit and a taxi driver in a traffic accident. Going back in time, an insignificant detail, like the butterfly effect, will change the fate of the characters.
National Short Film Competition
Emre Konuk, Ömer Sami Sevimli, Tuba Özen Deniz, Natali Yeres and Neslihan Atagül Doğulu served as the jury members of the National Short Film Competition. Many short films of original stories took place in the national competition. Directed by Yiğit Evgar, "Balık Kraker" ("Fish Cracker") was the first film. It tells the story of a brother and a sister. They are forced to leave the place they call home after the sudden breakup of their parents. When they return home to bid farewell to their father, they realize that neither the home nor their father is the same.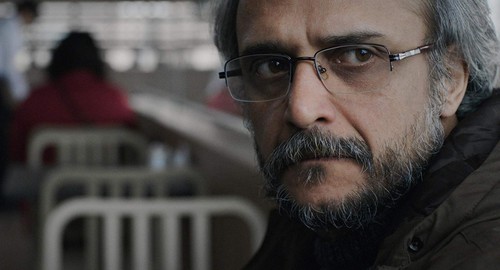 A still from Cenk Ertürk's "Kimse Elimi Tutmasın" ("Shall No One Hold My Hand").
Written and directed by Elif Eda, "Boşluk" ("Void") was among the competing films. The film, which premiered at the 2018 Tirana International Film Festival (TIFF), an Academy Award-qualifying organization, is about a woman named Simge. She wants to breakup with her boyfriend but cannot decide how to deliver the news. So she starts to rehearse it with Halim, the delivery guy at her door. Speaking to Daily Sabah, Elif Eda said she has always been interested in human relations, the balance of power and what can be experienced between two people. She noted that her previous films were all shot in this direction. Stressing she shot this film as an exercise when she was in New York, the director added that she improved the film later and started to work with one of her producer friends on it by chance.
The director highlighted that the biggest problem experienced while shooting the film was finding the cast. She said people do not want to be involved in the cast when it is a short film. While talking about this problem, Elif Eda also referred to other problems of short films in the sector. Implying they, unfortunately, do not have a real place in the sector, she added that film festivals like the one in Malatya should be varied as they are the only media to introduce short films to spectators. The director also drew attention to the fact that short films are totally different expressions although they are seen as a first step before shooting a feature film. Emphasizing the importance of the material in short films, she continued, "The material, which determines what you want to give to spectators with your film, feeds the technique, type and length of it."
Vehbi Bozdağ's "Görüşme" ("The Conversation") was another film in the competition. It centers on a character named Faruk, who tries to pluck up courage to talk about a matter with his boss.
Metehan Şerifoğlu attended the short film competition with "Her Şey Yolunda" ("Everything is Fine"). The story of the film revolves around a high school student named Bayram. He works for a textile mill after school to support his family. After his father dies, all the responsibility of the family is undertaken by his elder brother. When his brother's time to serve in the army comes, Bayram goes down a road he has never known.
Cenk Ertürk's "Kimse Elimi Tutmasın" ("Shall No One Hold My Hand") was in the competition as well. The film starts with a long queue at the cafeteria of a rest stop. A middle-aged man, Emre, refuses to let a young mother rushing to buy a bottle of milk for her baby go in front of him. A conflict occurs when Emre's father also gets involved. Daily Sabah met Alp Ertürk, the producer of the film, to talk about the process of the film. Ertürk said Cenk Ertürk was chosen by the Cannes' Cinefondation to participate in the 33rd Session of The Residence from Oct. 3, 2016, to Feb. 15, 2017. When he was at a sector meeting, his feature film, the screenplay of which he developed there, was much admired, and he was asked to shoot a short film version of it. This is how "Shall No One Hold My Hand" started. The producer added that this short film presents what happened 15 minutes before the story in the feature film. He stressed that their feature film occurred first and then the short film was to be shot, although the situation is reversed in the sector. Like director Elif Eda mentioned before, Ertürk remarked that short films are used as a step for feature films in practice even if they are different genres.
Comparing short films to a 100-meter race and feature films to a 1,000-meter race, he stated that feature films seem more difficult but short ones need much more acceleration. He added that film festivals in Turkey will affect the young generation and better organizations will be formed. He said that the cinema sector in the country will improve in this way.
Directed by Hamza Uysal, "İlkbahar" ("Spring") competed in the national category as the film that reflects the lost harmony between human beings and nature. Tahsin Özmen's "Pantolon" ("Trousers") was also in the village. The film presents a man who wants to go to a city in Turkey where men must wear trousers and hats because of the modernization law. Another film in the rich selection is Murat Çetinkaya's "Sonsuz" ("Ad Infinitum"). The film reflects a problem of authority between a leader and subordinates in a mysterious universe.
The last competing film was Harun Köybaşı and Alihan Erbaş's "Sen Adam Mısın?" ("Are You a Man?"). The documentary-short film narrates the real-life story of Cemile Kamacı, who has three sons. Her husband abandons them, and she takes on the responsibility of running the family. Köybaşı and Erbaş told Daily Sabah that they shot this short film as they wanted to start with the hardest technique in the cinema sector. Köybaşı said that documentaries require fast reflexes as everything moves so fast in them and the director needs to shoot everything. Mentioning the process of their films, the directors remarked that they saw Kamacı's story on the news and prepared to shoot her film.
Referring to the problems of the short film sector in Turkey, the directors gave their situation as an example and noted they covered all the expenses of the films themselves. For the directors, the success of short films is based on conveying the message in a concise way. They added that this is what they aimed to do in their competing short films.