Atlantic Records founder and Chairman Ahmet Ertegün was known for discovering many leading rhythm and blues and rock musicians. Ertegün has been described as "one of the most significant figures in the modern recording industry." He is also the man who had introduced European football to the United States; he founded the New York Cosmos soccer team that led the way to the creation of North American Soccer League.
When Martin Luther King remembrance day comes, I automatically remember him simply because he is one of the fighters of the movement Dr. King created. Thanks to him, in the 1940s the Turkish Embassy was a place where African Americans could go freely to hold meetings, perform their arts and talk to the press.
Ahmet Ertegün's father Münir Ertegün was the second Turkish ambassador to the U.S. in 1940s. His wife Hayrünnisa was an accomplished musician who played stringed instruments. She introduced their two sons, Nasuhi and Ahmet, to popular music when her husband served as the Turkish ambassador in London. The two brothers fell in love with jazz music when they moved to the U.S.; Ahmet met Duke Ellington when he was nine years old in London.
Ahmet found his way to the heart of Washington, D.C.'s black music district where he met again with Duke Ellington, Cab Calloway, Billie Holiday and Louis Armstrong.
In Washington, D.C., Ahmet began to see a different world: "I began to discover about the situation of black people in America and experienced immediate empathy with the victims of such senseless discrimination, because, although Turks were never slaves, they were discriminated against in Europe because of their Muslim beliefs."
Ertegün begun to organize "music nights" and other meetings with the leaders of the movement Dr. King created. When the so-called friends of Turkey in the U.S. Senate warned the Turkish Embassy not to permit African Americans to attend social events at the embassy, the ambassador's response was very harsh. The U.S. Department of State offered a compromise that black visitors be admitted from the back door of the embassy. Ambassador Ertegün responded that his son's guest were the guests of Turkey, and all guests of the Turkish Republic would enter through the front door as equals.
Maryland police arrested his son Ahmet for violating segregation laws in Annapolis. It was going to be a full-fledged diplomatic crisis if some people at the State Department had not stepped in. Ahmet was released the next day.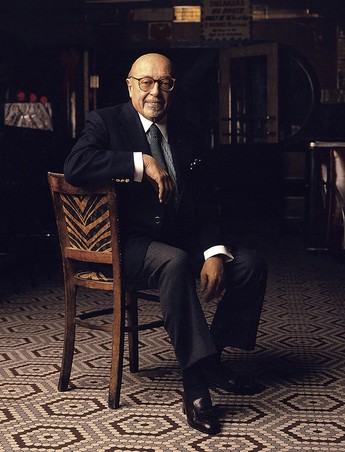 Ahmet Ertegün
The two brothers' interest were even more motivated after this incident. They assembled a large collection of over 15,000 jazz and blues records and become acquainted with musicians such as Ellington, Lena Horne and Jelly Roll Morton. They began staging concerts by jazz giants, often at the Jewish Community Center, because other outlets would not allow an ethnically mixed audience and mixed band. They traveled to New Orleans and to Harlem to listen to and collect African American music. Soon afterward, the family returned to Turkey; Ahmet and Nasuhi stayed in the U.S. Ahmet decided to get into the record business and founded his Atlantic Records to publish these songs he collected.
Ertegün eventually sold Atlantic to Warner Bros.-Seven Arts in 1967 for $17 million in stock. But his efforts to help keep the African-American music and musicians get through the long racial discrimination period were honored when Ertegün was inducted into the Rock & Roll Hall of Fame in 1987.
Ertegün received an honorary doctorate in music from the Berklee College of Music in Boston in 1991, and was awarded the Grammy Trustees Award for his lifetime achievements in 1993. At the 10th annual Rock and Roll Hall of Fame Induction Dinner in 1995, it was announced that the museum's main exhibition hall would be named after him.
He passed away 11 years ago. He was buried in the Garden of Sufi Tekke, Özbekler Tekkesi in Üsküdar, Istanbul, next to his brother, his father, and his sheikh great-grandfather Şeyh İbrahim Edhem Efendi, who was once the head of the tekke in his native Turkey.