The 3rd High Tech Port organized by the Independent Industrialists' and Businessmen's Association (MÜSİAD) showcased the latest in Turkey's defense and aviation to inspire national talents for the creation of global powers with what is called the 4th Industrial Revolution. The event brought together the leaders in Turkey's defense industry and featured high-tech products including the country's main battle tank "Altay," manufactured by Turkey's largest private defense company OTOKAR, the new ballistic-reinforced tactical armored vehicle "Hizir," developed by the Katmerciler Group,. Vestel's tactical unmanned aerial vehicle (UAV) "Karayel," defense industry giant Aselsan's "İhasavar," and missile manufacturer Roketsan's laser-guided rocket system "Cirit."
Military delegations from countries around the world came together for the event which marks Turkey's investments in the defense and aviation industries, as it prepares to export high-tech defense industry products.
Organized in the scope of the 16th MÜSİAD EXPO at the CNR Expo Center, the 3rd High Tech Port is a conceptual business and market development platform focused on the defense and aviation sector, kindling the flames of Turkey's 4th industrial revolution.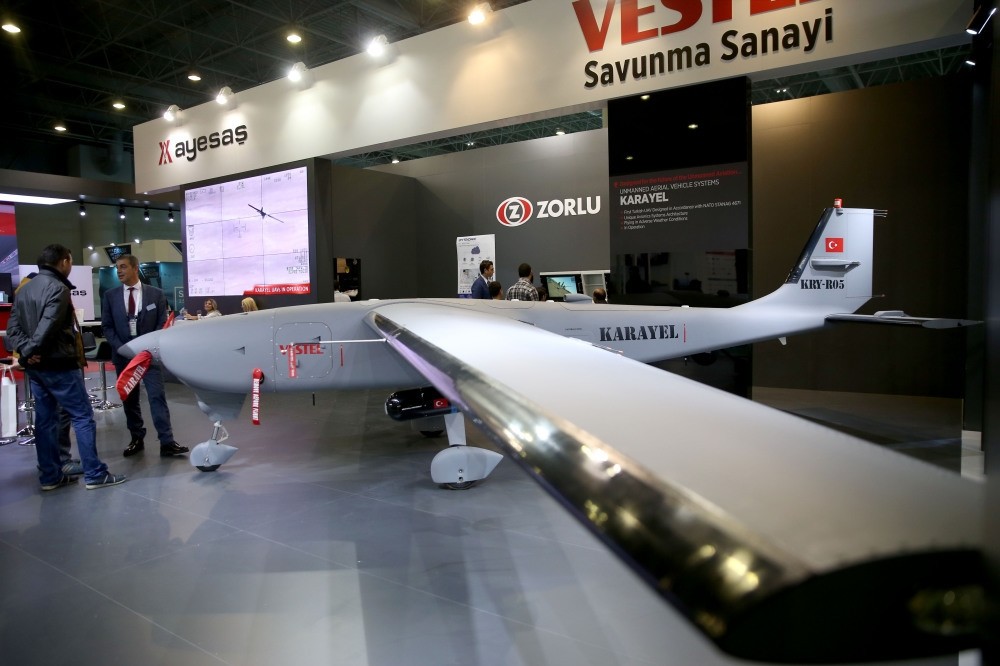 Regarded as a prominent fair in terms of strategic and advanced technology, the opening of High Tech Port MÜSİAD was attended by Turkey's President Recep Tayyip Erdoğan on Nov. 9.
Aimed at providing the Turkish defense and aviation sector an international business development opportunity, access to focus and target markets as well as international competition advantages, the fair showcased the latest products in technology to delegations from over 20 countries and more than 70 local Turkish firms.
Under the slogan, "Creating global powers with national talents," the fair, points to the crucial importance of the local defense industry as a driving force of advanced technology in Turkey and around the world. The fair focused on marketing the recent breakthroughs in Turkey's defense and aviation sectors while providing an open door for new collaborations with emerging and global markets.
All eyes on Otokar's Altay battle tank
OTOKAR's main national battle tank Altay was one of the main attractions of the fair. With testing successfully completed and the conceptual designs and prototype production nearing completion, 250 battle tanks have been slated for mass production over the next five years. Altay will be equipped with a 120mm L55 smoothbore gun and a new-generation fire control system which allows the battle tank to hit moving targets with a high accuracy rate. The tank also has a remote-controlled weapon system related to the residential district and fire support need along with a 7.2mm, heavy machine gun mounted in the coaxial to the right of the main armament. The tank will have special modular reactive composite armor protection equipping soldiers against any kind of threat and will be designed to resist chemical, biological, radiological and nuclear attacks.
Katmerciler Group's 'HIZIR' on its way
Katmerciler's new armored personnel carrier "HIZIR" was another product showcased at the fair. Also featuring the NEFER Armor System, Turkey's first homegrown armor technology. It is an armored, tactical vehicle applicable to 4x4 NATO standards with a capacity to carry nine personnel and levels of protection against high ballistic missiles, mines and hand-made explosives. Katmerciler Group also displayed its first ZPT vehicle "KHAN" and "TOMA." A range of armored work machines were also on display, including ADR fuel tanker protection shield, armored damper, remote-controlled armored crawler excavator, low bed trailer, water tanker and backhoe loader.
CLIMS launches package of criminal solutions
At the CLIMS criminal laboratories, its criminal solutions package has designed a software in accordance to ISO 17025 accreditation requirements. IT specifies the relationship between case and evidence, facilitates the resolution of cases with DNA analysis, identifies the source of narcotic substances, and has lab workflow monitoring capabilities to ensure the safety of evidence in the lab. It also introduces the ballistic bullet cloning device, which forms the microscopic clone of bullet hives used in firearms to be checked in all laboratories in the country where they are examined.
First guided missile 'Cirit'
"Cirit," a laser guided missile which is being mass produced is mainly designed as a high-precision, cost-effective solution against light armored, unarmed, fixed and moving targets from ROKETSAN's attack helicopters. "Cirit" is one of the main ammunitions of the T-129 ATAK helicopter and can be integrated into various platforms such as the AT-802 Border Security Aircraft, the AH-1W Cobra Attack helicopters, UAVs, land vehicles, stationary platforms, light assault aircraft and naval platforms.Key features of "Cirit" include easy integration, eight kilometer-long firing range, mid-phase guidance with MEMS-AÖB, terminal guidance with semi-active laser-seeking head, insensitive multi-purpose armor piercing, anti-personnel, incendiary and highly explosive warheads.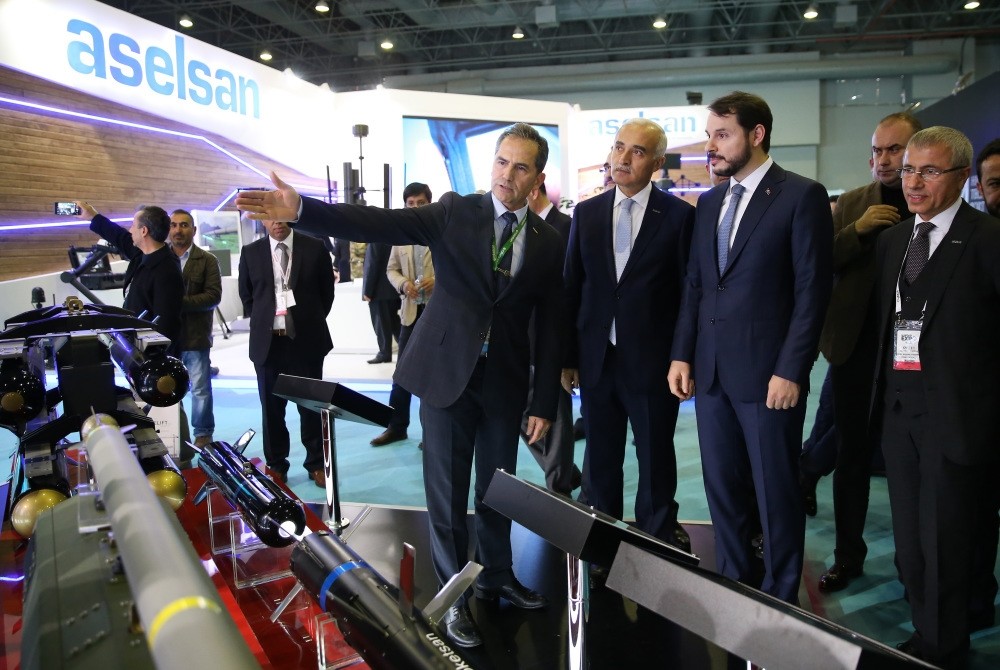 Energy and Natural Resources Minister Berat Albayrak examines products displayed at the 3rd High Tech Port.

Ejder Yalçın among the most anticipated
Nurol Makina showcased its version of 4x4 armored combat vehicle "Ejder Yalçın," an effective riot control vehicle "Ejder TOMA," the 4x4 domestic security vehicle "Ilgaz," the armored truck "Ejder Kunter," and numerous special purpose platforms and the chemical, biologic, radiologic and nuclear (CBRN) system solutions. Displayed for the first time at the fair, the "Ejder Yalçın" presents different solutions in accordance to what users might look for in a border control and security vehicle, tactical missile transport-and-launch vehicle, reconnaissance vehicle, command-control vehicle, combat vehicle, personnel carrier vehicle, CBRN observation vehicle, mine and EYP detection-and-cleaning vehicle or in an armored ambulance.
Aselsan's 'Ihtar,' 'Ihasavar,' 'Kangal' and CATS
Advanced-technology products displayed at Aselsan's booth included the anti-drone system İhtar, the UAV-preventative "Ihasavar," multi-rotor UAVs and "Kangal." Bomb-disposal robot "Kaplan" was also on display along with a laser-guiding kit, a safety management center for pipeline security and the Common Aperture Targeting System (CATS), a high performance, electro-optical reconnaissance, surveillance and targeting system designed for fixed-wing and rotary-wing airborne platforms it can be included Unmanned Air Systems (UASs), helicopters and aircraft.
TSI's in-cab entertainment system
Established in a joint venture with Turkish Airlines (THY), Turkish Technic and Kibar Holding, TSI aviation seats are a groundbreaking Turkish cabin entertainment system featuring back-seat and in-cabin capabilities that integrate competitive software and innovative hardware in civil aviation. Along with the TSI system, the joint venture will offer airplane passengers various services such as audio and video on-demand, live broadcast videos, flight itinerary maps, connecting flight information, games, electronic surveys, shopping, electronic publications in the form of magazines, newspapers, airline publications, information cards, duty free shopping catalogues and more. Off-line internet will also be provided with the system.