Turkey-Israel relations have been at a political low point since Israel's Mavi Marmara flotilla attack that killed nine Turkish civilians. However, both countries are continuing with talks, which began after Israeli Prime Minister Benjamin Netanyahu called then Prime Minister Recep Tayyip Erdoğan to apologize for the attack, to restore diplomatic ties. Senior diplomats from Turkey and Israel last met in Rome in June. Evaluating this process in an exclusive interview with Daily Sabah – which also happens to be her first – the most senior Israeli diplomat in Turkey, Israeli Charge D'affaires Amira Oron, said the process is ongoing and it is a positive step towards the future. Underscoring that building confidence is essential to restoring diplomatic relations, Oron hinted that Israel may wait until the government is formed either through a coalition or snap elections for the normalization process to continue.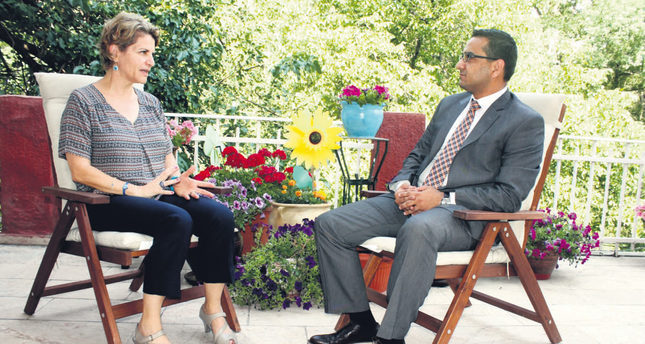 Israeli charge d'affaires Amira Oron (L) and Daily Sabah's Ali Ünal

Reiterating Israel's opposing views to the Iran nuclear agreement, Oron underlined that they still see the Iranian regime as a threat to the state of Israel. Regarding Turkey's recent operations against terrorist organizations, Oron condoned the actions by saying that Israel supports Turkey's right to defend itself against terrorist organizations. Touching upon the Syrian civil war, she emphasized that Syrian President Bashar Assad lost its legitimacy a long time ago and added that the two countries would have cooperated against Assad if the relationship was warmer.
In June, a meeting between a deputy minister of foreign affairs and his Israeli counterpart occurred. Do you think the relations between the two countries will see increased normalization in the future?
That is a possibility. We are currently in an ongoing process and it is a positive step towards the future. On our side, there was a change: A new director general for the Foreign Ministry, Dore Gold, was appointed by Prime Minister Benjamin Netanyahu. One of his first decisions was to meet with his Turkish counterpart, Feridun Sinirlioğlu. This indicated the emphasis on Israeli-Turkish relations, which has to be maintained. As far as I know, it was a very positive meeting and the current state of relations is much clearer when compared to the previous year during the operations in Gaza. The meeting that took place in Rome supported the positive trend regarding the relations. While we cannot say we have reached our ultimate aim, which is the renewal of relations, the process is definitely on track.
The negotiations between Turkey and Israel have been going on for more than two years but a settlement has yet to be reached. In your opinion, what is obstructing it?
A political decision from both sides is needed. Both of our countries have to close the Mavi Marmara case in a proper way, which will suit the needs of both sides. Only then can we move on to the normalization process. As I have said, the current developments, such as the said meeting, are preparing the basis of the process. Unfortunately, it takes more time to build trust than destroying it. Before last year's operation in Gaza, the relations were again on a positive path; however, the operation had a negative effect, which does not help the normalization process. Yet, with the current positive attitude, I think we will be able to normalize our relations. Both sides are giving positive signals, such as Bülent Arınç's recent interview with an Israeli TV channel. When will the normalization happen? I cannot know for certain. Currently, we are observing the political developments in Turkey: Coalition talks and the possibility of snap elections. Israel recently held parliamentary elections and now Turkey has also gone to the polls. We will wait and see what happens.
Turkey has three conditions regarding the normalization of relations. At the moment, do you think that both of the sides have reached an understanding regarding these conditions?
Yes, the understanding is definitely there. Both sides know what is required and what is needed to be fulfilled. The first two conditions are clear; however, smuggling arms to Gaza constitutes a major security problem for us. We learned from last year's operations that terrorist activities continue within Gaza and, occasionally, missiles are launched against Israel, which is not mostly covered by the media. We perceive Hamas as a dangerous terrorist organization that controls the Gaza strip and constantly threatens Israel's security. Yet, we have supported Turkey when the government announced it will build a hospital in Gaza, and we continue to support humanitarian projects started by other countries and international organizations as well. We do this because we give importance to Turkey and its humanitarian activities in Gaza.
In recent months, there were reports claiming that the embargo on Gaza would be lifted for humanitarian aid, and Turkey and Israel agreed upon it. Do you think this could be the breaking point in which both sides compromise?
The spectrum of humanitarian aid to Gaza helps Turkey and Israel to build confidence. Turkey and other conductors of humanitarian aid should understand what Israel can and cannot offer. The company that built the hospital in Gaza perfectly understood the procedures. Turkey is an important player in Gaza and we understand this. Therefore, I think that this will absolutely help both sides in building confidence.
You have previously mentioned the last year's operations in Gaza, which caused the deterioration of Turkish-Israeli relations. Currently, there is a cease-fire. Do you think this cease-fire will be permanent?
We are hoping that it will be permanent. We want Gazans and Israelis to live peacefully. However, we have to be realistic. As I have said, even now – during the cease-fire – occasionally there are missiles launched from Gaza that terrorize our people who live near Gaza. We show restraint against these transgressions. We don't want to be the side to violate the cease-fire. We want the cease-fire to continue so we can hopefully go back to the peace negotiations. What amazed me was that, after the operations, our citizens who live near Gaza and suffered the most from Hamas missiles, were the ones who wanted us to extend our hands to the people of Gaza. At the end of the day, they were living right beside Gaza and they understood the reality of the situation.
Despite the deterioration of relations between the two countries, the trade volume has doubled and there is an increase in Israeli tourists visiting Turkey. How do you evaluate this situation?
It shows that people remember the good days of the relations between the two countries. The business communities of the both countries still engage in transactions with each other. The current trade volume is $5.4 billion. It is important to mention that this is not even the full potential; according to realistic estimations, it could reach $8 billion. Regardless of what happens politically, our people, our business people, want to be in contact and this is important. Turkey is a prominent regional country. From the Israeli side, Turkey is regarded as a stable country that provides high-quality services in many sectors. In addition, culturally speaking, we are very similar in many ways. Our people love to vacation in Turkey. Regarding the frequency of flights, there are seven flights a day, which is an amazing figure.
It is said that the most feasible way to transport natural gas from the Leviathan reserve to Europe is pipelines that extend through Cyprus and Turkey. From this perspective, could the energy sector increase cooperation between the two countries?
There are few options to export Israeli gas reserves, and Turkey is definitely one of them; however, it should be remembered that the energy sector relies on strategic decisions. Given technical feasibility, both countries should first resolve their political issues and normalize relations first, only then it could be actualized. Of course, this will make our countries richer in the sense of relations, but we are not yet there.
It is argued that, even after the normalization, Turkey and Israel will not be close as they were in 1990s. What do you think about these comments, taking long-term projects into consideration?
I think mutual confidence is required. To build confidence you need time and action. Both sides have to take steps to improve confidence. Turkey and Israel lost a lot of confidence, and at one point it seemed as if there was animosity between the two countries. Thankfully, we are not at that point. It will take some time for rapprochement and, after this, we will be able to explore what fields we can improve our relations – the energy sector, sharing information, cooperation regarding the region and so on. In addition, if other institutions such as the military or the intelligence could start to work together, this will also benefit the relations between the two countries. As I have said, the business world is crucial in this aspect as well. This should be the process.
Can it be assumed that Turkey and Israel will continue to work on the normalization process, once the government in Turkey is formed, either through a coalition or a snap election?
It is a good assumption. We will observe and try to understand where Turkey is heading, what will be the will of the people, what the foreign policy will be and how will these affect the relations with Israel; we will then take all of this into consideration.
What are the Israeli administration's and the people's view on the Iran nuclear deal?
The Iranian regime, which is fundamentalist and extremist, is a threat to the state of Israel. Iranian leaders continually threaten Israel and talk about the extermination of Israel. Unfortunately, we have experienced the capabilities of this regime; they support terrorist organizations all over the world, such as Hezbollah and Hamas. They have also conducted terrorist actions against our embassies. We know their ideology very well. Iranian people, on the other hand, are a different story. They are amazing people and it is an amazing society. However, this regime focuses on threatening Israel and does not shy away from saying it out loud: They desire to "exterminate" us. Our prime minister, Benjamin Netanyahu, who is responsible for our security, cannot ignore these threats; therefore, he takes it very seriously. In addition, Iran was discovered to possess a nuclear program including military aspects. Our prime minister openly declared that he opposes the Iran nuclear deal. The repercussion of the deal is terrifying; as their frozen assets will be returned to them, they will see an improvement in their economy and they will finance the terrorist organizations that target Israel. Furthermore, Iran doesn't give up any of its nuclear capabilities, thus it can produce nuclear arms very quickly if it decided to break the deal.
Do you think that the U.S. may have taken countermeasures to prevent Iran from financing said terrorist organizations?

We watched the negotiations as the whole world did. The U.S. has stressed that this agreement was purely about the nuclear program of Iran. While the negotiations were continuing, we saw what happened in Yemen: The clashes with the Iran-supported Houthis. The fact that Iran supports extremist organizations all around the world, specifically in the Arab world, was not addressed. Regarding U.S. relations, it is indeed unique.
The U.S. is very supportive when it comes to defending Israel and our relation is very clear. However, it should be understood that Israel is a sovereign country and has to rely on itself. This is what we see now. We hope that the world will see that this agreement is a bad one.
Syria is another cause of instability in the region. What is Israel's stance in this issue?
In our opinion, Assad lost his legitimacy long ago. He is a criminal and he ruined Syria; therefore, we think that he is not a part of the solution. The problem is what will happen once he goes. We are currently seeing Syria being torn apart between various terrorist and extremist organizations, so we cannot foresee a positive future. We advocate an inclusive solution. While Turkey and Jordan are the most affected countries due to the refugee issue, Israel also faces issues due to the current situation in Syria. Israel has taken some measures to protect its border with Syria and we are closely observing what is happening in Syria. The war in Syria has many implications for Israel; thus, we would like to see this issue resolved.
From your remarks it is understood that Turkey and Israel's approach to the Syrian issue is similar. Do you think there will be cooperation between the two countries about this matter?
If Israel and Turkey had better relations, both sides would have enjoyed this kind of cooperation. Sharing views and cooperating on security and other issues would be for the benefit of both sides. Unfortunately, we are not there, even though it is an issue that we should look into together.
Turkey recently launched military operations against the Islamic State of Syria and al-Sham (ISIS). How does Israel evaluate Turkey's fight against ISIS?
Israel supports Turkey's right to defend itself. The heinous act against the youth in Suruç was horrible. ISIS is an atrocious organization that destroys everything, it is a real threat. While we are not a part of the coalition against ISIS, they are still getting closer to our borders. It is a threat for Israel, as there were allegations that it has infiltrated Gaza. Cooperation against ISIS would be very beneficial.
In recent days an 18-month-old Palestinian boy was burned to death after settlers set fire to his family house in the West Bank. Even though this tragic incident was strongly condemned by Israeli officials there are allegations that the offender will not be punished. How would you evaluate this claim?
This case is horrible. It has affected both the government and the people of Israel. Our prime minister has declared rigid measures against these people whom we call 'Jewish terrorists' and they will be captured at all costs. People all over Israel have protested and denounced this act. Even the Palestinian side announced that they will not retaliate; however, there are some individuals who are trying to exact 'justice'. A molotov bomb was thrown at an Israeli car two days ago, fortunately no one was killed.
Israel is determined to bring these criminals to court. Both police and other organizations are working hard to trace these criminals and bring them to justice. With all these measures, I hope they will be able to track and detain them, preventing more incidents. If you look at these kinds of criminals, most of them have irrational visions. They do not abide the law and often suffer from illusions. We cannot allow this.
While new tensions rise among Palestinians due to the expansion of Israeli settlements in the West Bank and East Jerusalem, it has also been criticized by many countries, including the U.S. What is the reason for Israel's continuation of this settlement policy?
There are five major issues in the negotiations and this is one of them. This issue has to be discussed between Israel and Palestine directly. Our prime minister is continuously calling on the Palestinian leadership to resume the negotiations to find solution. Israel does not have an agenda that includes expansion; we only allow the building of settlements in areas that most probably will be under Israeli control after the negotiations. We want to go back to negotiations, and we expect the Palestinian side to do so as well.
Has the two-state solution become a dream?
This is the only solution, there is no other way. We cannot fight forever, and both Israelis and Palestinians have the right to determine their own future. We are attached to each other; we have to learn to share the land and coexist. This is the main principle.
What are the obstructions in this matter?
Similar to the issues with Turkey, we have lost confidence, which is unfortunate. Yet, there are good signs; Palestinian leadership meets with Israeli leaders, mainly opposition figures, and gives interviews with Israeli media. While these are good signs, the issue will not be resolved until both governments renew the confidence that is needed.