Germany's new ambassador to Ankara, Martin Erdmann, said that Turkey and Germany share similar views with regard to Russia's intervention in Syria and underlined that Russia's intervention will only lead to more bloodshed and the persistence of conflicts.
Speaking to Daily Sabah for an exclusive interview, Erdmann expressed Germany's contentedness regarding a new dynamism in Turkish-EU relations and indicated that the latest migration wave has caused some unexpected developments both for Turkey and Europe, eventually bringing the societies closer.
Concerning comments that argue Turkey will turn into Europe's "open-air refugee camp" after the Turkish-EU refugee deal, Ambassador Erdmann stressed that they don't agree with these comments and underlined that this is not the opinion of Germany.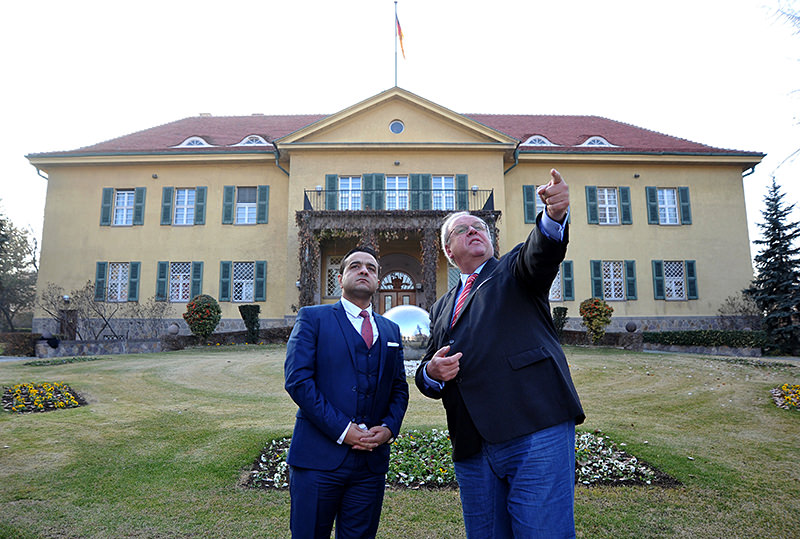 Ambassador Erdmann is an experienced diplomat who accomplished various NATO duties during a significant part of his career.
Erdmann believes that in the midst of this world full of conflicts, the Atlantic Alliance and NATO stand as a solid rock rising amongst the waves of the sea and underlined that after the recent tension with Russia, NATO clearly demonstrated that it is in solidarity with Turkey.
In respect to the perception among the Turkish public that Germany supports the PKK and the PYD, Ambassador Erdmann emphasized that the PKK is recognized as a terrorist organization in Germany and that they support neither the PKK nor the PYD and underlined that the PYD does not have a ground of legitimacy.
DS:
After Russia intervened in Syria and the Russian jet violating Turkey's airspace was downed, tension in the region has risen.
How does Germany regard the latest developments?
To begin with, the views of Turkey and Germany with regard to Russia's intervention in the region are similar.
We feel a deep sorrow due to Russia's intervention in Syria. Russia's intervention will only lead to more bloodshed and the persistence of conflicts.
Russia's interventions in Syria are ongoing against Syrian opponents rather than DAESH. Of course, as part of the Vienna process, we need all parties, including Russia, for a political solution.
DS: Do you expect any political resolution from the ongoing dialogue in Vienna?

Introducing a solution to conflicts can only be possible under certain circumstances.
Of course, a military solution cannot be imagined. Within this framework, all the parties and sharers are required to be at the table according to our view.
But Assad cannot be a part of the solution. He can only act as a means in the path leading to the solution.
DS:
So, can we argue that the policies of Turkey and Germany regarding the Syria issue and the anti-DAESH fight are compatible?

I would like to underline that our approaches are very similar. To be more specific, Turkey maintains its fight against DAESH.
Likewise, Germany will take effectual measures as of January.
For military interventions, Germany provided support by assigning six Tornado-type jets and deploying them at the İncirlik base.
A feeder line aircraft was also provided. All this military equipment aims to support the international coalition in its fight against DAESH.
In this respect, Germany started its anti-DAESH activities for the first time, just as Turkey did.
Therefore, Germany and Turkey's approaches for fighting DAESH are similar.
DS:
While France's Syrian policies previously indicated that no resolution could be achieved with the Assad regime, they have lately started to develop some other discourses suggesting that an alliance can be made with the Assad regime for a resolution.
Is any similar change planned with regard to Germany's Syrian policies and how does Germany evaluate the changing discourse of France?

The attacks in France, of course, caused a tremendous shock; a great tragedy was witnessed there.
After the Ankara attack on Oct. 10 and the Paris attacks following it, we have all been in a state of alert.
It was clearly understood that the fight against DAESH must be maintained by using every means possible.
Now, I attribute changing attitudes in the international coalition with regard to initiating military intervention to the horrendous terrorist attacks experienced lately.
In the anti-DAESH fight, a resolution was put into force on an international scale by the Security Council.
This resolution also formed a basis for Germany for a military contribution.
DS:
A schedule was arranged regarding a transition period for Syria in the latest meetings of the Vienna negotiations.
And recently, the Russian ambassador remarked that common terrorists and opponents must be listed.
What do you think about that?
Is it necessary to prepare such lists?

This should, of course, be decided by the Syrian opposition.
They have to decide that on their own and among themselves.
They will determine who will sit at the table with them as active agents.
I do not think it would be right to dictate this with exterior interventions.
DS:
A new chapter was opened last week in Turkey's EU accession negotiations, and Turkey expects five new chapters to be opened in 2016.
A new momentum seems to have been achieved in the Turkey-EU process following the agreements Turkey and the EU made a few months ago.
How do you evaluate this process through the lens of Germany?

On Dec. 15, it was decided to open a new negotiation chapter.
Foreign Minister Mevlüt Çavuşoğlu went to Brussels within this scope along with the EU minister.
It was decided to open Chapter 17 on economic and monetary policy.
The opening of five new chapters on other subjects in 2016 must be approved by the member states. We are glad that the process has gained a new dynamism.
We are particularly pleased with the new momentum achieved between Turkey and the EU since the summit organized in November.
The latest migration wave has caused some unexpected developments both for Turkey and Europe and eventually rendered the societies closer.
In this way, a brand new period was introduced in the EU negotiation process, and Germany is very pleased with that.
DS: How do you evaluate comments arguing that Turkey will turn into Europe's "open-air refugee camp" following the agreement on migrants between the EU and Turkey?

I definitely do not agree. I would like you to know that a bilateral migration dialogue exists between Turkey and Germany parallel to the EU Action Plan in Europe. We would like to present aid and assistance to Turkey in tackling this migration wave.
We especially want to give support in decreasing the number of transit refugees heading to Europe via Turkey.
For those reasons, I do not agree with the open-air camp arguments.
This is not the opinion of Germany. If Europeans had demanded Turkey shelter refugees from various countries, this would not have been a fair share of responsibility.
What was the actual result supposed to be? Turkey was supposed to accept refugees from countries other than Syria, which we call third countries.
This would be possible through introducing visa requirements for countries that do not have visa requirements to cross into Turkey and through providing border safety.
DS: There are some remarks that the EU made concessions to Turkey and even gave up its fundamental values due to the agreement on migrants. What do you think about that?

I should underline that this is definitely not the case, and the EU will never allow such a thing. The community acquis is valid for all 28 member countries and candidate countries that are to join the EU in the future.
Europe cannot possibly do this in another way since the values of the EU are essential and the acquis constitutes the values. Therefore, internalizing these values is expected from all countries that wish to join the EU. To express more clearly, the EU has a set of values.
Consequently, no concessions will be made to anyone with regard to the refugee issue.
The EU cannot give up its values, which were built with decades of efforts, only because of opportunistic considerations.
But we would like to advance with pragmatic methods without limiting ourselves only to doctrines.
DS: As a diplomat assigned to various NATO duties during a significant part of your career, what do you think about the future of NATO?
What would you like to say about the future of NATO in the context of criticisms suggesting that NATO remained silent when Russia annexed Crimea and afterwards and did not give a common and sufficient reaction after the Russian jet was downed?

Take a look at the world. In which part of the world does stability exist today? The region that can be shown as the most stable one in the world is the Euro-Atlantic zone (which extends from Vancouver to Lake Van).
This zone can be defined as stable, but beyond this is "a ring of fire," to borrow Johnny Cash's words.
Ukraine, Crimea, Georgia and Nagorno-Karabakh are among the regions in which suspended processes and conflicts are witnessed.
Syria, Iraq, Libya and many others can be added to the list.
In the midst of this world full of conflicts, the Atlantic Alliance and NATO stand as a solid rock rising amongst the waves in the sea.
We are used to taking this stability for granted. The reason underlying NATO's strength is its deterrent character.
As a matter of fact, an actor creating violence cannot know what kind of measures NATO would take.
After a NATO meeting about the downed Russian jet, Secretary General Stoltenberg issued a statement.
Just as all the other member countries are required to be protected in the presence of a risk against territorial integrity, Turkey is required to be protected in the same way, and this aspect clearly demonstrates that NATO is in solidarity with Turkey.
We Germans were proud to help Turkey with the defense mission as part of NATO by deploying Patriots around Kahramanmaraş province.
DS: In Syria, the withdrawal of the Patriots is ongoing despite the rising tension, and this is highly criticized by the Turkish public.
How do you regard the decision of withdrawing German Patriots?

NATO air defense and the protection of Turkey will be maintained even though the Patriots are withdrawn. The Standing Defense Plan (SDP) is available for that.
However, a misconception that NATO defense would end with the withdrawal of Patriots prevails in public. Contrarily, air defense is an everlasting process; it will continue as it continues now.
The Patriots only constitute a precautionary reinforcement. So, the air defense will continue to protect Turkey even though the Patriots have been withdrawn.
As someone who worked for NATO for years, I can explain to you how air defense operates.
Air defense is collectively implemented among the allies.
The authorized institution for that is NATO Supreme Allied Commander Europe (SACEUR), which is commanded by General Philip Breedlove. The person we call SACEUR is responsible for the air command area there.
As the chief commander of the Standing Defense Plan system, SACEUR constantly updates the system.
SACEUR can demand reinforcements everyday within its own authorization for the continuity of NATO air defense. Due to this, Turkey is not left alone.
I also would like to add that not only German Patriots, but also U.S. and Netherlands Patriots were withdrawn. A system exists only at İncirlik, which belongs to Spain.
For this reason, we are very pleased that Tornado planes and refueling airplanes were deployed at İncirlik Air Base again instead of the Patriots even though the Patriots were withdrawn. Tornado planes can be utilized for air defense purposes if required.
DS: There is a common perception among the Turkish public that Germany supports the Democratic Union Party (PYD) and the outlawed Kurdistan Workers' Party (PKK). Could you comment on that?
In the first place, the PKK is recognized as a terrorist organization in Germany. Of course, we do not provide military support to the PKK; this is absurd.
We do not support the PYD either. The PYD does not have a ground of legitimacy. We support peshmerga units in North Iraq that fight against DAESH.
DS: Lately, a news story claiming that DAESH uses German weapons was released. What do you think about that?
Can such a thing be possible? Germany has sent six Tornado airplanes to fight against DAESH, so how is it possible to deliver weapons to DAESH?
The question that should be asked is where they obtained those weapons. It is clear that they did not obtain them from us.
DS: There are some allegations that fugitive former prosecutors Zekeriya Öz and Celal Kara, who are members of the Gülenist Terror Group, requested political asylum from Germany. What is your view on the subject? Did Turkey request the return of the former prosecutors from Germany?
Turkey has made such a request, but we have no clue about the whereabouts of the prosecutors.
DS: What are your thoughts on Patriotic Europeans Against the Islamization of the Occident (PEGIDA) and rising anti-Islamic tendencies in Germany?
Germany is a hospitable and friendly country. Since Jan. 1, 2015, Germany has hosted more than one million refugees, most of whom are Muslim.
Apart from that, 10 percent of the German population is of migrant origin, which means that about nine million people out of 82 million of the overall population are of migrant origin.
If you visit Germany, you can see a minaret in almost every city. Germany is an open-minded country towards people with different faiths, especially towards Muslims.
Extremists do exist in all societies and communities in the world. The same goes for Germany. PEGIDA represents an extreme political group in Germany, which does not reflect the general idea prevalent in society.
It only represents the opinion of a very small group. PEGIDA holds demonstrations only in certain regions of Germany and the demonstrations are seldom organized. And when such demonstrations take place, reactions by many citizens are shown against them.
DS: Would you like to make any additional comment on Germany-Turkey relations?
I have been acting as the German ambassador to Turkey for four months. I am really happy and proud to represent Germany in such a significant country.
Based on my own experience as a diplomat working for 33 years, I can say that relations between Turkey and Germany have a unique intensity, and I can always witness that intensity during the course of my daily work.
More than three million people of Turkish origin live in Germany, while more than five million German tourists visit Turkey annually.
There are more than 64,000 Turkish-based businesses in Germany, and these companies make a contribution of 45 billion euros to Germany's gross domestic product.
Turkey-Germany relations have an intensity that cannot be compared with any other place in the world.
Consequently, two countries with such intense relations are ideal partners for each other.
We have what you do not have, and you have what we do not have. And we are becoming good partners by combining these factors.