Turkey will not allow Azaz in northern Syria to fall to the YPG and the group will face the "harshest reaction" if it tries to approach the town again, Prime Minister Ahmet Davutoğlu said on Monday.
Speaking to reporters on his plane en route to Ukraine, Davutoğlu said YPG fighters would have seized control of Azaz and the town of Tel Rifaat further south had it not been for Turkish artillery shelling them over the weekend.
"YPG elements were forced away from around Azaz. If they approach again they will see the harshest reaction. We will not allow Azaz to fall," Davutoğlu said, adding that Turkey would not allow PYD forces to cross west of the Euphrates River.
He said Turkey would make the Syrian Mannagh air base "unusable" if the YPG does not withdraw from the area, which it seized from Syrian opposition.
He warned the YPG not to move east of its Afrin region or west of the Euphrates River.
"The YPG is clearly Russia's instrument in Syria right now," Davutoğlu said. "Everyone must see this. Today the PKK in Turkey and YPG in Syria are clearly instruments of Russia."
"Russia is harassing the world with the perception that a war can break out in Syria," the premier continued. "Russia is using those tools to be able to corner Turkey. Therefore, our stance has legitimate ground."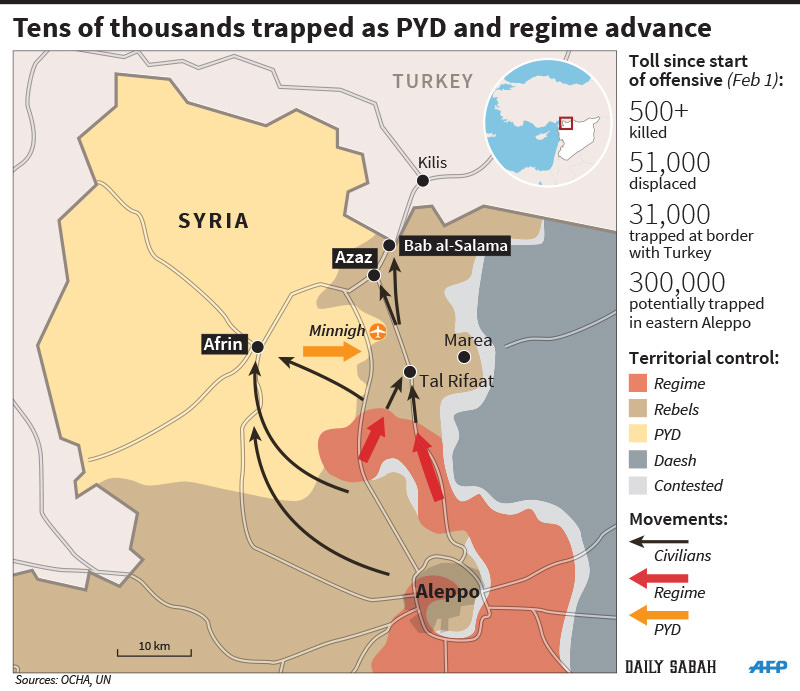 Later on in the day, the premier met with his Ukrainian counterpart Arseniy Petrovych Yatsenyuk in Kiev. In a joint press conference, Davutoğlu said Turkey does not have any security forces in Syria, confirming earlier comments by Defense Minister İsmet Yılmaz.
"There are no Turkish troops in Syria right now. Turkey stands by Syrian people but never as an invader," the premier said.
Davutoğlu has also criticized Russia's actions, referring to Monday's incident when a Russian ballistic missile hit a school and hospital in the northern Syrian town of Azaz,
killing many civilians including children.
Davutoğlu said Russia and the YPG had closed the humanitarian border north of the Syrian city of Aleppo, and that Moscow's aim was to leave the international community with just two options in Syria: Bashar al-Assad or Daesh.
"International community's failure in showing reaction against Russia's aggression has helped its expanding strategy," he said. "Russia, Assad and YPG are violating human rights in Syria. They're in open violation of international law to make gains."
Davutoğlu said during his speech, Syria must know that no regime that invited foreigners to its country to have its own people bombed has survived, referring to Russia's actions in the country.
"Just like Babrak Karmal, who invited Soviet occupation forces to Afghanistan and fell, no regime that leans on occupiers can survive," the premier said, referring to the Soviet-installed president of Afghanistan, who served between 1979 and 1986 before fleeing to the Soviet Union. Karmal failed to gain support amongst Afghan citizens during his rule, and the country soon found itself in the midst of a full-scale civil war, with many in open revolt against the Soviet-led regime.
The premier criticized Russia further, saying its pledge to continue airstrikes on Aleppo, despite a ceasefire deal [in Munich], is a crime. Within this framework, Turkey will continue to send Aleppo humanitarian aid, he said.
The Ukrainian PM Yatsenyuk agreed with Davutoğlu on many issues, emphasizing that Russia can never be trusted, indicating that "They [Russia] always lie."
Turkey has been gravely concerned by the moves of the YPG on Azaz and has so far defied calls from its Western partners to stop artillery bombardments of YPG positions.
Turkey accuses the YPG as being the Syrian branch of the PKK, which has waged a bloody war against the state since it took up arms in 1984.
Russia is the key ally of the regime of Bashar al-Assad, who Turkey wants to see ousted.
Bilateral relations between the two countries have also nose-dived after Turkey shot down a Russian war plane on the Syrian border on Nov. 24.