Foreign Minister Mevlüt Çavuşoğlu received U.S. Deputy Secretary of State Antony Blinken on Wednesday in Ankara. Blinken's visit to Ankara took place only days after the recent DAESH attacks in Istanbul over the weekend and coincided with another major terror attack at the EU capital of Brussels on Tuesday. Sources from the Foreign Ministry have said that Çavuşoğlu and Blinken mainly focused on the fight against DAESH, cooperation in counterterrorism activities, Syria and the ongoing Geneva peace talks.
Blinken's visit was the fourth of its kind after Ankara and Washington established a joint mechanism to increase cooperation between Turkish and U.S. institutions to fight terrorism in the region. Sources from the Foreign Ministry said that Turkey and the U.S. evaluated the areas that need increased cooperation in the fight against DAESH. Ankara expressed its concerns about armed Syrian Kurdish groups linked to the PKK and reportedly provided evidences to the U.S. that the recent terrorist attacks in Ankara were closely linked with the People's Protection Units (YPG), the Democratic Union Party's (PYD) militia. In the meeting Çavuşoğlu expressed his disappointment over recent remarks from U.S. State Department officials that the U.S. will continue to support the PYD. He insisted that the U.S. should stop supporting the PYD, which Ankara considers an offshoot of the PKK.
They reportedly agreed that both countries are opposed to any unilateral declarations of autonomous federal zones in Syria, but they may not be against federalism if the Syrian people choose it as part of a negotiated political settlement.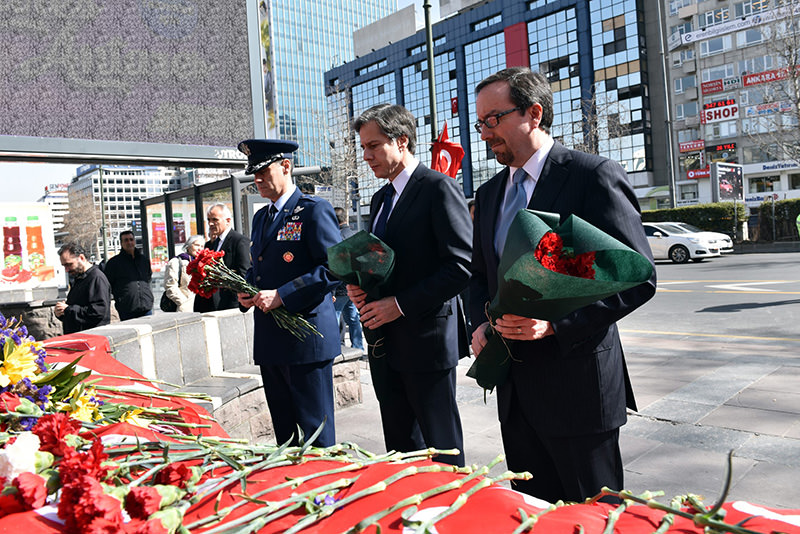 Before his meeting with with Çavuşoğlu, Blinken visited Ankara's central Kızılay Square, the site of a deadly suicide car bomb attack earlier this month carried out by PKK terror organization. Accompanied by U.S. Ankara Ambassador John Bass and Defense Attaché Brig. Gen. Marc Sasseville, Blinken commemorated the victims of the attack by leaving flowers at the scene.
The March 13 car bomb attack hit a major Ankara public transportation hub, killing 35 people and injuring dozens of civilians.
The terrorist PKK organization claimed responsibility for the attack. Turkey's Interior Ministry has identified the bomber as 24-year-old Seher Çağla Demir, who was recruited by the PKK and also received training with the YPG, the military wing of the terrorist PYD group, in Syria.

Despite Turkey's protests, the U.S. continue to supply PYD with arms and give training.