Russian President Vladimir Putin and his Turkish counterpart Recep Tayyip Erdoğan will meet on Aug. 9 in St. Petersburg for the first time since Turkey downed a Russian jet last November. In the meeting, both leaders will seek ways to restore bilateral relations while discussing regional matters. The meeting marks Erdoğan's first trip abroad since the failed July 15 coup attempt orchestrated by fugitive retired imam Fethullah Gülen, who lives in the U.S., making the meeting even more crucial. Prior to the meeting, Daily Sabah met with Russian ambassador to Ankara Andrey Karlov and discussed the upcoming visit. Karlov stressed that Russia always advocates collaboration that will benefit both countries and said that during the St. Petersburg meeting Putin and Erdoğan will evaluate bilateral relations and will come up with a solution to end the crisis.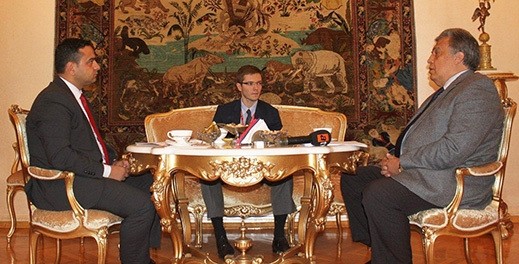 Russian ambassador to Ankara Andrey Karlov (R) and Daily Sabah's Ali Ünal (L)
Acknowledging that Russia and Turkey have different stances on resolving the Syrian civil war, Karlov said that both leaders will take initial steps toward a similar disposition regarding the civil war. Underlining the importance of increasing cooperation between the two countries in the fight against DAESH, Karlov also said that extensive cooperation means swifter eradication of international terrorism.
Commenting on the failed July 15 coup attempt, Karlov reiterated that Russia supports the elected government in Turkey and is opposed to any unconstitutional action against the government. Regarding Gülen schools, Karlov said that Russia realized the structure of the school system and its intention long ago and therefore closed down all Gülen schools in 2006.
DS: What is your comment on the meeting between President Erdoğan and President Putin that will take place in St. Petersburg on Aug. 9?
Every meeting between President Erdoğan and President Putin is crucial, but this one is exceptional. This meeting is paramount as it will mark the end of the issues the two countries have had since last November. Both presidents have been in contact with each other frequently in the last few weeks. Moreover, the foreign ministers of Russia and Turkey have held meetings recently that encompassed economic cooperation. While all of these meetings are important, the meeting between the two presidents on Aug. 9 is the most important. I believe that President Putin and President Erdoğan will evaluate bilateral relations and come up with a solution to end the crisis. Russia always advocates collaboration that will benefit both countries. The seven-month crisis has shown how crucial cooperation is. We have seen how much the business people and citizens of both countries need normalization. Therefore, I believe the meeting in St. Petersburg will be momentous.
DS: Do you believe that Turkish-Russian relations will be able to revert to pre- jet crisis levels?
We hope that relations will revert to their pre-Nov. 24 state and even be further improved. Still, as you know, Rome wasn't built in a day. This will take time and will require effort to do so.
DS: Syria was the most crucial issue on which Turkey and Russia had significantly different approaches even before the deterioration of relations. Do you believe President Erdoğan and President Putin will be able to compromise to reach a common resolution?
It is true that Syria is an important part of our bilateral relations and we have different approaches. Russia, Turkey and all other countries in the region want to eradicate international terrorism and terrorist organizations such as DAESH and al-Nusra Front, so if we have a common goal, we have to cooperate. This is how I see it. While it is hard to exactly know what the leaders will discuss, I believe Syria will definitely be one of the key topics. Of course, we will have to work hard to have a similar disposition with Turkey. I believe the first steps regarding this issue will be taken at the St. Petersburg meeting.
DS: Do you believe Turkey and Russia can compromise on a solution in which Bashar Assad is deposed?
Do you believe that international terrorism can be eradicated without the cooperation of the regional government? I do not think so. We advocate progress for the Syrian people, but this has to be done as a process. I believe it is important to protect the state structure and to use it in the fight against terror. If the state is not intact, we may face new challenges as we have already seen in Libya.
DS: Do you expect any developments regarding tourism?
There were certain developments between the two countries in tourism. A Russian committee traveled to Turkey to normalize tourism between the two countries and evaluated the possibility of restarting charter flights. We want Turkey to take its place once again in Russian tourism, but the security of our citizens is a top priority. This was also expressed by Foreign Minister Sergey Lavrov. The aforementioned committee's duty is to evaluate security measures in key places such as the airport.
DS: Is visa-free travel possible after the meeting?
I believe we should not rush about visa-free travel. As you know, a three-month long state of emergency was declared in Turkey. Moreover, we know that certain international terrorist organizations use Turkey as a gateway for Syria. Unfortunately, there are a number of Russian citizens among these terrorists. Therefore, these kinds of realities have an effect on deciding whether to allow visa-free travel.
However, I should express that we have made the visa application process faster for Turkish citizens. If any Turkish citizens face any problems in getting a visa, even though they have all the required documents, they should contact our embassy. We will try to solve their issues swiftly.
DS: In your opinion, will the Turkish Stream project be discussed at the meeting? Additionally, do you believe it is possible to complete this project?
I think that it will be discussed. Energy is one of the most important commodities of bilateral trade relations between Russia and Turkey. The project's potential benefit for Turkey is obvious – there is no need to discuss it. Russia has also made it obvious that we support this project. We want to accomplish it.
DS: The Russian government expressed its support to Turkey's elected government during the July 15 coup attempt. What is your take on the events?
President Putin has expressed his support to President Erdoğan over the phone and said that unconstitutional actions, such as the coup attempt, are unacceptable. We are concerned because we have seen certain countries in Europe that suffered from similar unconstitutional actions and now this happened in Turkey. I believe that the Turkish people know Russia supports the elected government in Turkey and is against any unconstitutional action against the government.
DS: Surveys indicate that most Turkish citizens believe a foreign force was behind the coup attempt. What is your opinion on this?
We know that the Turkish government is holding Fethullah Gülen, who lives in the U.S., responsible for the coup. As a result, we know that the Turkish government is urging the closure of Gülen schools all around the world. We had already closed down their schools in 2006.
DS: What were the reasons for closing down Gülen schools in 2006?
They were not compatible with our secular educational system and were against the constitution. At that time we realized what kind of system they are and their real intention. That's why we closed their schools down.
DS: The pilots who downed the Russian aircraft were apprehended for taking part in the coup attempt. How do you evaluate this situation?
We are gathering all the information regarding the death of our pilot, so we have noted that they are possible Gülenists. However, as far as we know, these pilots were apprehended because they took part in the coup attempt, not for downing our aircraft. I have to signify that finding and punishing the perpetrators who killed our pilot is crucial for bilateral relations between Turkey and Russia. We believe that the judiciary will conclude their investigation and will punish the perpetrators.
DS: How does Russia approach the resolution of the Nagorno-Karabakh conflict between Azerbaijan and Armenia?
This is one of the most significant topics in our foreign policy. We have lived together with Azerbaijanis and Armenians for centuries. Even today, there are approximately 1 million people of Armenian descent in Russia along with 700,000 people of Azerbaijani descent. As we have close relations with Yerevan and Baku, we are playing an active role in the resolution of this conflict. Russia is a member of the Organization for Security and Co-operation in Europe (OSCE) Minsk Group, as you know. However, we do not only discuss and work on law, we hold meetings on various topics. Russia played an important role in imposing a cease-fire in the region. We were able to accomplish this after both the Armenian and Azerbaijani chiefs of General Staff were gathered in Moscow. There were top-level meetings among President Putin and the presidents of Armenia and Azerbaijan after July 20. The issues that were discussed in these meetings were naturally challenging, but we were able to achieve a compromise, resulting in a joint declaration. Therefore, we believe that with our help, one of the most extensive issues of the world, the Nagorno-Karabakh conflict, may be resolved one day. I wish a swift resolution were possible, but these kinds of issues should not be rushed. There are certain drafts regarding resolution of this issue, but it is for the best not to elaborate on them for the time being.
DS: Both Turkey and Azerbaijan argue that Armenia has to withdraw from the territories it has invaded in order to reach a resolution. What is Russia's approach?
We know that both Armenia and Azerbaijan have their own approaches to this issue. However, as Russia, we must act as an intermediary in order to reach a compromise. We cannot decide the resolution on behalf of them, but we can help them reach a compromise. Our aim is to offer an extensive resolution; if the contrary is the case, then either Azerbaijan or Armenia will feel betrayed and eventually may try other ways to achieve their goals.
DS: Would Russia act as an intermediary in order to resolve the issues between Turkey and Armenia?
We have not been asked to act as an intermediary in this issue. However, we are always ready to help other countries resolve their regional or international issues. It is important to state that we do not want to impose our disposition on other countries.
DS: In the Tashkent declaration of the Shanghai Five, it was said: "Turkey's full membership will increase the effectiveness of the Shanghai Cooperation Organization [SCO]." What is your take on this subject? Could Turkey become a member of this organization?
I believe that Turkey should decide whether it wants to become a member or not. The SCO is becoming more influential and important over the years.
For some years, the SCO couldn't accept new members, as its internal regulations about this process were not complete. Now, the organization is ready and able to accept new members. I have been hearing questions frequently regarding Turkey's membership from Turkish journalists, yet Turkey has not officially applied for membership. Nevertheless, Turkey is a dialogue partner of the organization and it seems that Turkey is content with it.
DS: The Istanbul airport attack was carried out by DAESH militants who were Russian nationals. Do Turkey and Russia cooperate and share intelligence in the fight against DAESH?
We believe that our current cooperation is not adequate and we have to improve it. We know that there are Russian citizens who are ISIS (DAESH) militants, and that's the very reason why we have commenced airstrikes against ISIS. We believe there are between 2,000 and 3,000 Russian national foreign fighters. It is not possible for any country, regardless of its power, to eradicate DAESH by itself, so we have to cooperate. Extensive cooperation means swifter eradication of international terrorism.
DS: During NATO's Warsaw Summit, it was decided to increase assets in the Black Sea and Baltic regions and to surround Russia. What is your response to this strategy against the "Russian threat?"
NATO's actions of this nature are not being received well by Moscow. We are saddened by their anti-Russian sentiments. They allege that Russia is employing so-called aggressive policies. There are two important reasons that explain why we are act as we do. Firstly, NATO had guaranteed that it wouldn't expand toward the east after the unification of West and East Germany. We can clearly observe that it didn't uphold its promise in this. Moreover, while it was expanding east, it deployed missile defense systems. Then it said that these were being deployed against Iran, not Russia. We have asked NATO to sign an agreement that expresses these systems will not be used against Russia. It has declined to do so, only to offer a verbal guarantee. We have reminded it of its eastward expansion, which was a result of a broken promise. Now, the situation has become increasingly nonsensical. We are taking measures against NATO's aggressive expansion within our borders, but still we are deemed the aggressive one. Do you know how many minutes it takes for an aircraft to reach St. Petersburg, where the meeting between the two leaders is to be held, from NATO's Baltic bases? Only 10 minutes. Russia doesn't have any bases that are that close to European capitals or Washington. Therefore, it is NATO acting aggressively, not Russia.