The U.S. Navy deleted a propaganda poster it shared on social media to celebrate its 241st birthday which caused an uproar in Turkey, saying it was not meant to insult the people of Turkey.

The poster posted on Thursday was depicting American sailors killing troops under the Ottoman flag, which is very similar to modern Turkey's national flag.

"The painting in question depicts an event that occurred in 1804. It was painted by artist Dennis Malone Carter 54 years later in 1858. Obviously the artist was not in Tripoli when the event occurred, so he used information known at the time about the event to form the painting, " the U.S. Navy said in statement released to Daily Sabah.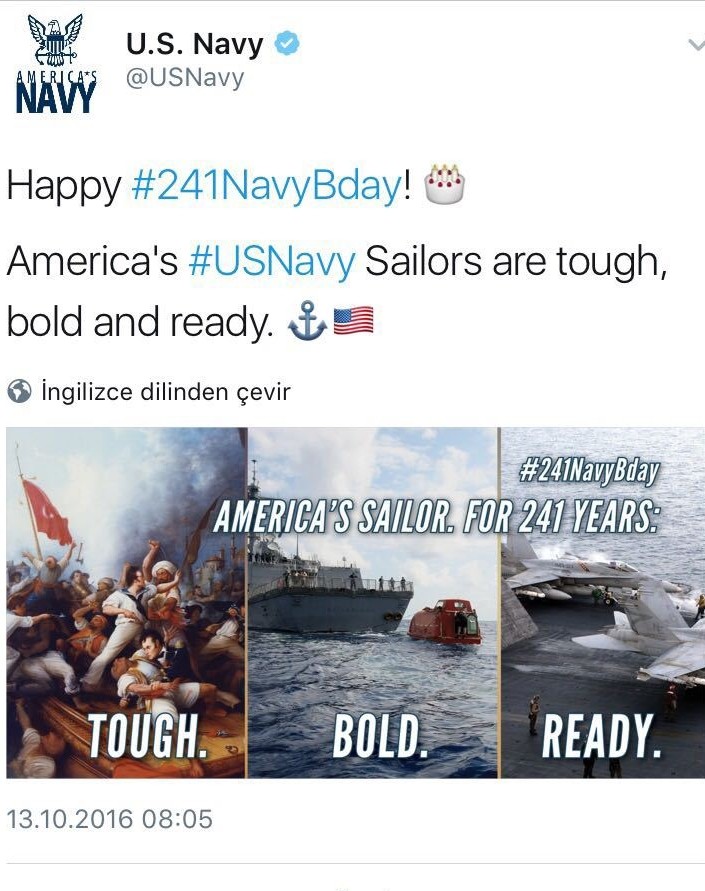 Carter's painting used by the Navy, titled "Decatur Boarding the Tripolitan Gunboat", has an interesting story behind it. The Bey of Tripoli and the United States went to war in 1801 following U.S.' refusal to pay higher tributes to prevent attacks to American ships. Then-President Thomas Jefferson sent a squadron to attack the city of Tripoli in 1803, however Tripolitan forces captured the U.S. Frigate Philadelphia. To prevent the ship from being used against others, Lieutenant Stephen Decatur led a successful raid to burn the ship, by using a captured Tripolitan ketch which he named the Intrepid.

The Navy said Tripoli had been part of the Ottoman Empire for more than 150 years before it became semi-independent in the nearly 1700's. "It was during that time, in the early 1800's, that the U.S. Navy engaged with Tripolitan forces. The Ottoman empire fully restored its authority over the region in 1835. It's impossible to know what was going through the artist's mind when he created this painting more than 150 years ago, but he chose to use the banner of the nation in control of Tripoli at the time he painted it in order to help contemporary audiences understand what the event was," the statement said.

Anadolu Agency reported that hundreds of Turkish Twitter users reacted to Thursday's post, saying that the U.S. Navy was giving Turkey a subliminal message at a time when tensions between the two allies are high.

The Navy dismissed the allegations and said the intent of the graphic is to convey the toughness of American Sailors who fough to right a wrong against an established world power more than 200 years ago.

"It was certainly not meant as an affront to the people of modern Turkey with whom we enjoy a great deal in common and a long-standing relationship built on trust and goodwill, much like those of other nations with which we have not always agreed like Germany, Japan, Spain, the United Kingdom and France." the statement said.