Top diplomats from Turkey, Britain and Greece joined U.N.-hosted talks on Thursday aiming to reunify long-divided Cyprus, as the negotiators tackle crucial security issues for the east Mediterranean island where tens of thousands of Turkish troops are stationed in the breakaway north.
The arrival of Foreign Ministers Mevlüt Çavuşoğlu of Turkey, Boris Johnson of Britain and Nikos Kotzias of Greece means years of efforts to reunify Cyprus have reached high-level diplomacy, and are tackling security issues for the first time. Security is pivotal to any deal to end the 43-year split because it strikes at the heart of fears among both Turkish and Greek Cypriots.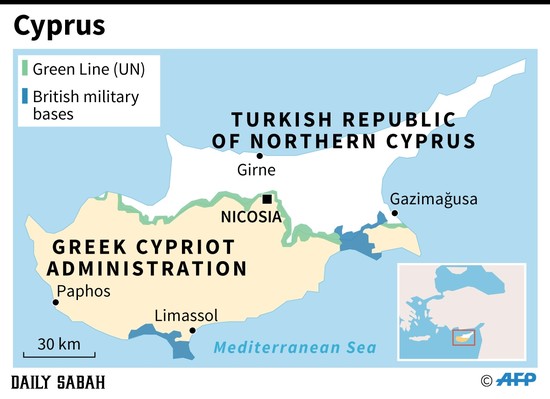 The ministers were hoping to make progress that could pave the way for their prime ministers to join them, a possible signal that a wide-ranging accord also involving issues like governance, property and territory could be on tap. Britain is a former colonial overseer in Cyprus, and today operates two military bases on the island.
"If there is willingness by all side to find a commonly agreed solution regarding security... then the prime minister will travel to Geneva and we will have a chance to reach a just and viable solution to the Cyprus issue," Greek government spokesman Dimitris Tzanakopoulos told reporters in Athens, referring to Prime Minister Alexis Tsipras.
European Commission President Jean-Claude Juncker and U.N. Secretary-General Antonio Guterres were also participating in the talks. Guterres was expected to speak to reporters later on Thursday.
Greek Cypriots consider the presence of Turkish troops as a threat and an instrument of Ankara's influence on the island. They insist that Turkey, which is not a European Union member state, should neither keep troops on the island nor have the right to intervene militarily in Cyprus, which is part of the 28-country EU bloc.
Greek Cypriot President Nicos Anasastaides and Turkish Cypriot leader Mustafa Akıncı have been leading a string of delicate, closed-door meetings in Geneva since Monday to iron out a host of outstanding issues. U.N. envoy for Cyprus Espen Barth Eide said Wednesday that progress has been made on a number of fronts, but that work remained.
The Greek Cypriot and Turkish Cypriot communities exchanged maps Wednesday outlining the zones that each community would control in a hoped-for federation, before the maps were placed in U.N. vault for safekeeping — a sign of the delicate nature of the proposals to both sides.
Turkish troops had organized a military operation to the island in 1974 to restore peace and to secure the rights of Turkish Cypriots, following an Athens-inspired Greek Cypriot coup which sought for unifying the island with Greece.
A UN-brokered peace deal was approved by Turkish Cypriots in 2004 but rejected by Greek Cypriot voters.
'We are close to reaching a solution'
U.N. Secretary-General Antonio Guterres organized a press conference, with Cypriot leader Turkish Cypriot leader Mustafa Akıncı and Greek Cypriot President Nicos Anasastaides, on Thursday to inform about the current situation in the ongoing negotiations.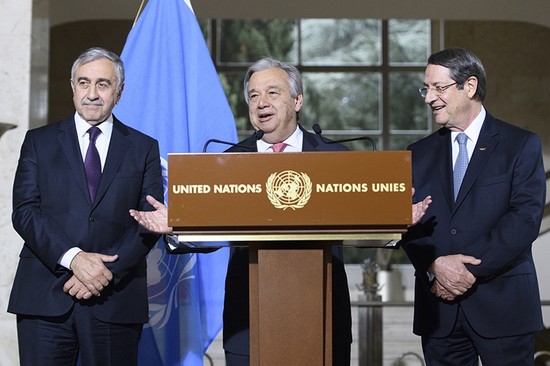 Guterres said he is hopeful as regards to reaching of a solution in the Cyprus issue.
''We are working hard in order to resolve the issue, we are close to agree upon a federal state where the rights of both sides are guaranteed but we also need instruments to implement it,'' U.N. Secretary-General added.
During the press conference, Guterres also precised that whatever solution is agreed upon, it will be submitted to the approval of both Turkish and Greek Cypriots via a referendum.
U.N. head also highlighted the importance of guarantor countries, namely Turkey, Greece, and the U.K., taking part in the negotiations.
Guterres also said that the U.N. does not support any particular in the Cyprus deal, while also reiterating that what matters for the U.N. is the resolution of the issue.