Prime Minister Binali Yıldırım visited the Turkish Republic of Northern Cyprus (TRNC) Thursday and slammed the Greek Cypriot administration for its uncompromising attitude in the solution process for the long-divided island.
Yıldırım was received by both the TRNC President Mustafa Akıncı, and Prime Minister Hüseyin Özgürgün.
''In every single step Turkey has taken so far, it has always taken into account the interests of TRNC and it will remain so in the future,'' Yıldırım said.
The Turkish prime minister also blamed the Greek Cypriot side for the failure of the reunification talks, noting that Greek Cypriots do not appear to be ready for a solution.
''There is a blatant issue of trust. With the full support of Turkey, the TRNC proved to be willing, solution-centered side in the process of reaching a sustainable peace deal. However, the Greek side showed that it does not want to reach a solution,'' Yıldırım declared, referring to the decision of the Greek administration in February to reintroduce ''Enosis [Union] Day'' celebrations in schools.
Enosis is the Greek Cypriot bid to unite the island with Greece, referring to the illegal 1950 referendum organized only in the Greek parts of the then-British-controlled island. Over 90 percent of the Greeks voted for Enosis at that time.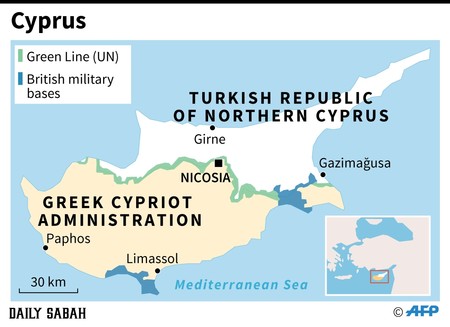 Enosis is also the root cause of Turkey's military intervention as guarantor power to the island in 1974, with the army coming to the island to secure the rights and freedom of fellow Turkish Cypriots after an Enosis-inspired military coup was followed by violence against the island's Turkish population.
During his meeting with Yıldırım, his Turkish Cypriot counterpart Özgürgün stressed that the Enosis decision demonstrated that the Greek mentality has not evolved for 60 years, and continues to push forward by steamrolling the interests and existential issues of the island's Turkish population.
Özgürgün also said that the Turkish side had already demonstrated several times its readiness and willingness to reach a deal but the Greeks were continuously acting as the undermining side in the reunification negotiations, particularly referring to the 2004 U.N.-brokered unification referendum, which was approved by Turkish Cypriots but rejected by the South.
Over the past months, several U.N.-moderated reunification talks failed as a result of Greek demands, which aimed to strip the Turkish North from Turkey's warrant.
The last round of reunification talks were unsuccessful in February when the Greek Cypriot President Nicos Anastasiades ''slammed the door and left,'' as TRNC President Akıncı reported, after the latter said the Turkish side cannot accept the Enosis commemorations held in the South.