Ukrainian Ambassador to Ankara Andrii Sybiha said that Turkey and Ukraine have implemented a strategic partnership, underlining that as a leading country in the region, Turkey is a key partner for Ukraine. Emphasizing the importance of Turkey's unwavering support for maintaining Ukraine's territorial integrity since the beginning of Russia's aggression against the country, Ambassador Sybiha said that Ukraine will never forget the unwavering support Turkey has shown the country in the said areas.
Regarding the latest situation in eastern Ukraine, the ambassador stressed that while Ukraine is upholding its regional responsibilities, Russia is not doing the same, violating respective agreements and stirring conflict on a daily basis.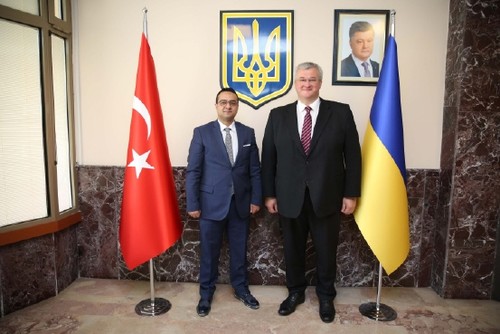 Underlining that Turkey and Ukraine have tremendous potential militarily, Ambassador Sybiha said that it is a win-win situation for both countries while adding that in addition to military cooperation, there is a wide range of areas with development potential that would serve the interests of both countries; namely, the aviation industry.
Ambassador Sybiha also said that the number of Ukrainian tourists visiting Turkey is expected to rise by 30 percent this year thanks to political closeness and an increased number of direct flights between the two countries.
Daily Sabah: Last month, Prime Minister of Ukraine Volodymyr Groysman paid a visit to Ankara. From this perspective, how would you evaluate the current level of bilateral relations?
Andrii Sybiha:
As you know, this year marks the 25th anniversary of our bilateral relations and I am glad to state the fact that we have a constructive strategic cooperation between Ukraine and Turkey. This strategic partnership is based on a rich history and the close geopolitical vicinity of our countries and it continues to grow nowadays. Political dialogue between our countries has intensified and is considered fruitful.
Moreover, it is constantly being improved through mechanisms of mutual cooperation. In this context, the most prominent element is the Turkish-Ukrainian High-Level Strategic Cooperation Council headed by the respective presidents of both countries. Prime Minister Groysman's visit to Turkey March 15-16 was an important step in the further development of our relations. Prior to this visit, Turkish Foreign Minister Mevlut Çavuşoğlu visited Ukraine and in this framework the details of the upcoming meeting of the Strategic Cooperation Council were discussed.
As one of the leading countries in the region, Turkey is a key partner for Ukraine. We will never forget Turkey's firm stance on maintaining Ukraine's territorial integrity that has been unwavering since the very beginning of Russia's acts of aggression against Ukraine. Ankara has been supporting us ever since and has made its position clear on all diplomatic platforms.
Speaking about institutions which contribute to the improvement of our bilateral relations, I can say that there are currently more than 15 joint commissions that develop our relationship across various spheres. We are doing our best to improve every dimension of our relations.
As you know, in recent weeks Turkey and Ukraine signed an agreement allowing passport-free travel to citizens with aims to allow people visiting the respective countries with identification cards.
DS:What would be the impact of this decision on Turkey's tourism?
AS:
This agreement will definitely have a positive effect on our relations. The two countries already have a visa-free travel regiment between them. Now, we are talking about passport-free travel wherein the Turkish and Ukrainian citizens will be able to visit the other country only with their identification cards.
Last year, more than 1 million Ukrainian tourists visited Turkey. This number has shown a 50- percent increase compared to the previous year. On the other hand, Ukraine was visited by more than 240,000 Turkish tourists, showing a 24 percent-increase. I hope this increasing trend will continue.
We have increased the volume of airline travels. In summer, there are about 180 flights between Ukraine and Turkey every week. Turkish Airlines (THY) which is successful on the Ukrainian market, successfully completes more than 50 flights every week. Recently, we have started offering a new, direct flight from Istanbul to Kharkiv. In October of last year, we started offering flights between Ankara and Kyiv. Moreover, we are also increasing the frequency of sea passenger voyages between the two countries.
As you know, we have started a ferry line between Haydarpaşa and Odessa. All of these are the practical aspects of our strategic partnership. However, we will continue to improve with further developments. Now, we are thinking about offering a direct flight from Antalya to a city in Ukraine that is yet to be determined. I want to reiterate that our aim is to make travel much easier for our citizens by increasing the number of modes of travel.
Our bilateral commission on tourism has resumed its work after a seven-year hiatus. This commission will continue to function effectively. According to experts, the number of Ukrainian tourists visiting Turkey is expected to rise by 30 percent this year.
DS: Ukraine and Turkey have also signed a military cooperation plan. Could you provide more details on the scope of this cooperation please?
We have a multidimensional and extensive military cooperation. According to the agreement we have signed with Turkey, Ankara will provide $3 billion in aid to the Ukrainian military and we are grateful for this. Besides, as a part of Ukrainian-Turkish bilateral programs, Ukrainian officers are trained in Turkey.
Representatives of the Ukrainian Ministry of Defense are in constant contact with their Turkish counterparts. Both countries will participate in the International Defense Industry Fair which will be held May 8-12 this year. We have tremendous potential in terms of cooperation in the military industry. It is a win-win situation for both countries.
Ukraine's defense industry has unique potential. We are experienced in a variety of subjects, ranging from aerospace to the development of ground equipment. I believe a joint aircraft production project would be very successful. First of all, I am talking about Antonov 178 and Antonov 132D. These are multifunctional cargo and passenger planes and we can start a mass production of this aircraft. Besides, we will have the opportunity to sell this aircraft to third parties.
On the other hand, cooperative agreements with Turkish companies like ASELSAN and ROKETSAN, which focus on aerospace engineering, is important for Ukraine. Any cooperation in this sphere will be beneficial for both parties.
We also desire to cooperate in the Turkish Altay main battle tank project. Ukraine has the power to help its Turkish partner in this field and is open to a wider cooperation.
DS: The total trade volume between the two countries is about $4 billion. Do you think this figure reflects the real potential and from your point of view, which steps should be taken to enhance economic cooperation?
The total trade volume has much greater potential and the current figures are below the potential of the two countries. Our prime minister has also addressed this subject during his visit to Turkey and the main reason behind his visit was to improve economic relations. We have to take many steps to halt the three-year decline in mutual foreign trade, which is between 13 and 14 percent. First of all, we should sign a free trade agreement (FTA). As you know, negotiations have been ongoing for seven years. The process is 95-percent complete and we are trying to reach a conclusion now.
The next round of negotiations regarding a FTA will be held in Ukraine by the end of April. We hope that these negotiations will have a positive outcome that will be beneficial for economic relations between both countries.
There are two more important factors to consider in revitalizing trade: First, an agreement to prevent double taxation and second, an agreement to protect the mutual investments of the two countries. It is our priority to realize these agreements.
Recently, there was the meeting of the Intergovernmental Economic Commission. The next meeting will be held by the end of the year. On the other hand, we must realize the cooperation and memorandum of understanding between the Turkish Standards Institute and its Ukrainian counterpart. For instance, while it is difficult to find a Ukrainian product in Turkey, there are many Turkish products in Ukraine. There is nothing hindering the sale of Turkish products in Ukraine and I hope that there will not be any hindrances for the sale of Ukrainian products in Turkey, either.
DS: Recently, Russia's refusal to lift an embargo on Turkish agricultural products including tomatoes and lemons, Turkey decided to ban Russian wheat imports. Could Ukraine meet Turkey's demand for legumes and grains? Have any meetings been held with Turkey's Ministry of Economy or the Ministry of Agriculture in this regard?
Ukraine can supply grains to the Turkish markets. Last year, Ukraine broke a record in wheat production, producing 63 million metric tons of wheat. As this crop is sent to every corner of the world, I believe that we can satisfy Turkey's need. We are among the top five wheat exporting countries in the world.
DS: It has been more than three years since Russia's annexation of Crimea and the military conflict continues in eastern Ukraine. What is your take on this issue? Is Russia complying with the ceasefire agreement?
Since 2014, Ukraine has been subject to Russian aggression. With the invasion of Russia on the Crimean peninsula and Donbas, more than 10,000 Ukrainians have lost their lives. We desire a peaceful resolution to this conflict and we want to restore Ukraine's globally recognized territorial integrity via a diplomatic process. Unfortunately, while Ukraine upholds its responsibilities, Russia and Russia-supported terrorists do not.
We can see that Russia is violating the respective agreements on a daily basis. Under these circumstances, we have to protect ourselves. We are proud that we were able to form a very powerful army in such a short time; however, as I have said before, we desire a peaceful resolution to the conflict. In this respect, Turkey's primary position and support are very important to us.
DS: In what ways have the Crimean Tatars been affected by Russia's illegal annexation of the Crimean Peninsula? Could you please elaborate on this subject?
Once considered a golden location for tourism, the Crimean peninsula has become a land of injustice, fear and sorrow. The situation is dire now. People are being oppressed. They disappear suddenly. There are countless sham trials against pro-Ukrainian journalists and activists. Moreover, the Crimean Tatar schools have been closed down.
The main targets of the oppression are the Crimean Tatars. Crimean Tatar Mejlis have been banned. The entire world has denounced this and Turkey has condemned the unlawful ban as well.
May 18 will be a sorrowful day for our country, as on this date in 1944 the Crimean Tatars were exiled by Joseph Stalin's regime. We will do our best to prove legally that the Crimean Tatars faced genocide back then. We are in cooperation with associations of Crimean Tatars in Turkey regarding this issue.
Currently, Ukraine and the entire civilized world, including Turkey, are doing their best to put an end to Russian aggression and occupation of Ukraine's Crimea and part of Donbas.
We need to bring Putin's regime to justice for its crimes. To this end, Ukraine has submitted five cases to the European Court of Human Rights (ECHR). Furthermore, there are around 3,000 cases which have been filed by Ukrainian citizens. Ukraine has also appealed to the International Criminal Court (ICC). The prosecutor of the ICC stated that Russia's invasion of Crimea violates international law. Similarly, in January 2017, Ukraine filed a claim with the U.N. International Court of Justice against Russia. The Putin regime must be punished for its crimes. If it goes unpunished, Russia may commit more serious crimes.
In this respect, I should also say that Russia has violated the trust of Europe by invading Crimea and transforming the region into a military base. Furthermore, by doing so, Russia has also shown hostility towards the order that had been established in the second part of the 20th century.
Another issue facing Crimea is the order of visiting the occupied peninsula by the Ukrainian and foreign citizens. Procedural stipulations for visiting Crimea have been put into place and affect foreign visitors as well. If a person enters Crimea without complying with the criteria set by Ukraine, he or she will be punished according to Ukraine's respective legislation. This situation is also true for foreign legal entities and foreigners who conduct business there. Business people who conduct business in Crimea illegally will be permanently barred from doing business in Ukraine. Access of foreign civilian ships to Crimean seaports will also be affected. The procedure of legal entrance to Crimea is available on our Embassy's website.
Ukraine had aims to join NATO by 2020.
Is Ukraine still maintaining this goal and what is your country's road map in this regard?
From the very beginning of Russia's aggression against Ukraine, NATO has adopted a firm position in support of Ukraine's sovereignty and territorial integrity. The alliance condemned Russia's occupation and annexation of Crimea and the violence and insecurity in eastern Ukraine caused by Russia. The alliance expressed its full support for the sovereignty and territorial integrity of Ukraine within its internationally recognized borders.
At the British Summit of NATO in Wales in September 2014, NATO leaders met with Ukrainian President Petro Poroshenko in the NATO-Ukraine Commission. In a joint statement, they condemned Russia's annexation of Crimea and its continued and deliberate destabilization of eastern Ukraine in violation of international law. The allies agreed to support the efforts of Ukraine to develop a political process that meets the aspirations of the people in all regions of Ukraine without foreign interference.
The alliance has strongly supported the settlement of the conflict in eastern Ukraine by diplomatic means and dialogue. It has supported the Minsk agreements of September 2014 and welcomed the adoption of the package of measures for their implementation in February 2015. NATO has underlined that Russia must stop its deliberate destabilization of eastern Ukraine through its political, military and financial support for militants, withdraw its forces and military equipment from Ukrainian territory and fully support a political solution of the conflict. During meetings of the NATO-Russia Council, which continues to meet periodically to keep channels for political dialogue open, the Alliance continues to reiterate its firm position on Ukraine's territorial integrity and sovereignty.
The development of practical support measures in order to increase Ukraine's ability to provide for its own security began against the background of Russia's military escalation in Crimea with a focus on strengthening existing programs on defense education, professional development, security sector governance and security-related scientific cooperation with Ukraine. NATO members pledged to launch substantial new programs, with the help of trust funds – a mechanism which allows individual member and partner countries to provide financial support on a voluntary basis.
Cooperation between the alliance and Ukraine cover a wide range of areas including international security-support operations, defense and security sector reform, military-to-military cooperation, armaments, civil emergency planning, science and environment and public diplomacy. Cooperation in many areas is being intensified to enhance Ukraine's ability to protect its security at the background of Russia's aggression.
Taking into consideration such a firm position of NATO in support of Ukraine's sovereignty and territorial integrity, Ukraine will continue implementing foreign policy aimed at deepening cooperation with the alliance and reforming Ukrainian defense and security sector according to NATO standards.
For Ukraine strategic partnership with the alliance is an integral part of the European integration course. That is why we develop complex and comprehensive process of Ukraine's integration into European and Euro-Atlantic community one of the key pillars of which is NATO.