President Recep Tayyip Erdoğan met with newly elected French President Emmanuel Macron, and European officials on the sidelines of a NATO summit, in which he is expected to seek more support from the bloc for Turkey's anti-terror efforts.
He held a meeting with European Council President Donald Tusk and European Commission President Jean-Claude Juncker on the sidelines of the summit.
Presidential sources said that the need to realize the migrant deal signed between Turkey and the EU on March 2016 was emphasized by both parties during the meeting.
Strengthening the cooperation in the fight against terrorism was also emphasized.
The parties stated that it is important to find a just and permanent solution to the Cyprus question.

Earlier in May, Erdoğan had said that Brussels had no other "option" than to open new "chapters" in Turkey's long-stalled EU accession process, which began in 2005.
Erdoğan later met with European Parliament President Antonio Tajani.

The meeting with Macron reportedly took place at Wiltcher's Steigenberger Hotel on Thursday and was closed to the press. Foreign Minister Mevlüt Çavuşoğlu also attended the meeting.
According to presidential sources, the meeting between the two leaders covering bilateral political and economic relations passed in a positive manner. Both leaders agreed on cooperation in the defense industry and increasing the the bilateral trade volume between Turkey and France to 20 billion euros, which was 13.4 billion euros in 2015.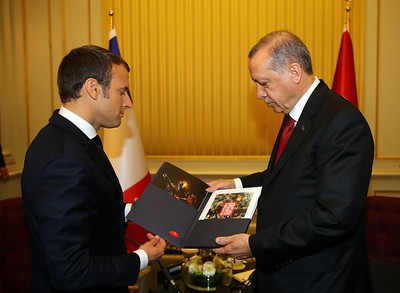 Developments in the region, Syria and Iraq in particular, were also covered in the meeting between Erdoğan and Macron. Both leaders underlined the importance of joint fight against all types of terrorist groups, including the PKK and Daesh.
Increasing the impetus of Turkey-EU relations was another point emphasized by both leaders.

Erdoğan also presented a copy of Daily Sabah's exclusive report on the July 15 failed coup attempt.
The president will also hold meetings with world leaders including German Chancellor Angela Merkel, British Prime Minister Theresa May, as well as top EU officials ahead of the summit.

Prior to his arrival in Brussels, Erdoğan said that terrorism was not the problem of a single country, but of the entire world and highlighted that NATO needed to be more active and supportive for allies in the fight against terrorism.