Turkish military forces arrived in Qatar on Sunday as part of a bilateral agreement between the two countries to train local Qatari gendarmerie forces and ensure regional stability as well as peace, Parliamentary National Defense Committee head Yusuf Beyazıt told Daily Sabah.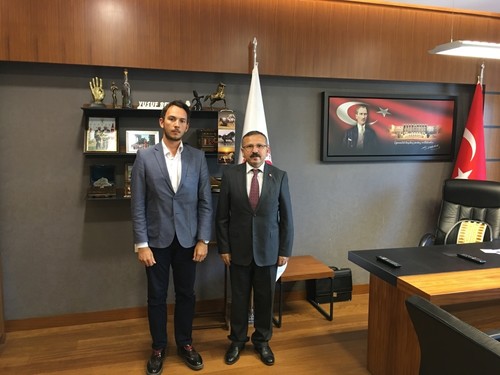 Parliamentary National Defense Committee head Yusuf Beyazıt (R) with Daily Sabah reporter Yunus Paksoy.
"Our intention is to not become a party to any conflicts or clashes there [in Qatar]. Qatari forces will be trained by the Turkish military in accordance with the agreement," Beyazıt said in an exclusive interview with Daily Sabah.
The first group of Turkish troops has arrived in Qatar, according to the Qatari Defense Ministry. After the approval of the bilateral agreement, it was not immediately clear whether Turkish troops would engage in combat if Qatar's national security were threatened. The National Defense Committee head said the forces will not be involved in any combat.
"Ankara does not expect any clashes in Qatar," he said.
Turkish Parliament ratified two deals on June 7 envisaging the deployment of Turkish troops to a base in Qatar to train local forces. The two states had previously reached the agreement in 2016 but it was not put into effect until a year later.
The number of Turkish troops that will be stationed at a base in Qatar remains unknown, as well. When asked about the issue, Beyazıt refused to comment, saying it is "a military issue." The National Defense Committee head said that "it is not appropriate to disclose numbers regarding such military issues."
The approval in Parliament comes at a time when Qatar is being isolated in the re gion after countries including Saudi Arabia, Bahrain, the United Arab Emirates, Kuwait and Egypt cut off all ties with Qatar, accusing it of supporting and funding terrorism.
Beyazıt blasted accusations that Doha is a supporter of terrorist groups, saying, "Qatar is a country that has fought against terrorism and it has not sided with terrorist groups."
He also added that Doha backed the Free Syrian Army (FSA) against the "cruel Assad" regime in Syria and openly stood in support of the democratically elected government in Turkey after the July 15, 2016 coup attempt.
"Qatar certainly must not be thought to have sided with terrorism," Beyazıt asserted.
Blockade on Qatar 'brutal, unjust'
The aforementioned countries severed ties with Doha and imposed sanctions on the small country situated on the Arab Peninsula, forcing a blockade. Since Saudi Arabia closed its border with the country, Qatar currently has no land access to the outside world.
The blockade on the country is very likely to lead to food and water shortages. Therefore, Ankara has intensified efforts to help Qatar. Economy Minister Nihat Zeybekci said over the weekend that Turkey has sent around 5,000 tons of food to Qatar with 71 cargo planes.
Calling the blockade on Qatar "brutal and unjust," Beyazıt said that the decision by Saudi Arabia, the UAE, Bahrain, Kuwait and Egypt to impose sanctions on Doha "is aimed to suffocate Qatar, starve the children and isolate the country." The head of the National Defense Committee ensured that it is not possible for Ankara to abandon Doha in such an environment.
"We are not looking at the picture in terms of countries. We will side with the oppressed whenever there is injustice," he said.
Stressing that Turkey's providing help to Qatar has been carried out in accordance with international laws and bilateral agreements between the two states, Beyazıt said that Ankara will continue to provide assistance.
"Turkish-Qatari relations are moving forward in a very positive way," he said.
'We did not favor German withdrawal from İncirlik'
The Parliamentary Defense Committee head commented on the recent crisis between Ankara and Berlin over the former's ban on a German Defense Committee delegation that wanted to visit the İncirlik Air Base where German troops are currently stationed. After the Turkish government officially said that the German parliamentary delegation is barred from visiting İncirlik, the German Cabinet decided earlier in June that German troops would be re-deployed to an air base in Jordan.
During an interview with Bild am Sonntag, German Defense Minister Ursula von der Leyen said the German refueling aircraft were expected "to be moved to the Azraq air base of Jordan by mid-July."
Beyazıt said that Ankara did not favor Germany's pull-out from the Incirlik Air Base.
"We did not request that Germany withdraw from Incirlik. Some deputies in the German parliament wanted to visit the air base but the visit must take place on our terms. It is the most appropriate approach to the issue," he said.
Beyazıt drew attention to some figures in the delegation that wanted to visit the İncirlik air base. According to Ankara, the delegation allegedly included sympathizers of the PKK terrorist organization and the People's Liberation Party-Front (DHKP-C), both considered terrorist groups by Turkey.
Ankara's ban on the German delegation was motivated by its own set of reasons. Beyazıt said that Europe's approach towards Turkey at the time of the April 16 referendum "hurt us [the Turkish state]." The committee head also said that European states did not protect Turkish deputies but instead turned a blind eye to PKK supporters.
Emphasizing that Europe should be sincere in upholding its values; Beyazıt said the bloc should abstain from applying double standards.
"They [EU member states] are protecting those who bombed our Parliament and killed innocent civilians in the July 15 coup attempt. What we are asking for is their immediate extradition," he added.