The Turkish envoy in Washington expressed disappointment over the slow reaction Barack Obama's White House gave to Turkey's failed coup attempt last year in a panel hosted by the Washington-based think- tank the Global Policy Institute.
The statement shows one year later that even with a new Donald Trump administration in place Turkey is still sore about the conspicuously slow arrival of U.S. support for Turkish democracy.
Serdar Kılıç, the Turkish ambassador, told the conference that a Turkish minister informed him about the developments on Istanbul's Bosporus Bridge, where soldiers had cut vehicle traffic.
"I called my acquaintances in the Turkish military, and I confirmed that this was a military coup" he said.
Kılıç's first task was to reach out to the White House. This was natural for a Turkish envoy in Washington, but also there had been U.S. support in the previous military takeover in 1980. Reports allege that U.S. backing played a strong role in the days of preparation for such attempts in the Cold War years.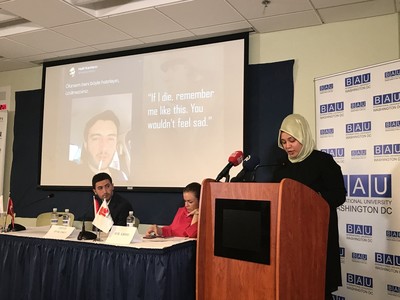 "I immediately got in touch with the White House. And I asked them to issue a statement to show support in Turkish democracy and the Turkish government. Until the late afternoon, there was no statement from the White House. It was the biggest disappointment that I suffered in that fateful afternoon," Kılıç said.
Before the White House, the first American official who offered insight was then-Secretary of State John Kerry, who was visiting Moscow. His initial reaction to the coup attempt has drawn strong rebuttals by Turkish media and the officials, due to its vague nature.
Kerry stated he did not have much chance to look at what was happening in Turkey, but said "I hope there will be stability and peace and continuity within Turkey, but I have nothing to add with respect to what has transpired at this moment."
Many perceived this as a move to take advantage of the situation if the coup succeeds.
The former U.S. Ambassador James Jeffrey disagrees. He says the U.S. held no malicious intent behind this late and confusing reaction.
"The U.S. didn't want to see a coup. Nor did anyone in any position of authority hoped for or basically supported goals of Gülenist movement, or actions of parts of the military on the 15th of July," he said.
Jeffrey confirmed that the Obama administration was slow to issue a statement in support of Turkish democracy but added that Obama was slow on almost everything else too.
"What they were trying to do was to check with everybody that they could. Inside and outside the government and find what was going on. The second problem is President [Recep Tayyip] Erdoğan is not a really popular fellow in Washington, D.C. And there was some confusion about well what are we hearing? Is that like Gezi Park? Is this something that government says, and it produces this kind of stupid statements from the U.S. government," he said.
Daily Sabah Economy editor, Şeyma Eraz, also provided the parts of the upcoming Daily Sabah Center for Research's report on the alleged responsibility of Pennsylvania-based radical cleric Fetullah Gülen. Eraz detailed the evidence proving that Gülen was connected to individuals such as theologian Adil Öksüz, who visited the U.S. a couple of days before the coup attempt and was video-taped with Gülen on many occasions. Öksüz was arrested in the epicenter of the uprising, the Akıncı Air Base, but was later released under suspicious circumstances.
U.S. officials who are convinced that Gülen somehow was involved still say they do not have enough evidence from Turkey to bring up an extradition dossier on him.