The Yunus Emre Institute (YEE), which is a flagship organization to promote Turkish culture and language abroad, currently has 53 offices in 42 countries with the objective to increase their number of offices to 100 by 2023. Yunus Emre Institute President Professor Şeref Ateş said they are not an organization that teaches the Turkish language alone and he underlined that the institute's interest has always been to represent Turkey and its culture along with introducing it to other nations and countries in accordance with Turkey's strategic targets.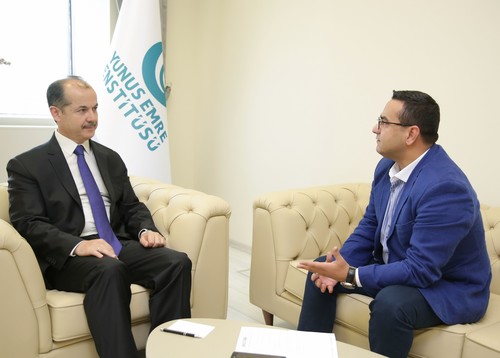 Emphasizing that the YEE is not an institution that spreads propaganda about Turkey, Professor Ateş said the era of propaganda is long gone as people can directly communicate with each other and therefore they introduce Turkey as it is.
Professor Ateş believes that if a country has a certain cultural value that spans centuries, it may become a power in international relations. In this sense he said that Turkey's most important power is its cultural values and for this reason there is high demand for YEE centers abroad. Professor Ateş also added that since the institute became operational in 2009, they have taught Turkish to 100,000 people while they were able to reach 600,000 in total through their cultural activities.
Daily Sabah: Could you inform us about the mission and activities of the Yunus Emre Institute (YEE)?
Şeref Ateş: It was established as a public foundation in 2007 and became what it is in 2009. We opened our first office abroad in Sarajevo in September 2009, after that, the Tiran and Damascus offices followed. It was founded because of Turkey's increasing internationalization in the last 10 years. It was determined that the Turkish Cooperation and Coordination Agency (TİKA) needed support in developing projects and providing technical support abroad. During the numerous Justice and Development Party (AK Party) governments, there were immense investments and project support abroad. However, in order to render these projects sustainable, you need to create a mass in those countries that what to learn more about your culture, world view, mentality and lifestyle. In this respect, we continue to fulfill our duty since 2009.
The development of the YEE was realized in three stages. The first stage was the establishment offices in countries near to Turkey, while the second was the foundation of institutions in EU countries. The third stage, on the other hand, is the foundation of offices worldwide. For instance, we're currently searching for a location in Australia. Meanwhile, we founded an office within the Diyanet Center in the U.S. Now, we're working on offices in Washington, D.C. and four other cities in the U.S.
DS: As YEE, what are your priorities? Do you have other activities than organizing courses to teach Turkish as a foreign language?
ŞA: There is a common belief that the YEE is only about teaching Turkish, however, this isn't true. The YEE is an institution that conducts Turkey's public diplomacy and other elements of what we call soft power. We work in four fields and teaching Turkish is only one of them as we don't even have courses in many countries. For instance, our centers in Brussels and Berlin don't provide Turkish courses. Our second field of activity is about culture and arts; it means employing Turkey's accumulated knowledge of culture and arts in communication with other societies. Third one is cultural diplomacy. We conduct various cultural diplomacy with numerous countries. For instance, we open courses for Palestinians about their own culture in Jerusalem, and organize an interactive interview between a Turkish author and an author from Jerusalem or translation workshops. We also have an international platform which is about actual diplomacy. It is called the Global Public Diplomacy Network and the YEE will remain to be the head of this network until 2019. As part of this initiative, we have introduced folktales from 10 countries to school children in Ankara. Beside these, we have many other projects, which are about introducing various cultures to Turkey or being active in third-party countries. For instance, we're organizing an event in collaboration with Vietnam and South Korea under the banner of UNESCO. Thus, the pillar that is cultural diplomacy allows us to conduct such events. Becoming ever internationalized, Turkey has to have relations with countries all over the world. Our fourth field is called science or scientific diplomacy. We're currently collaborating with 80 universities in 60 countries. We have an exchange program for academics. These academics don't only teach Turkish, but also transform Turkey's scientific capacity into a project. They become the bridge between the country they are sent and cyberparks in Turkey. In this respect, we are in cooperation with institutions such as the Presidency for Turks Abroad and Related Communities (YTB), the Turkish Ministry of National Education, TİKA and various scientific institutions and academies abroad.
DS: What is your essential mission as an institution?
It can be summarized under two subtopics. First, to create communities that are related and close to Turkey. The second is to have cultural correspondence with all communities across the globe, even if that means those countries and communities that Turkey has tense relations with. You have to be in contact with all: Israel, Palestine, Greece, Germany, the U.S., Russia and China.
We are an institution that conducts activities with the state's budget. As it is the case with all countries, the elements of soft power will engage when politics is in a deadlock. For instance, despite all crises and disputes, we continue to be active in Egypt. Our Turkish courses and cultural events are attended by high-level state officials. Egypt isn't against our existence because they know that we're serving for the common human values.
Turkey has cultural accumulation and a vast history. These are important values for a nation. Even though elements of power like economic and military are important in international relations, there is more to them. Northern European countries, for instance, have higher development levels than our country, however, they can never be a center of power in terms of international balance. If a country has a certain cultural value that spans centuries, it may become a power in international relations. In this sense, Turkey's most important power is its cultural values. Turkey is currently synthesizing these values with the realities of modern world and developing them in various ways. Of course, these values are valuable if they can be conveyed to oncoming generations. Turkey has a young population that is dynamic, productive and creative that could convey this cultural inheritance. This reflects on our culture as well. For this reason, there is high demand for our centers abroad.
DS: How many countries are you active in? Which countries do you plan to expand into in the following years?
Currently, we have 53 offices in 42 countries, meanwhile, we are cooperating with 83 universities in 44 countries as part of the Turkology Project. In total, we have 135 affiliates in 60 countries.
We're working on the foundation of six offices. Our center in Somalia is about to be finished. We have founded a school of nursing there. We first teach them Turkish, then they will receive technical and occupational training. On the other hand, we were in contact with the Turkish General Staff because Somalia is forming its national army and our general staff is training them. As the YEE, we are providing them Turkish courses. Meanwhile, we will also open a new office in September. Moreover, we have academic exchange programs, the Mevlana Program and scholarships provided by the Foundation of Turks Abroad.
At first, we opened offices in countries physically closer to Turkey up until 2012. Between 2012 and 2015, we opened offices in EU countries. Now, overlapping with state policies, we have been working in Africa since 2016. We are opening centers in African countries like Tanzania, Ethiopia, Madagascar and Senegal. On the other hand, we are sending Turkish academics there to convey Turkey's cultural and historical heritance.
We are expecting to increase the number of centers to 100 by 2023. Turkey is rich in terms of human and financial resources. We have a pool of people who know the vernacular of particular countries, therefore, we have the possibility to open offices in many countries. On the other hand, after the July 15 coup, there has been closer collaboration between state institutions, people and NGOs. Our people and institutions are marching toward common goals. For instance, we are educating and training young people abroad. We have brought Turkology graduates abroad to Turkey and organized a program on "how to teach Turkish as a foreign language" for them. Universities don't reject our requests as we currently have agreements with almost all universities. In this respect, we provide certificates to foreign Turkology graduates and organize summer schools. This year, we're celebrating the eighth anniversary of the summer school. Its curriculum consists of cultural and scientific activities. Some 700 students attend this summer school and they are distributed among 22 cities where they are hosted by universities.
DS: How many people were you able to reach with the YEE's courses and various activities? Do you have any figures about this subject?
ŞA: According to our data, we have taught Turkish to 100,000 people, while we were able to reach 600,000 in total through our cultural activities. For our annual summer school, we bring 700 people. Moreover, we have people like journalists and scientists whom we are in contact with. There are also people we reach through the media. For instance, despite the ongoing crisis with Germany, we were able to organize an event on July 18 which was covered by the German media.
In order to provide an example of the diversity of our cultural activities, please allow me to elaborate on this event in Germany. As you know, many scientist and politicians fleeing Germany during World War II found sanctuary in Turkey. One of them was Ernst Reuter, who would later became the first mayor of West Berlin. His son Edzard Reuter spent his childhood and teenage years in Turkey. Like his father, Edzard Reuter had always expressed his gratitude to Turkey. As it was also the case in the 1940s and 1950s. Turkey has always been a country to open its doors to immigrants. Today, we are hosting more than 3 million people. Nevertheless, we have produced a documentary on Edzard Reuter's years in Turkey and showed it in Germany. Despite in a time of tension between the two countries' governments, we are maintaining our intercultural relations. Humanity needs to understand the necessity of human values and peace.
Returning to the topic, we have organized around 1,200-1,300 events. We hope it will surpass 1,500 this year. Last week, we organized events all around the world because of the last year's July 15 coup attempt. We organized a "Peace Marathon" in Sarajevo. To convey our messages to the local populace, we are collaborating with local partners. We are organizing events that are compatible with the local culture. We usually have to do too much work with limited personnel. Especially in the Islamic world, many are hopeful toward Turkey. People who learned Turkish and come from various countries such as Sudan, Afghanistan, Germany and Serbia express that they want to work with us and that they need Turkey. This is the case, because Turkey creates new discourses and tries to break the deadlock. Moreover, the said discourse is created with human values in mind, not international balance of power. The "world is bigger than five" has reflections all across the globe in South American, Arab and African countries, and this brings hope. They become increasingly interested in us. In a sense, the political discourse and cultural activities overlap.
There is a significant demand coming especially from South American countries. As we weren't able to send Turkish teachers everywhere, we initiated the "Remote Turkish Education Platform" a month ago. Within a month, we have reached 10,000 people.
DS: Have you had any issues while searching for personnel?
ŞA: Yes, we have certain challenges. We have to train our own personnel in certain fields or subjects as we conduct a very specific and unique activity. In order to train the required human resource for cultural and scientific diplomacies, we have founded the "Cultural Diplomacy Academy." A person may have graduated from a certain field, however, they need to know international relations, diplomacy and their own fields. We also have programs for teaching Turkish as a foreign language. Those who go abroad and work with us abroad will be trained with the information and documents that this academy produced. Moreover, they have the opportunity to improve themselves with programs we organize in Ankara and Istanbul. We have two councils beside the said academy. We have a council of consultancy that employs Turkey's heritance legally. It includes chairpeople and representatives of unions along with members of various political parties. The YEE has been founded for representing and introducing Turkey abroad. We have members of different walks of life in our administrative and supervisory councils. We act in accordance with the strategy they have determined. On the other hand, we also have an academic council in which we organize activities in accordance with their feedback.
DS: Last year, the YEE became the head of the Global Public Diplomacy Network (GPDNet). Could you provide information about the activities you're planning?
ŞA: It's a platform that was found with the lead of a South Korean foundation. Western countries organize events just to further their national agendas. We believe that every culture, religion and ethnicity has the right to introduce its own values and interact with others, which is why we have united with countries that were excluded from the Western network. We already have planned three events and we will be organizing the general assembly in Istanbul in September. We will invite prominent and proficient figures of cultural diplomacy from all across the globe. We will make this subject heard everywhere. We have a diverse roster in our network: South Korea, African countries, Hungary, Poland and others. Our main philosophy is to interact without any discrimination, not according to their economic power. This is a network that invites new countries with the approval of its 10 member countries, allowing them to introduce their cultures to each other and improve correspondence.
DS: Could you inform us about the activities you have planned to explain what happened in Turkey during and after the July 15 coup attempt perpetrated by the Gülenist Terror Group (FETÖ)?
ŞA: As an element of soft power, our aim has always been to represent Turkey and its culture along with introducing it to other nations and countries in accordance with Turkey's strategic targets. For this reason, the YEE's development has constantly been perceived as a threat by FETÖ. The night of July 15 was the revival of the Turkish people. In order to make our voice heard, we sent press statements to 52 centers on July 16 expressing that FETÖ orchestrated the coup. We swiftly collaborated with various state institutions from numerous countries. Our swiftness seemingly posed a threat to FETÖ because when Gülen made a statement on July 17, 2016 he directly targeted us. During the press statement, in which they alleged that they did not orchestrate the coup, he mentioned the YEE twice.
Our most prominent aspect as the YEE is the correspondence we have with the local populace. We aren't an institution that hides behind security and closed doors. We have a system that allows us to have direct communication with the locals. This, of course, renders us a target to terrorist organizations working against Turkey. We are not an embassy or an institution that spreads propaganda about Turkey; we introduce Turkey as it is. The era of propaganda is long gone as people can directly communicate with each other. As long as you express the truth, no one can disagree with your discourse.