Ambassadors from the Association of Southeast Asian Nations (ASEAN) member states in Ankara welcomed Turkey's changing Asian policy and recent initiative to become the sectorial dialogue partner to the group, underscoring that there is much greater economic and political potential between the two sides. Gathering at a ceremony held in the capital Ankara yesterday to commemorate the 50th anniversary of the founding of the association, ambassadors from ASEAN conveyed positive messages in regards to Turkey's recently increasing cooperation with the region.

"I think there's an obvious change in Ankara's way of approaching Asia. We are very pleased with Ankara's changing multi-dimensional foreign policy toward the Far East, especially ASEAN," Indonesian Ambassador to Ankara Mr. Wardana told Daily Sabah. In recent years, Ankara has ramped up efforts to interact more with Asian states.

Going through a tumultuous period with the European Union, the Turkish government looks to forge stronger and more comprehensive ties with the region. Vietnamese envoy to Ankara, Pham Anh Tuan, expressed his astonishment at such a quick process to include Turkey into the association as a sectorial dialogue partner. "I did not expect it to be this fast, but there has been great willingness from the Turkish side," the Vietnamese ambassador said.

The first resident Singaporean ambassador in Ankara, A. Selverajah, also appreciated Turkey's will to be a part of ASEAN. "We are delighted. We kindly welcome Turkey's efforts to become a sectorial dialogue partner."
Emphasizing that Ankara put forward a comprehensive action plan, the Singaporean ambassador said, "Turkey came out with a very good action plan. The important thing is that we have to implement these plans. We need to realize them."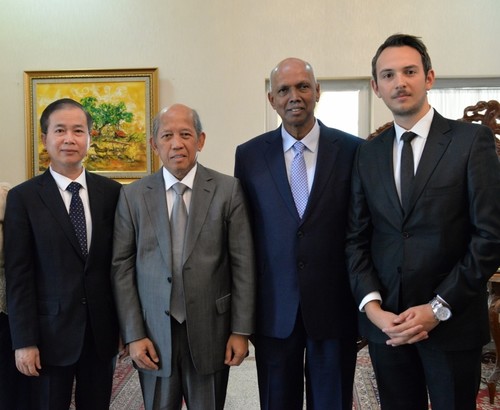 Vietnamese envoy Pham Anh Tuan, Indonesian envoy Wardana, Singaporean envoy Selverajah with Daily Sabah's Yunus Paksoy (right)
ASEAN is on the rise and the association is becoming a new center of attraction around the world. Together, the 10 ASEAN member states form the seventh largest economy in the world, with a population of 622 million and a total GDP of $2.6 trillion in 2014.
All ASEAN ambassadors at the ceremony underscored that today's level of bilateral trade between the association member states and Turkey does not reflect the actual potential. Indonesian envoy Wardana suggested that a potential tourism boom from ASEAN countries to Turkey is not far from reality.
Selverajah agreed, asserting that the number of tourists visiting Turkey is relatively low for the time being. The Singaporean envoy said Ankara's action plan envisages broader cooperation in areas such as tourism, e-commerce and trade.
The Indonesian ambassador pointed to "Halal Tourism" as a great way to speed up tourism relations between the two countries. Stressing that he will exert efforts to bring Turkish and Indonesian tourism operators together to find the best packages, Wardana said Indonesians performing Umrah may be offered a holiday for one week in Turkey, as well.
ASEAN was established in 1967 and includes 10 states: Brunei, Cambodia, Indonesia, Laos, Malaysia, Myanmar, Philippines, Singapore, Thailand and Vietnam.
Deputy Foreign Minister Ambassador Ahmet Yılmaz, delivering a short speech at the gathering, announced that the opening of an embassy in Laos is imminent, underlining the country's new efforts to expand toward Asia.
In recent years Turkey has been intensifying its diplomatic and economic relations with ASEAN-member Southeast Asian countries. "We aim to boost our relations with the region. We, Turkey, would like to be a member of ASEAN, not a dialogue partner. I would like to express that we are ready for this," President Recep Tayyip Erdoğan said in 2015 during his visit to the Indonesian capital Jakarta.
The ASEAN declaration states that the main aim of the organization is to accelerate the economic growth, social progress and cultural development of the region. Turkey's decision to establish institutional ties dates back to 1999.
Turkey became a signatory of the ASEAN Treaty of Amity and Cooperation in Southeast Asia (TAC) on July 23, 2010 and thus, the foundation of sectorial cooperation was laid down. Moreover, in recent weeks Philippine President Rodrigo Duterte, whose nation holds the rotating ASEAN chairmanship this year, said that Turkey and Mongolia should join ASEAN.
When Turkey's sectorial dialogue partnership was announced at the ASEAN Regional Forum in Manila last week, Foreign Minister Mevlüt Çavuşoğlu said Turkey has been chosen among other countries who applied for the partnership and that the initiative was taken in line with Turkey's proactive and multidimensional foreign policy.
The minister said that for a long period, Turkey was focusing on improving ties with Southeast Asian countries and that after opening the Turkish embassy in Laos, the country would have embassies all across the ASEAN region.
"With the new step, our political and institutional relations with the countries in the region will further develop as well as bilateral trade volume. Also the partnership will create important opportunities for Turkish businessmen," Çavuşoğlu said.