Turkish and Iranian officials reiterated their vehement opposition against the Kurdistan Regional Government's (KRG) planned referendum for Iraqi Kurdistan's independence from Baghdad.
Presidential spokesman İbrahim Kalın criticized Irbil's plans to hold the referendum without reaching a consensus with Baghdad, asserting it will put them in a difficult situation.
"First of all, this referendum will not be held in a manner that will cover the whole of Iraq's people, it will be done in a region only," Kalın said at a press conference Thursday.
Kalın said that Ankara will do its part on the issue while maintaining consolations with other regional actors, adding that Turkey and Iran have agreed to enhance military cooperation after the Iranian chief of staff held several high-level meetings during his visit to Ankara this week.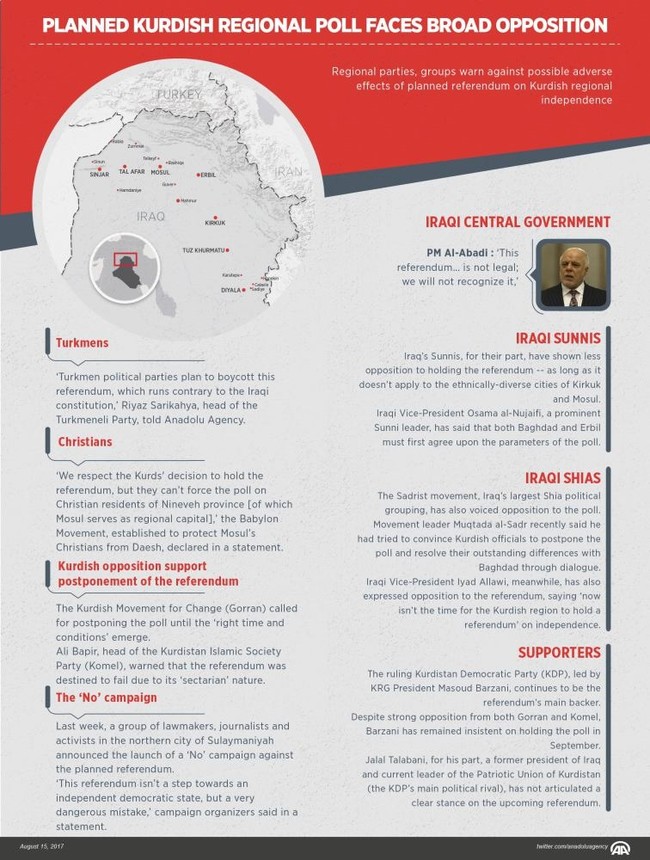 Iranian Chief of Staff Gen. Mohammad Hossein Bagheri said Wednesday, after meeting with President Recep Tayyip Erdoğan and his Chief of General Staff Gen. Hulusi Akar, that the independence referendum would trigger conflict and negative consequences for the entire region.
Speaking at Iran's official IRNA news agency, Bagheri's cited the staunch opposition shared by Ankara and Tehran to the voting next month.
"Both sides stressed that if the referendum is held, it will be the basis for the start of a series of tensions and conflicts inside Iraq, the consequences of which will affect neighboring countries," Bagheri said. "Holding the referendum will get Iraq, but also Iran and Turkey, involved, and that's why the authorities of the two countries emphasize that it is not possible and should not be done."
In June, KRG President Masoud Barzani announced that they would hold a referendum on independence from Baghdad on Sept. 25.
However, since the KRG announced its plan to hold the referendum, it has gained little support of international community and instead has faced some harsh criticism.
Baghdad, like Ankara and Tehran, previously claimed that the referendum is not constitutional and would create more problems for the country.
The EU also declared its support for the territorial integrity of Iraq while the U.S. and Kurdish opposition Goran Movement demanded the postponement of the referendum.
Russia, on the other hand, has said that although they see the referendum as the result of Kurdish demands, the views of neighboring countries should also be considered on such an important issue.
Only Israel supports the referendum so far..Meanwhile, Bagheri also discussed the latest situation in Syria with President Erdoğan.
"Coordination for creating peace and security in Syria," was also discussed, the IRNA report quoted Bagheri as saying.
"The importance of joint struggle against the terrorist groups in the region, necessity of bilateral cooperation for border security and possible contributions on regional stability" were discussed in Akar's meeting with Bagheri, a statement from Turkish Armed Forces said.
Even though the countries have been lending support to different sides in the Syrian civil war, with Ankara backing moderate opposition groups such as the Free Syrian Army (FSA) and Tehran backing Bashar Assad in his efforts to cling on to power, they initiated the Astana talks along with Russia in late 2016 to end the destructive, six-year civil war.
Meanwhile, Iranian Foreign Ministry spokesman Bahram Qassemi told a group of Turkish journalists invited by the Iranian Culture Ministry earlier this week that although Turkey and Iran have a longstanding friendship and shared region, the two countries have different views over some regional issues, but Iran's support for Turkey following the coup attempt brought a new season in bilateral relations.