President Recep Tayyip Erdoğan met with NATO Secretary-General Jens Stoltenberg in New York on Monday in an unplanned meeting ahead of the 72nd Session of the U.N. General Assembly (UNGA).
According to presidential sources, the two officials discussed Turkey-NATO ties, Turkey's S-400 air defense system deal with Russia as well as regional developments, in particular those in northern Iraq and Syria.
Despite criticism from the U.S., Stoltenberg had defended Turkey's decision to purchase the Russian made system,saying it was a national one and underscored that member states had sovereign rights to make decisions regarding military purchases.

Stoltenberg added that although NATO has an integrated air defense system, it was possible for members to have unintegrated, independent systems.
Erdoğan and Stoltenberg also discussed the controversial independence referendum scheduled to be held by the Kurdistan Regional Government (KRG) on Sept. 25.
The Iraqi parliament voted last week to reject the nonbinding referendum, authorizing the Iraqi prime minister to take all measures necessary to preserve Iraq's unity.
Turkey, the U.S., Iran and the U.N. have all backed Baghdad in speaking out against the referendum planned for the Kurdish-controlled areas of northern Iraq, saying the vote would distract from operations against Daesh and lead to greater instability in the region.
A "yes" vote in the independence referendum would not spell immediate independence for the Kurdish region, since the referendum does not have legal force. However, Kurdish officials say they will use it to pressure the Iraqi government in Baghdad to come to the negotiating table and formalize their independence bid.
Meanwhile, Erdoğan also met with representatives from various groups, including ethnic and religious ones.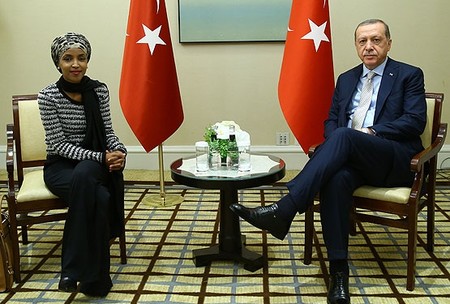 Minnesota House Representative for District 60B Ilhan Omar in meeting with the president (AA Photo)
He received Ilhan Omar, who is a Somali-American politician and Minnesota House Representative for District 60B and held a 40-minute long closed-door meeting with her.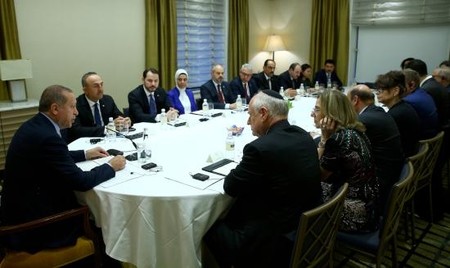 Erdoğan holding meeting with representatives of Jewish organizations (AA Photo)
Erdoğan also met with representatives of Jewish organizations and the Political, Economic and Social Research Foundation (SETA) and held 40-minute long meetings.