The official Twitter account of the Turkish Presidency poked fun at French President Emmanuel Macron Wednesday over a previous statement he had made about Recep Tayyip Erdoğan.
The presidency shared a picture of the two leaders who met on the sidelines of the 72nd session of the United Nations General Assembly.
"It is an honor to meet the President of Turkey" the tweet said in French.
"La rencontre avec le président de la Turquie est une valeur." pic.twitter.com/ubtGbYdB49

— Présidence Turquie (@tcbestepe_fr) September 20, 2017
The photo shared in the tweet features the two leaders sitting, with Macron looking anxiously looking at Erdoğan, who confidently looks at the camera.
Last month, Macron had told French magazine Le Point that the global stage is not really a "cool" scene.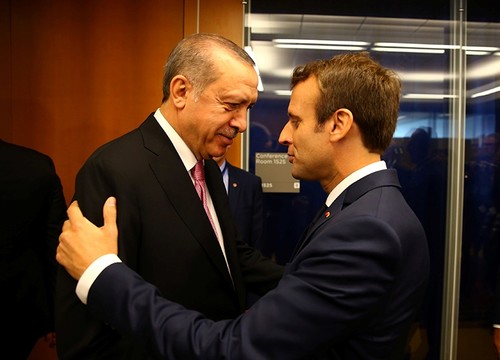 "I am the one who has to talk with Erdoğan every 10 days" he told the magazine without elaborating.
Later on, Macron's aide told reporters that the French president did not mean to mock or criticize Erdoğan. "The conversations with Mr. Erdoğan are always very serious" the aide reportedly said.

The two leaders are in New York to attend the 72nd session of the U.N. General Assembly and are holding bilateral meetings with various countries.