First lady Emine Erdoğan and her Nigerian counterpart Aisha Muhammadu Buhari engaged in "twiplomacy," or twitter diplomacy late Friday, reiterating commitment to Turkish-Nigerian friendship.
"Thank you, dear sister Aisha Buhari for your pleasant visit to Turkey today. The Turkey-Nigeria friendship will continue to grow," Emine Erdoğan said.
"Thank you for the warm reception," Buhari replied, ornamenting her tweet with a heart emoji.
Nigerian President Muhammadu Buhari was welcomed Thursday at the Presidential Complex in Ankara by President Recep Tayyip Erdoğan.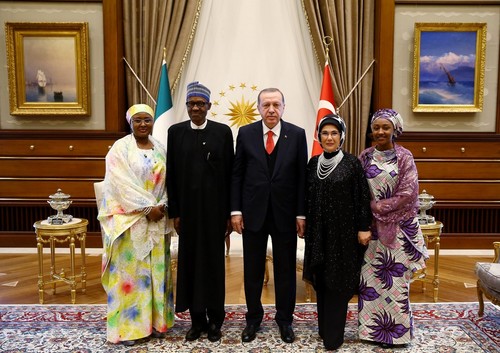 The two presidents discussed bilateral and international issues during their meeting, after which they held a joint news conference.
Buhari arrived in Turkey to attend the Developing-8 Countries (D-8) meeting in Istanbul on Friday. The ninth summit marks the 20th anniversary of the economic group consisting of eight emerging economies from the Muslim world.