Turkish businessman and former Minister of State responsible for state-owned banks Cavit Çağlar received the Russian Order of Friendship for his contribution in the process involving the normalization of relations between Turkey and Russia following the jet downing crisis in November 2015, reports said Saturday.
Çağlar became the first Turkish person to receive the order, which is given to individuals, organizations or other enterprises for a number of reasons, including strengthening peace, friendship, cooperation and mutual understanding between peoples.
In a speech he made after receiving the order as part of ceremonies marking Russia's Nov. 4 National Unity Day in Kremlin, Çağlar said that the real heroes of the normalization process were Turkey's President Recep Tayyip Erdoğan and his Russian counterpart Vladimir Putin, reports said.
He noted that he is honored to receive the award from the Russian president and that he is delighted to be a part of the critical process led by presidents of both countries.
Seven other figures from different countries also received the order of friendship for enhancing relations between their countries and Russia, the report said.
President Putin thanked the figures for their contribution to boost friendship and historical, cultural and business ties between their countries and Russia.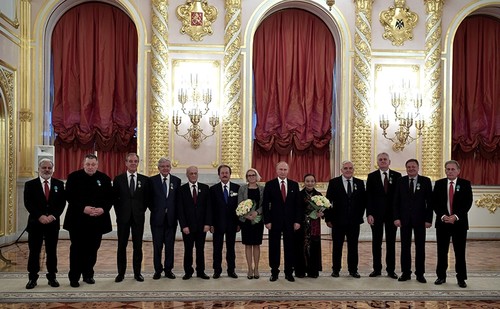 (AA Photo)
A concert was held following the award ceremony in honor of the guests at Kremlin's grandiose "Georgiyveski" hall.
Çağlar was an important figure behind the Turkey-Russia normalization process, and accompanied Presidential Spokesperson İbrahim Kalın to deliver a letter of condolences written by President Erdoğan to Putin.
Russia's Order of Friendship was established in 1994 by then-President Boris Yeltsin and is considered to be the top honor that can be bestowed by Russia to foreign citizens.
It is awarded for contribution to implementation of joint projects, promotion of cultural and historical heritage of Russia, for contribution to enrichment of cultures of nations and for enhancing peace, cooperation, friendship and mutual understanding between peoples, as well as charity work.
Relations between the two countries hit a low in November 2015 after Turkish jets downed a Russian Su-24 bomber near the Syrian border for violating Turkish airspace. Turkey provided radar data that the Russian planes breached the border while Moscow insisted that the warplane had not crossed the border.
In the beginning, Erdoğan and Putin exchanged harsh criticism and ultimatums in the wake of the jet crisis. The Kremlin directed accusations at Ankara and imposed sanctions that damaged Turkey's tourism sector.
However, ties have been getting better since Erdoğan's visit to Russia in August last year. Turkey voiced regret over the unfortunate incident and the government has been taking steps to ease the tensions between the two neighbors.
After the jet downing incident, Moscow took several measures against Ankara, including banning imports of Turkish agricultural products and ending visa-free travel for Turkish citizens.
Since last summer, Russia has relaxed the measures and lifted bans on some products, particularly citrus.
During a May 3 visit to Russia, Erdoğan and Putin had agreed to resume trade, including food and textiles, but with the exception of tomatoes.
Turkey has also signed a deal to purchase S-400 missiles from Russia, becoming the first NATO member country to purchase the system.