Dominick Chilcott, the newly appointed ambassador of the United Kingdom to Ankara, highlighted the partnership between the countries in his first message recorded in Turkish, signaling that he would follow the footsteps of his predecessor that established warm ties with the hosting nation.
In the video released Friday by the British Embassy channel on Youtube, Chilcott said that he presented his credentials to President Recep Tayyip Erdoğan on Tuesday and officially started his duty in Ankara.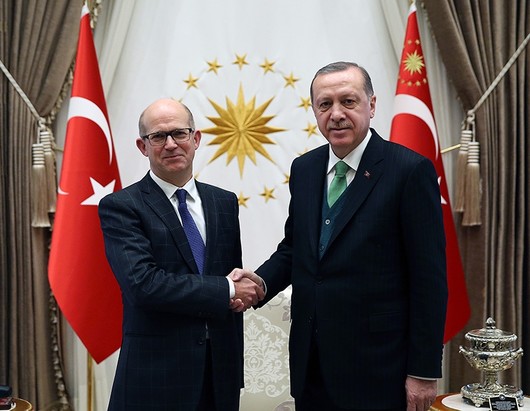 The first official message of Chilcott was recorded in Turkish and released with both Turkish and English subtitles, although his clear Turkish wouldn't require Turkish subtitles for many.
Chilcott noted that he previously worked in the embassy between 1985 and 1988, and that Turkey has a special place for him and his wife because their daughter was born in Ankara.
The 58-year-old diplomat, who previously served as the U.K. ambassador to Ireland, noted that Turkey is a much more economically developed and dynamic country when compared to his first term in 1980s, adding that the country plays a significant role in the international arena amid recent global scale developments.
He noted that Britain has also changed over time, with Brexit being the most significant change.
"Brexit is of course the most important one and one that presents lots of opportunities for the U.K. to strengthen its already existing strong ties with countries like Turkey," Chilcott said.
"Turkey will continue to be an indispensable partner for the U.K. on many common issues and challenges," he added.



Despite ongoing diplomatic spats with the U.S. and other European countries in recent years over their attitude on terror groups fighting against Turkey, especially after the reconciliation process collapsed with PKK in 2015 and the July 15, 2016 coup attempt carried out by the Gülenist Terror Group (FETÖ), Turkey's relations with Britain have been much closer with significant efforts attributed to the previous ambassador, Richard Moore.
Similarly to Chilcott, Moore had also served in Turkey in 1990s, and the Moore couple also had a daughter in Istanbul.
Although Britain and its policies are widely regarded with skepticism by Turks, Moore managed to break the ice with his fluent Turkish, balanced stance in domestic politics, use of Twitter and passionate support for Istanbul giants Beşiktaş.
In addition to Moore's diplomatic efforts, his public efforts, often accompanied by his wife Maggie, were widely covered by the media due to increasing interest by Turkish people.