This January Singapore took over the rotating chairmanship of the Association of Southeast Asian Nations (ASEAN). As a maturing regional organization that celebrated its golden jubilee last year, ASEAN is expected to play a bigger role in global affairs and global economy. In addition, as a rising star of the Asia-Pacific region Singapore has ambitious plans to implement in 2018 through its ASEAN chairmanship. The Singaporean ambassador to Ankara reminded that "resilience" and "innovation'' have been chosen as the themes for their chairmanship and he underlined that they will focus on innovation to keep ASEAN forward-looking and adaptable to the digital revolution.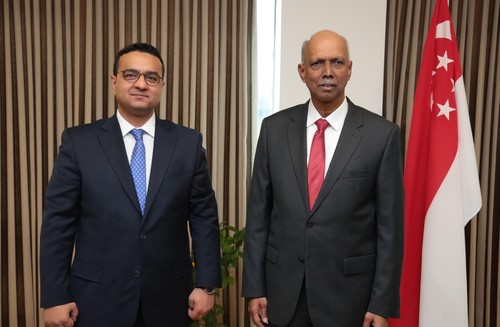 Ambassador Selverajah also added that will also continue to deepen economic integration and improve regional trade facilitation, especially in the area of e-commerce.
Last year, Turkey became a sectoral dialogue partner for the ASEAN and since then Turkey's engagement with the ASEAN has moved into another level. Commenting on this issue Ambassador A. Selverajah said that Turkey's Sectoral Dialogue Partnership will deepen and broaden Turkey's engagement with ASEAN and he stressed that Turkey will be a valued partner for ASEAN and Singapore remains committed to furthering ASEAN-Turkey relations.
Daily Sabah: Turkey is now a Sectoral Dialogue Partner of the ASEAN. In your view, how do you see Turkey's engagement of the ASEAN as a Sectoral Dialogue Partner evolving?
A. Selverajah: Turkey's engagement of ASEAN is not new and dates back to the establishment of formal institutional ties in 1999. Since then, Ankara has worked to deepen its relations with the ASEAN. Turkey's accession to the Treaty of Amity and Cooperation in Southeast Asia in July 2010 was another milestone leading to Turkey's successful application to be an ASEAN Sectoral Dialogue Partnership in August 2017.
Aside from Turkey's strong cooperation with ASEAN as a whole, Turkey also enjoys robust relations with ASEAN member states. Turkey has strategic partnerships with Singapore, Malaysia, and Indonesia, and with the opening of the Turkish Embassy in Laos in December 2017, Ankara is now represented in all 10 ASEAN member states. The regular exchange of visits by Turkish political leaders and their ASEAN counterparts also reflects the close ties between Turkey and the ASEAN.
Turkey's economic engagement of ASEAN has been on the rise in the last few years with Turkey signing free trade agreements with Malaysia and Singapore. Turkey is also in the midst of negotiating a free trade agreement with Thailand and a comprehensive economic partnership agreement with Indonesia. Although Turkey's trade volume with ASEAN countries surpassed $8.7 billion in 2016, there is still room for this figure to grow and I am confident that Turkey's Sectoral Dialogue Partnership will deepen and broaden Turkey's engagement with ASEAN.
Turkey has been generous in providing scholarships to more than 1,000 students from ASEAN member states since 2010, and the Turkish Cooperation and Coordination Agency (TİKA) has established offices in Myanmar and the Philippines to provide humanitarian and technical assistance to the region. People-to-people exchanges between Turkey and the ASEAN have also risen thanks in part to the fact that Turkish Airlines has direct flights to eight ASEAN cities from Istanbul.
During our chairmanship, Singapore would like to work with Turkey on the ASEAN Smart Cities Network (ASCN). We aim to bring cities, companies, and governments together to develop, fund, and implement commercially viable solutions on the ground.

Partnerships will be anchored upon the action plans that the ASCN cities develop, and focus on implementing meaningful projects based on the cities' action plans.

Given Turkey's expertise in developing smart cities, we look forward to Turkey's active support towards the successful implementation of the ASCN initiative. I am confident that Turkey will be a valued partner for the ASEAN and Singapore remains committed to furthering ASEAN-Turkey relations.
DS: What, in your view, are the kinds of opportunities that will emerge from the establishment of the ASEAN Economic Community and how can Turkey benefit from them?
AS: Established in 2015, the ASEAN Economic Community (AEC) is a prime example of how ASEAN is larger than the sum of its parts. Together, the 10 diverse countries make up a dynamic and attractive economic group. It has a growing population of more than 630 million and 60 percent of this is under 35 years old. By 2030, we expect more than 60 percent of the population to join the middle class. ASEAN will be the fourth largest single market in the world, after the U.S., China, and the European Union.
I think Turkish companies would be able to find plenty of business opportunities in the ASEAN market given our young and dynamic population. For example, the Turkish construction industry, which is very competitive and the second largest in the world, should study the infrastructure plans in ASEAN and position themselves to seize new opportunities.

Turkish construction companies, with their wealth of experience in Africa and the Middle East, should have no issues competing for projects in the ASEAN. There is a huge demand for construction projects in countries such as Indonesia, Vietnam and Myanmar, and Singapore is the center of infrastructure financing.
Additionally, given that ASEAN companies have had extensive experience working in markets in China, India and Japan, Turkish companies may find value in partnering with ASEAN companies on joint ventures in these countries.
DS: This year Singapore is the chairman of ASEAN and your country has chosen the themes of 'resilience and innovation' for its ASEAN chairmanship. Could you explain why these themes were chosen?
AS: The themes of our chairmanship – resilience and innovation – are in line with our vision of a united and central ASEAN that is able to deal with complex geopolitical challenges and technological disruptions by promoting and upholding a rules-based regional and international order.
DS: What are some of the key priorities and deliverables for Singapore's chairmanship of ASEAN in 2018?
AS: As ASEAN faces an increasingly unpredictable world, it is important to keep ASEAN resilient to challenges such as terrorism, cyberthreats and natural disasters. Therefore, it is vital that ASEAN strengthens its collaboration against common threats such as terrorism, violent extremism and transnational crime.
In addition to these threats, disruptive technology is changing our lives, and there is a need to innovate and adapt in order to be economically relevant and meet the changing needs of industry. To harness the opportunities presented by these trends while building resilience against their associated challenges, one of Singapore's key deliverables as the 2018 ASEAN chair is to develop an ASEAN Smart Cities Network (ASCN).
The core goal of the ASCN is to leverage innovative technological solutions to improve the lives of our people. The ASCN is envisioned as an inclusive and collaborative platform where designated cities across ASEAN could develop individualized action plans and jointly craft a framework for smart city development that is unique to ASEAN. The ASCN is also expected to catalyze bankable projects in collaboration with the private sector.
We will also continue to invest in our people, especially the youth in ASEAN, during our Chairmanship. We hope to encourage the young people of ASEAN to get to know one another through the various ASEAN youth programs and activities that Singapore will be supporting this year.
In sum, we will focus on innovation to keep ASEAN forward-looking and adaptable to the digital revolution. We feel that it is important for all ASEAN Member States to prepare for the challenges and opportunities of the digital revolution and Singapore will draw on its Smart Nation experience in this endeavor. Overall, we would like to deliver a substantive, meaningful, and forward-looking chairmanship.
DS: From Singapore's perspective, what are the opportunities and challenges facing ASEAN, and how does Singapore intend to help ASEAN take advantage of these opportunities and manage its challenges during this year?
AS: As mentioned by my Foreign Minister Dr. Vivian Balakrishnan, ASEAN is at an inflexion point with four key challenges. First, the geostrategic balance is evolving and ASEAN must maintain poise and balance amidst these major shifts. China and India are emerging as global powers, and we are also witnessing profound demographic and political changes in Europe, Japan and the United States.
Second, the world order is being reshaped by trans-boundary challenges like terrorism, cybercrime and climate change. These challenges cannot be resolved by a single country and require collective effort.
Third, the global consensus on free trade and globalization is fraying as a consequence of rising protectionist sentiments. The ongoing digital revolution and emergence of disruptive technologies drive anxiety in traditional industries even as they provide opportunities in other sectors. Key to dealing with this challenge is reshaping mind-sets and re-skilling our people so that no one gets left behind. A departure from the current norms of free trade and open markets will have a detrimental impact on the global economy. To that end, Singapore is committed to working with member states to provide ASEAN populations with the skills required to operate and be relevant in the global economy. We will promote free trade and enhance ASEAN's connectivity with the global economy through the implementation of the ASEAN Economic Community Blueprint 2025. We also hope to conclude the Regional Economic Cooperation Partnership this year.
Fourth, ASEAN has to contend with our internal challenges. The 10 member states are highly diverse in terms of political, economic and social systems. ASEAN's consensus-based decision-making is a design feature that assures each member an equal voice despite our diversity. Reaching a resolution by consensus takes a longer time, but the hope is that it requires every member to find a common position on issues of regional concern. Unity is the key factor behind ASEAN's relevance to the rest of the world and ASEAN's credibility can only be maintained if we continue to work on the basis of consensus, looking towards the long-term good of the region.
As ASEAN chair, Singapore will work with the other member states to identify sustainable solutions to these common challenges. Singapore's approach to these challenges is embodied in our themes of "resilience" and "innovation." We seek to strengthen ASEAN member states' ability to withstand crises, whether they are economic, security-related, or even humanitarian or natural disasters. We will enhance cooperation in areas such as counter-terrorism, maritime and air safety, and cybersecurity.
We will also continue to deepen economic integration and improve regional trade facilitation, especially in the area of e-commerce. These initiatives are designed to benefit all in ASEAN, whether it is larger or mid-sized economies, MNCs [multinational corporations] or SMEs [small and medium-sized enterprises], the older generations or the younger ones.
DS: How does Singapore view the role and engagement of external powers such as China and the U.S. in ASEAN?
AS: ASEAN engages the world through different platforms like the ASEAN+1 meetings, ASEAN+3, the East Asia Summit, the ASEAN Regional Forum, and the ASEAN Defense Ministers' Meeting Plus. In the process, ASEAN has helped to create overlapping and inclusive regional architectures to promote greater dialogue that will contribute to achieving peace, stability, and prosperity in the Asia-Pacific region. These meetings also allow ASEAN members to enhance our collective voice on the international stage.
We value our dialogue with our external partners and their contributions to ASEAN. We also believe that the rise of regional powerhouses like India and China will bring about new opportunities for ASEAN to tap on. For example, China's Belt and Road Initiative and the Asian Infrastructure Investment Bank are expected to benefit the region. India and Australia are also cultivating closer relations with ASEAN as evidenced by the recent summit meetings held this year in New Delhi and Sydney.
The U.S. presence in the Asia-Pacific region since the end of the Second World War has also contributed much towards preserving regional peace and security. ASEAN therefore hopes that Washington continues to play an active role in Southeast Asia and we welcome U.S. Defense Secretary James Mattis' comments at the 2017 Shangri-La Dialogue where he referred to the Asia-Pacific as a "priority region" for the Trump Administration. We hope that the U.S. will continue to be a reliable and constructive partner for ASEAN.