President Recep Tayyip Erdoğan met the United Kingdom's Queen Elizabeth II at Buckingham Palace on Tuesday, the last day of his three-day official visit to the U.K.
Erdoğan and his wife Emine Erdoğan were greeted by the Queen at the 1844 Room of her central London residence, ahead of their closed-door meeting, which lasted about 40 minutes.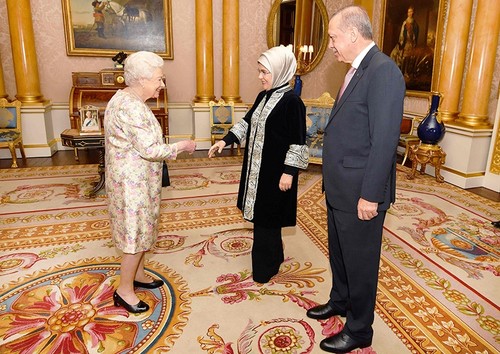 After the meeting, Erdoğan was due to meet with U.K. Prime Minister Theresa May, to discuss bilateral cooperation on issues such as trade, counter-terrorism, migration and regional stability.
Erdoğan has been in the U.K. since Sunday, where he also attended the closing session of the 7th Tatlıdil Forum in the city of Reading. The Tatlıdil Forum, established in 2011, gathers leading figures from the fields of academia, business, the media and politics to strengthen relations between Turkey and the U.K. The sixth gathering of the forum was last year in the southern Turkish province of Antalya in March.