Israel charged a detained Turkish tourist on Sunday with a string of offenses – ranging from giving money and to smuggling perfume to Palestinian group Hamas – in a case that has sparked outrage and prompted Ankara to vow a response against Israel's "inhumane policies."
Ebru Özkan, 27, has been held since June 11 when she was detained trying to board a flight in Tel Aviv. One of the charges she faces is for smuggling five bottles of perfume, which her lawyer ridiculed as trivial, saying she should be released.
She is also charged with bringing a phone charger intended for a Hamas contact into Israel, although she never met with him or gave anyone the charger.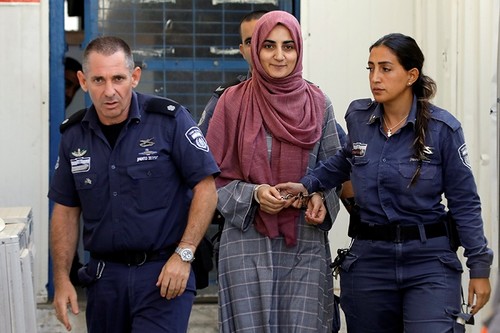 Özkan was led, manacled, to the dock in an Israeli military court on the boundary with the occupied West Bank, where she was indicted on two counts of acting in the service of a proscribed group, one count of transferring money for enemy agents, and one count of threatening public order.
If convicted, she could face several years in jail.
The Turkish woman maintained a brave smile on her way to the trial, meeting the gaze of the cameras as reporters covered the proceedings.
Though she is accused of having also brought other items like the phone charger, prosecutors put at the top of the list her smuggling of five bottles of perfume to be sold to raise funds for Hamas.
In response to that charge, her lawyer Omar Khamaysa told Reuters outside the court: "Come on, really?"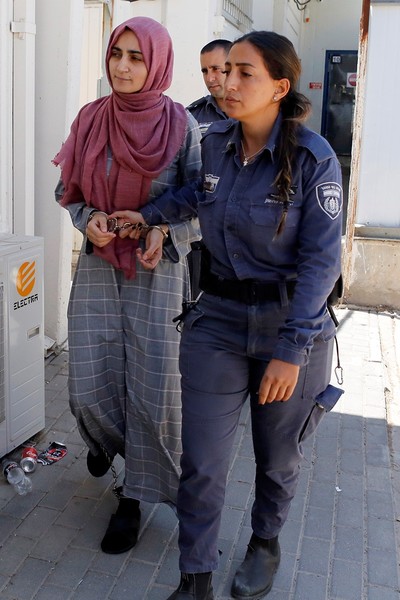 Khamaysa said Özkan had been denied access to legal counsel for most of her detention and had been interrogated in Arabic, not Turkish. She was later forced to sign a distorted document on her statement, he said.
Özkan has not been allowed to speak to her family during her detention.
The indictment did not give specifics on where the alleged offenses took place. Khamaysa said Özkan had spent three days in Jerusalem during her stay – for personal, not political reasons.
"I think that in this the case the decision will ultimately be a brave one – to release her, I hope," he said.
Asked about Özkan's case on Friday, Turkish Foreign Minister Mevlüt Çavuşoğlu referred to her as "our sister" and accused Israel of "taking deterrent measures against our citizens traveling to Jerusalem."
"However, we will retaliate against this. Our relations will normalize when Israel stops its inhumane policies," he said without elaborating.
The case has further strained relations between Israel and Turkey. Turkey is a strong backer of the Palestinian cause and one of the most vocal critics of Israel in the Muslim world for its aggression towards Palestinians, from the blockade of the Gaza Strip to the killings of Palestinians by the Israeli army.
Turkey in May expelled Israel's Ambassador Eitan Na'eh and recalled its ambassadors from Tel Aviv and Washington after the killings of protesting Palestinians by Israeli forces on the border of the Gaza Strip this spring.
The two countries' relationship has steadily deteriorated over the last decade, with Ankara strongly condemning three Israeli wars in Gaza. Ties were ruptured after Israeli commandos stormed a Turkish aid flotilla trying to reach Gaza in 2010, killing nine activists.
Muslims account for just a small percentage of incoming tourists to Israel. In 2016, most of them, around 100,000, came from Turkey.