On July 11-12 in Brussels, the NATO summit became a scene of the apparent tensions between the U.S. under the leadership of Donald Trump and Europe. Trump's stinging statements on Germany and German Chancellor Angela Merkel especially took up almost the whole summit. Meanwhile, the following Trump-Vladimir Putin summit in Helsinki was more intimate and friendly than the NATO summit. Striking friendly poses with Russian President Vladimir Putin, Trump's disposition in this new era is hard to decipher.
How will the widening schism between the two shores of the Atlantic affect NATO's future? Having the second largest military in NATO, how is Turkey's counterterrorism and balancing initiatives, especially in Syria, perceived by NATO? How are the recent disputes on Turkey's acquisition of Russian-made S-400 missile defense systems along with the U.S.-made F-35 military aircraft between the U.S. and Turkey perceived by the Atlantic alliance? Daily Sabah discussed all of these issues with the head of the Turkish delegation to the NATO Parliamentary Assembly Justice and Development Party (AK Party) deputy Ahmet Berat Çonkar.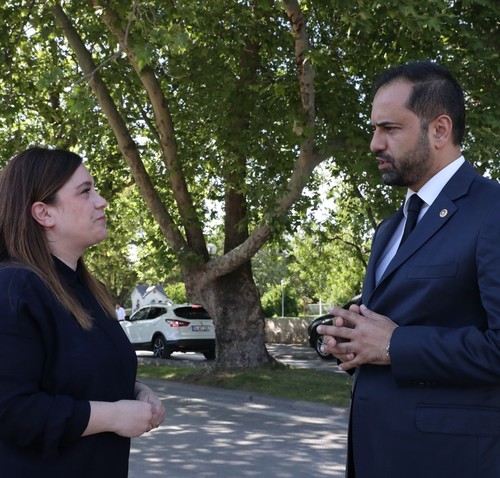 Intra-alliance disagreements are exposed
A member of the delegation that accompanied President Recep Tayyip Erdoğan to the Brussels summit, Çonkar said that the rigid divergences between the U.S. and European allies were the highlight of the summit.
He said his impression was that NATO needed to redefine itself, taking these divergences into consideration.
"The divergence we observed during the summit seems to be irreparable as long as Trump remains president. Europe, on the other hand, is heading toward a new organization especially in military matters due to their observations at the summit. Germany and France already have an ongoing initiative called PESCO (The Permanent Structured Cooperation), which is a prototype of a European army. We see this crack won't be easily mended and different processes will take its place," Çonkar added.
Trump bashed Germany over not increasing its military expenditure for NATO. Moreover, the U.S. president criticized Germany for striking an oil and natural gas deal with Russia, deeming it "totally inappropriate," while remarking, "Germany is totally controlled by Russia."
Trump is trying to counterbalance U.S. establishment
Underscoring the peculiar relations between Trump and his staff, Çonkar indicated that the U.S. Secretary of Defense James Mattis, the White House and the U.S. Secretary of State Mike Pompeo are seemingly disjointed and do not share the same interests. "Trump doesn't act in accordance with an established order's foreign policy priorities. He moves more with his personal belief and prefers pragmatic and utilitarian types of relations when his country's interests are at hand. We can say that he reflects his business persona onto U.S. foreign policy," Çonkar said.
This policy has also made itself apparent in Trump's relations with Russia. Virtually challenging the established order of his country, Trump was friendly with Putin at the summit recently held in Helsinki. Trump reiterated his view that Russia did not interfere with the U.S. elections, which rendered him the punching bag of the American public once again. Çonkar asserted that this will affect the U.S.' approach toward NATO and that there will be a transformation.
"I believe the Trump administration won't uphold a policy that isolates Russia through antagonism. In this respect, there is the necessity to find a balance in which both Europe's security is assured and Russia's sensibilities are taken into consideration. I believe Trump sees this reality and doesn't want to further burden the U.S. It's a policy aiming to balance relations. The U.S.' priorities are the Pacific, China and the Middle East; it won't be easy to resolve issues in these regions without Russia's involvement. In this respect, Trump's foreign policy is more pragmatic," added Çonkar.
President Erdoğan was in the limelight at summit
Çonkar said that Turkey was in the limelight throughout the NATO summit. He added that Erdoğan was approached by many leaders as he had just claimed victory in the presidential elections in Turkey.
"I observed all the leaders paying special attention to the president. I also saw that they sought to negotiate with Turkey to discuss what can be done," he said.
Observing Trump's assurance that the U.S. will not allow any kind of sanction, such as an embargo, on Turkey, he said that the U.S. administration is Turkey's respondent and that Trump himself has to persuade the U.S. Congress.
"We have to credit these assurances; we hope the U.S. will act in unison in this matter," he added.
Çonkar previously served as a member of the Foreign Affairs Committee in the Grand National Assembly of Turkey between 2011 and 2014 and as its chairman between 2014 and 2016. He was also the member of the NATO Parliamentary Assembly Turkish Delegation between 2011 and 2015. He assumed co-chairmanship of Turkish-Russian Civic Forum in 2014. He is currently co-chairman of the Turkey-EU Joint Parliamentary Committee and a member of the Committee on European Union Harmonization in the Grand National Assembly of Turkey. He also serves as a chair of the Political Committee at the NATO Parliamentary Assembly Turkish Delegation.
Washington, Ankara getting on same page
Çonkar added that Turkey's policies addressing the country's national security concerns and interests were being better understood by the Trump administration, leading to a more realistic foreign policy.
"With the new and strong administration of Turkey, I believe turning a new page in its relations with Turkey is a must for the Trump administration. In this respect, Trump won't approve and will try to prevent the U.S. Senate from enforcing an embargo on Turkey over the acquisition of Russian S-400s or not delivering the F-35s Turkey has bought," he said.
In late June, a U.S. State Department official threatened Ankara that Turkey's purchase of Lockheed Martin F-35 Joint Strike Fighter jets would be jeopardized if it does not drop a plan to buy S-400 missile defense systems from Russia. The threat has followed a series of warnings from Washington and visits to push back the delivery with more alternatives from the U.S.
Meanwhile, Turkey's deal to buy missile defense systems from Russia is not causing problems with NATO, U.S. Air Force Secretary Heather Wilson suggested in May.
Turkey's concerns for its national security were understood
Asserting that Turkey's acquisition of S-400s was not discussed at NATO leaders' meetings, Çonkar said that this matter is intentionally brought up by certain lobbies and interest groups.
"I've witnessed Secretary General Stoltenberg's clear statements at four or five different meeting regarding this issue. Assistant Secretary Generals or other officials don't have the possibility to make an alternative statement on this issue, as NATO's position is clear. As a sovereign country, this matter is within the jurisdiction of Turkey; as Turkey regards the concerns of NATO, there is nothing to discuss," he said.
In December, Turkey officially signed a $2.5 billion agreement with Russia for the S-400s - Russia's most advanced long-range anti-aircraft missile system. With the move, Turkey is set to become the first NATO member country to acquire the system.
Turkish officials have been stressing that Turkey had asked its NATO allies to purchase defense systems; however, its needs remained unmet, which prompted Turkey to purchase the Russian S-400 system. While the U.S. has been lampooning the process of Turkey's purchase of the S-400, NATO Secretary-General Jens Stoltenberg previously acknowledged that Turkey faces significant threats to its national security and that it is a national decision to have the system.
Moreover, Turkey seeks to build its own missile defense systems as the deal also involves the transfer of technology and know-how. The S-400 system, which was introduced in 2007, is the new generation of Russian missile systems, and so far Russia has only sold them to China and India. The first S-400 is expected to be delivered to Turkey in early 2020.
"What I see is this issue is kept alive by certain lobbies or groups; they occasionally bring up this matter. However, in terms of official state policies, none of the NATO countries put pressure on Turkey over this matter. All of the statements Turkey has made over various platforms are convincing and rational. It's known that Turkey is in the right regarding this matter; Turkey needs them to ensure its national security, and NATO has failed to satisfy this need. Thus, Turkey has chosen to make such an acquisition in a way that would cause minimal discomfort to NATO, while assuring to take NATO's sensibilities into consideration. Moreover, S-400s won't perceive NATO systems as an enemy and will function as a standalone system," he added.
Further defense deals depend on U.S.'s approach
Stating that the healthiness of future missile defense system acquisitions depends on the U.S., Çonkar said, "If the conditions and offers are right, and we are assured that the Congress or the administration won't try to obstruct the delivery, Turkey is open to such acquisition."
Turkish officials said last week there is no exact agreement between Turkey and the U.S. over purchasing the Raytheon Co. Patriot defense system, but it won't be an alternative to the Russian S-400 systems even if a deal is established for their purchase.
A new era has begun in Turkey and NATO relations
Meanwhile, Çonkar commented that Erdoğan's close contact with Trump, Russian President Vladimir Putin and other European leaders could be the indicator of a new era; he asserted that imposing policies that attempt to put pressure on Turkey no longer work and that Turkey's respondents have understood relations rely on common interests.
"To bring peace and balance to the world, it's important to appreciate Turkey's resoluteness, to respect Turkey's policies and to establish bilateral relations with Turkey according to these tenets," Çonkar said.
Projects with Italy, France aim to diversify defense systems
Touching on Turkey's joint missile project with France and Italy, Çonkar said that Turkey's position was clear and transparent.
"S-400s protect only 30 percent of Turkey's air space. For this reason, we have several ongoing projects with France, including missile systems," he remarked.
He added that there is also a consortium with Italy in this matter, while indicating that joint projects are also being discussed with Spain. Thus, Çonkar indicated that Turkey's missile defense systems would be diversified.
Italy has extended the term of its defense system deployed in southern Kahramanmaraş province last week in the face of threats directed towards Turkey from neighboring Syria.
The air defense system and 25 military personnel were deployed in Kahramanmaraş as part of NATO's package of assistance measures in June 2016. The main objective of the deployment was to contribute to NATO's efforts to increase defense measures for Turkey.
The Italian air defense system in Kahramanmaraş replaced the German Patriot missile systems that finished their three-year, mandated mission.
Turkey has been subjected to various threats from war-torn Syria since the civil war erupted in the neighboring country in 2011; then Turkey began calling on its NATO allies to provide more support to face increasing threats to the country's national security as terrorist groups, such as Daesh and the PKK-affiliated People's Protection Units (YPG), gained control of some Syrian territory.
In late 2015, NATO allies agreed on a package of Tailored Assurance Measures for Turkey (TAMT) to respond to the increasing security challenges on Turkey's borders. These measures include an additional AWACS (Airborne Warning and Control System) surveillance aircraft presence in the region, increased maritime activities in the Eastern Mediterranean and intelligence, surveillance and reconnaissance activities and information sharing.
Turkey's policies might be used as leverage by NATO
Lastly, underscoring Turkey's almost 70 years of experience in NATO, Çonkar asserted that both Turkey's bilateral relations and its relations with NATO are important to improve regional and global security.
"I hope Turkey's warnings and policies are used as leverage to render the region, Europe, the Atlantic and the world more secure and prosperous. If Turkey's policies are view in such a light, it will benefit everyone," Çonkar concluded.