Japanese Princess Akiko of Mikasa visited Anıtkabir, the mausoleum of the Turkish Republic's founder, in the capital Ankara on Monday, the second day of her visit to Turkey.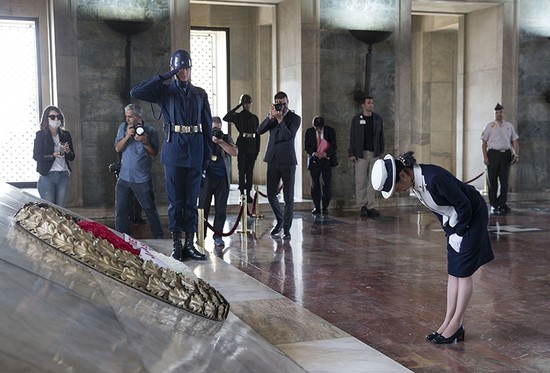 The princess showed respect by laying a wreath and bowing before the mausoleum. She also signed the Anıtkabir private guest book.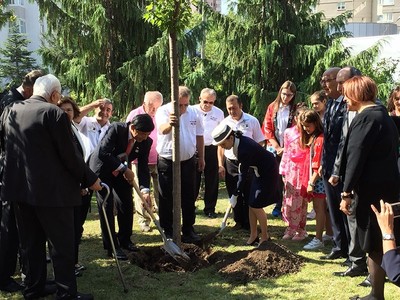 Akiko also visited the Turkish Japanese Foundation Culture Center in Ankara, where she met with the board of directors and students.
The princess planted a memorial tree marking the 20th anniversary of the cultural center – which officially opened in May 1998 – next to a tree that her father, the late Prince Takahiko, planted in 1993 when the idea of the center was first born.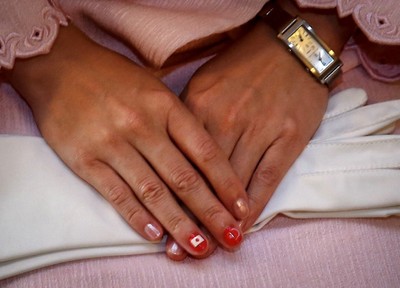 Later in the day, Princess Akiko also held a meeting with Foreign Minister Mevlüt Çavuşoğlu in Ankara. However, cameras were more focused on the princess' choice for nail art. She sported a Japanese and a Turkish flag on two of her nails on her right hand, earning the praise of many with her thoughtful and friendly gesture.
She will also visit the Japanese Institute of Anatolian Archaeology at Kaman-Kalehöyük in central Kırşehir Province.
Akiko is visiting Turkey to attend an event organized by the Prince Mikasa Foundation at the Sakıp Sabancı Museum.
President Recep Tayyip Erdoğan hosted Akiko at the historic Yıldız Palace in Istanbul on Sunday.
The princess, who is expected to be in the country until Friday, will also meet with Parliament Speaker Binali Yıldırım.
The 36-year-old princess has traveled to Turkey multiple times since her first visit in July 1998. In 2013, she was appointed president of the Japan-Turkey Society, a post formerly held by her father. She was also present at the dedication ceremony of the Museum of Archaeology Kaman-Kalehöyük in July 2010.
The Turkish Japanese Foundation was founded in 1993, at the instruction of then-Prime Minister in Süleyman Demirel, who visited Japan the previous year. The land for the cultural center was set aside at the time, and the building was officially opened on May 3, 1998, at a ceremony attended by then-President Demirel and the Prince and Princess Tomohito of Mikasa.