President Recep Tayyip Erdoğan met with U.S. Secretary of State Mike Pompeo in Ankara on Wednesday and discussed the case of missing Saudi journalist Jamal Khashoggi, the fight against PKK and Gülenist Terror Group (FETÖ) terrorist groups, and the road map for Syria's Manbij, Foreign Minister Mevlüt Çavuşoğlu told reporters after the meeting.
Çavuşoğlu also said Turkey and the U.S. are on the same page regarding the lifting of sanctions and other related matters, referring to sanctions imposed amid the spat over the detention of U.S. pastor Andrew Brunson, who was convicted on terror charges last week but released, having fulfilled his sentence.
Çavuşoğlu, National Intelligence Organization (MIT) President Hakan Fidan and Presidency Spokesperson Ibrahim Kalın were also present in the meeting. Çavuşoğlu also held a separate meeting with his U.S. counterpart on Wednesday.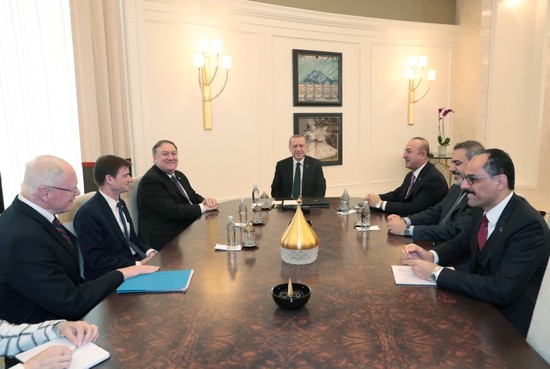 Pompeo welcomed the decision to release Brunson is his meeting with Erdoğan, U.S. State Department Spokesperson Heather Nauert said in a statement, adding that issues related to Syria and the Khashoggi case were also discussed.
In a separate statement, Nauert said that Çavuşoğlu and Pompeo discussed a range of bilateral issues including Syria, Iran and counterterrorism. Pompeo reiterated the U.S. willingness to assist Turkey in its investigation on the Khashoggi case. The two ministers also discussed the detentions of U.S. citizens and embassy staff, it added.
On the plane following his visit to Ankara, Pompeo said he expects a decision soon regarding U.S. sanctions imposed on Turkey, noting that some of them were directly connected to the Brunson case.
"We'll have a decision on that shortly," Pompeo told reporters, according to audio that aired on CNN.

Pompeo arrived in Ankara on Wednesday from a visit to Riyadh where he met with Saudi King Salman and Crown Prince Mohammed bin Salman over the case of missing journalist Khashoggi.
A Turkish official reportedly said late Tuesday that Washington Post journalist and Riyadh critic Khashoggi was drugged, murdered and his body was cut into pieces after he visited the Saudi consulate in Istanbul on Oct. 2.
A Turkish investigator team and prosecutors conducted a nine-hour search in Saudi Arabia's consulate in Istanbul and were expected to search the residence of the Saudi consul, who returned to his country on Tuesday.
Interior Minister Süleyman Soylu said Wednesday that Turkish authorities were waiting for joint agreement to search Saudi consul's residence.
CNN and Al Jazeera reported the gruesome murder late Tuesday evening, citing an anonymous Turkish official. Al Jazeera said that Turkish officials claimed recordings of the horrific acts existed.
Following the reports, U.S. President Donald Trump said Saudi Arabia's crown prince denied knowledge of what happened to Khashoggi in a phone call.
"Just spoke with the Crown Prince of Saudi Arabia who totally denied any knowledge of what took place in their Turkish Consulate," Trump said on Twitter, referring to Crown Prince Mohammed bin Salman.
"He was with Secretary of State Mike Pompeo during the call, and told me that he has already started, and will rapidly expand, a full and complete investigation into this matter. Answers will be forthcoming shortly."
Dissident journalist Khashoggi, has been missing since Oct. 2 after entering the Saudi consulate to gather documents for marriage.
Saudi officials previously have denied any involvement in the incident, claiming the 58-year-old disappeared after he left the consulate, but reports in U.S. media on Tuesday suggested the kingdom may acknowledge the writer was killed there during a botched interrogation.
Khashoggi, who was considered close to the Saudi royal family, had become a critic of the current government and Crown Prince Mohammed bin Salman, the 33-year-old heir apparent who has shown little tolerance for criticism.
As a contributor to the Post, Khashoggi has written extensively about Saudi Arabia, including criticism of its war in Yemen, its recent diplomatic spat with Canada and its arrest of women's rights activists after the lifting of a ban on women driving.