Turkish officials have expressed their support to Venezuela's democratically elected government and President Nicolas Maduro after Washington recognized opposition-controlled National Assembly's President Juan Guaido as interim president.
Speaking on Thursday, President Recep Tayyip Erdoğan said that Turkey is against all undemocratic interventions wherever they may be.
Presidential Spokesman Ibrahim Kalın also said on Twitter that Erdoğan called Maduro early Thursday to voice his support for the Venezuelan president.
"'Brother Maduro, stand tall, we are with you,' Erdoğan told President Nicolas Maduro on the phone," Kalın said on Twitter.
Kalın said Turkey stood against any sort of coup attempt and shared #WeAreMADURO hashtag in his tweet.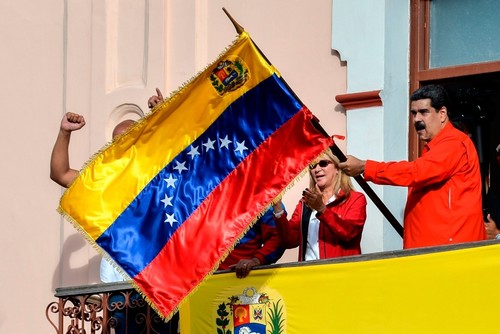 Foreign Minister Mevlüt Çavuşoğlu also blasted the United States for its intervention in Venezuelan politics.
"Unfortunately, recently the U.S. and some Latin American countries have repeatedly intervened in the internal affairs of Venezuela," Çavuşoğlu said.
The top diplomat also added that it was "very strange" that Venezuela's National Assembly leader declared himself as "interim president" despite the country has an elected president.
"And some countries recognized him [the interim president]. This situation may lead to a chaos," he added.
Stating that the country is among the most beautiful ones in the world in terms of its natural wealth, Çavuşoğlu also added that Venezuela fell behind in using them until today.
Calling the latest developments in the country as "worrisome," the minister said Turkey was also trying to support the nation's economy under tough conditions. He also reiterated Turkey's strong support for democracy.
Ruling Justice and Development Party's (AK Party) Vice Chairman Mahir Ünal also blasted the attempted coup, saying that Maduro is a politician that has the backing of his people.
"President Maduro is a legitimately elected politician. Failing to recognize him as the President means failing to recognize the people of Venezuela," he said.
"We are standing strong against coup bids targeting the legitimate authority, which undermine the democratic and political values," he added.
AK Party spokesperson Ömer Çelik also harshly criticized the undemocratic bid against Maduro. "Appointing a so-called president to Venezuela is an insult to Venezuelan people," he said, underlining that Maduro was democratically elected.
"No country can 'appoint' a president to Venezuela. It is total nonsense to appoint a head of state to a country that is governed democratically," he added.
"One should wonder how Simon Bolivar would react to that attempt if he was alive."
Juan Guaido, the head of the opposition-controlled legislature, caused a sensation on Wednesday when he told a crowd of tens of thousands of opposition supporters that he was declaring himself "acting president."
Trump was the first foreign leader to react and threw his backing behind Guaido, describing the National Assembly as "the only legitimate branch of government duly elected by the Venezuelan people."
Maduro announced shortly after that he was breaking off diplomatic ties with the U.S. after blaming Washington for orchestrating a coup d'etat and gave U.S. personnel 72 hours to leave the country.
"The extremist policy of Donald Trump's government against Venezuela is a very serious irresponsibility, it's a very serious folly," said Maduro.
"Trying to impose a government by extra-constitutional means, we cannot accept that."
He called on Venezuela's state agencies to "close ranks" in favor of "democracy" and repeated his call for loyalty from the armed forces.
"To my command, maximum loyalty, maximum unity, maximum discipline so that we win this battle together!" said Maduro.