KAYSERI
— President Abdullah Gül attended the official delivery ceremony of the Atlas 'A400M' to the Turkish Air Force in Kayseri on Monday.
National Defense Minister Ismet Yılmaz, Governor Orhan Düzgün, Deputy Chairman of Parliament Sadık Yakut, and high-ranking military officers, defense industry executives of TAI attended the ceremony in Kayseri.
"We are quite proud to equip our air transportation fleet with the future's military transportation aircrafts," said President Gül during his speech. Abdullah Gül stated during the latest delivery, The Turkish Armed Forces (TSK) upgraded its' capacity.
Turkey expects to generate $1.51 billion revenue from A400M
As a strategic partner for the manufacturing of A400M the "future's transport aircraft", Turkey is expect to generate the sum of $1.51 billion revenue by 2030.
All parts of the plane will be produced in partner countries' local units, and Turkey has 6 percent of shares in the production.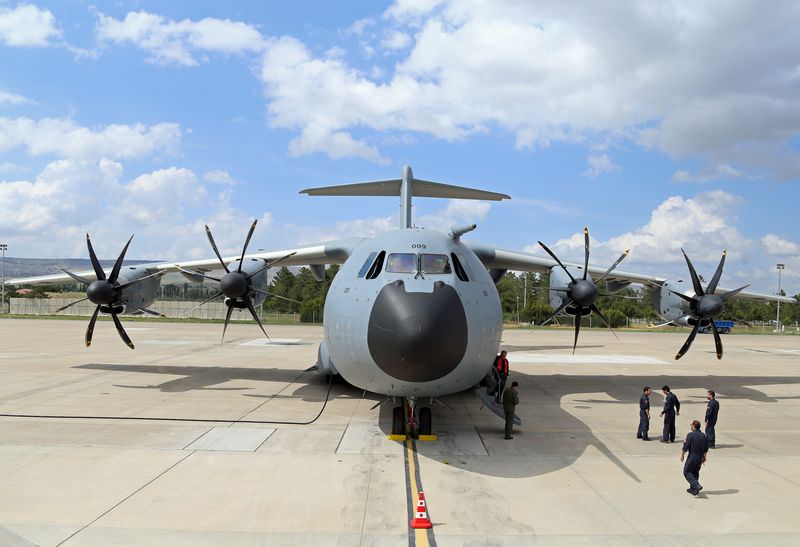 A-400M: Future's transport aircraft
The transport plane project was launched in 2003 due to the combined needs of 7 European Nations regrouped within OCCAR (Turkey, Belgium, France, Germany, Luxemburg, Spain and the UK).
Most of the Western military were dependent on the United States for long range transport until the A-400M.
The first test flight of the received A400M was held at Etimesgut Air Base in Ankara and the second took place at the 12th Military Airbase Command in Kayseri province in July 2013.
The A400M was designed for military use but can also serve civilian purposes.