The Swedish Embassy and Consulate General to Turkey and the Swedish Trade and Investment Center, Business Sweden conducted a joint study, "Turkey Business Environment Research," which surveyed Swedish companies with operations in Turkey on the country's investment environment. The research, conducted July 1 to Aug. 16, revealed Swedish businessmen's full confidence in Turkey and the Turkish economy, with 80 percent and 89 percent of companies planning to continue their investments in the country in the long term and in the next three years, respectively. Moreover, 96 percent of companies think that they will either maintain their current situation or continue to grow in the country, which are significant figures considering that 81 percent of company managers were surveyed after the failed July 15 coup attempt.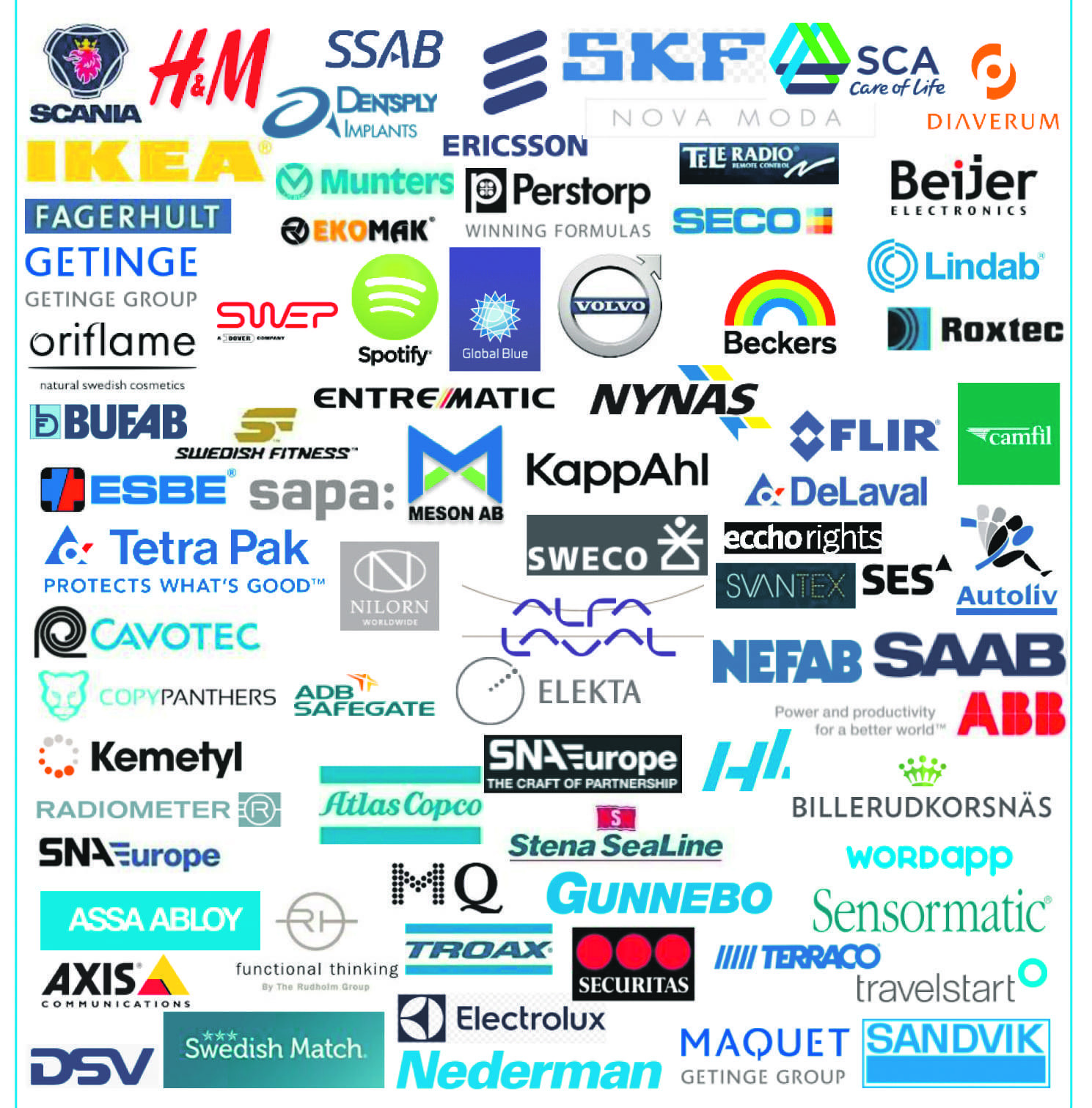 Logos of some Swedish companies operating in Turkey.
Turkish public fought for democracy
Swedish Consul General to Istanbul Therese Hyden said the Swedish government condemned the July 15 coup attempt from the beginning, adding that the Turkish public boldly fought for democracy on July 15. She said, "This research once again reveals the confidence of Swedish investors in Turkey."
Erik Friberg, Business Sweden's trade secretary in Turkey, stated that 93 percent of companies aim to increase their turnover rates in the medium term, while 87 percent expect a rise in profitability at a level varying between medium and high.
87 percent of companies expect rise in profitability
Friberg pointed out that Swedish companies want to become permanent in Turkey and to continue to grow in the country. A staggering 95 percent believe that the sector they are engaged in will grow over the next three years, 92 percent expect their turnover rates to increase in the medium term, and 87 percent expect their profitability rates to rise, varying between medium and high levels.
The surveyed companies have over 23,000 employees in Turkey. Expectations for sector growth, turnovers and profitability accompany a need to increase the number of staff, as 67 percent said they would increase the number of employees over the next three years. Additionally, 64 percent believe there is a high number of qualified managers in Turkey and think this qualified labor force is an opportunity.
Indicator of confidence in Turkish economy
Friberg said that the results differ from other predictions and reports based on statistics and macro indicators, as it includes first-hand accounts from companies that operate in the Turkish market and that Swedish companies that know Turkey well and have business experiences in the country believe in the potential of the Turkish market in the short, medium and long terms. He said: "Although they are sometimes affected by market competition, they believe the sectors in which they operate will grow, and they aim to expand their business and make new investments. So, we can easily say that the results of this survey are an indicator of businessmen's confidence in the Turkish economy."
Infrastructure investments make Turkey attractive
For 96 percent of Swedish companies, the World Bank Group's growth forecast of 3.5 percent regarding Turkey's gross domestic product (GDP) over the next three years is an important advantage for carrying out business in Turkey, as 95 percent of respondents highlighted Turkey is the 18th largest economy in the world and its objective is to become one of the 10 largest economies in the upcoming years. The growth of the middle-income bracket, the rise of purchasing power and major infrastructure investments, such as the Istanbul New Airport, the Yavuz Sultan Selim Bridge, the Istanbul-İzmir highway project and new high-speed train lines, are considered important opportunities by Swedish companies.
A total of 85 senior managers from 79 companies with more than 1 billion euros of turnovers on a global scale, such as H&M, IKEA, Volvo, Spotify, Ericsson, Oriflame and Tetrapak, participated in the survey. Sweden is the first country to conduct and announce such a study in Turkey.