Corporate venture capital is growing world-wide. According to the data by the Business Angels Association of Turkey (TBAA), venture capital funds accounted for nearly 17 percent of total venture capital dollars invested in the first quarter of this year, more than double its share five years ago. Corporate venture groups also invested $5.4 billion last year.
Convening to discuss how open innovation can be fostered and more businesses can be created through angel investors, start-ups and SMEs, top names and pioneers in the angel investing sector will be in Istanbul next month for the World Business Angels Investment Forum (WBAF).
The WBAF will bring hundreds of angel investors from 75 countries together at Swissotel The Bosporus on Feb. 13-14 under the sponsorship of the London Stock Exchange Group. This is presumably the second most important good news for entrepreneurs since the New Year following the approval of the crowd funding draft in parliament. Around 100 keynotes speakers will join the business event next month.
A big chance for Turkish entrepreneurs
Delivering mentorship to many world leaders, WBAF Chairman Boyars Altuntaş said that aside from the world's most important angel investors, there will be politicians, NGO leaders, bankers, stock exchange directors, techno-park CEOs, international scholars and various ministers among the speakers.
This year's debate topic is "'Partnering with Corporate Ventures from Start-up to Scale-up to Exit."
"I leave you to make some calculations if the $50 billion worth angel investment market meets up with the $96 billion institutional investment capital - Istanbul is hosting such an important forum this year," he continued.
Alastair Lukies, British Prime Minister's FinTech Special Representative, and Paul Doany, the CEO of Türk Telekom, will deliver two keynote speeches at the event. Altuntaş said: "Lukies will be talking about what the angel investors in FinTech will come up within 25 years. Doany, on the other hand, will share his personal experiences as an angel investor and present a route map on how they can provide more exits if they collaborate with the startup - angel investor - institutional investor trio by blending it with the institutional investment experience of Türk Telekom."
High interest from Gulf countries
What makes this year's forum especially precious for entrepreneurs and angel investors is the large turnout of investors from Gulf countries. Important names will be leading the delegations from Bahrein, Dubai, Qatar. The CEO of Qatar Development Bank announced that he will personally pay attention to both Turkish and international startup entrepreneurs. Significant investors from Kuwait and Saudi Arabia also confirmed that they will attend to the forum. This organization will also increase the importance of Istanbul so much more at an early stage in the investment ecosystem in Europe- Africa and Asia triangle.
Support from int'l business networks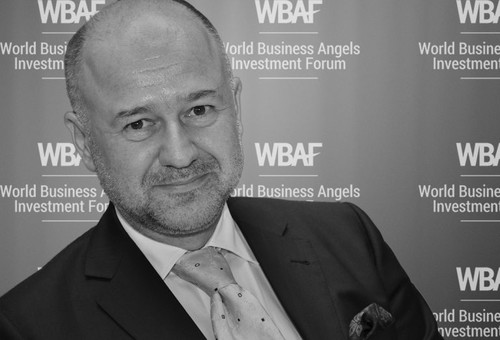 Baybars Altuntaş
Washington-based Global Business Angels Network (GBAN), European Business Angel Network (EBAN) whose headquarters in Brussels, Lagos-based African Business Angel Network (ABAN), the Dubai-based Middle East and North African Trade Association for Business Angels as well as the United Nations Industrial Development Organization (UNIDO), based in Vienna, are among the supporters of the forum. The forum is hosted by the Business Angels Association of Turkey (TBAA), chaired by Baybars Altuntaş.

Children, customer-friendly robots

The number of robots which are children friendly at home and customer friendly in airports, hotels and restaurants is on the rise. Furthermore, these robots are thinking in more detail and gaining new talents with the advancement of artificial intelligence, while different sensors have become electronic products purchased by regular customers.
Robots are now not perceived as the life-threatening creatures we see on the films. There are robots that cost less than $100 and are able to communicate with children, and robots that cost thousands of dollars which show passengers their gate and wave at them to say goodbye. Robots will soon become the hot gadgets of the techno-markets. Electronics giants, Internet giants and entrepreneurs are in a competition over robots at CES 2017. Once this phase of competition is over, the next phase is competition in the technology markets.
The primary targets of early stage robots are children. Robots are trained to offer entertainment to pre-school children and to increase their arm and eye coordination. Robots that are a little bit more talented are used to welcome guests at the restaurants, airports and hotels.
Apart from Google, Amazon, Apple and Microsoft, electronic giants such as Samsung are working on robots equipped with AI, which enables robots to gain different talents.