Turkish giant, "pladis" has been named among the world's 10 largest chocolate and confectionery companies when it ranked seventh on Candy Industry's 2017 list "Global Top 100."
Candy Industry, an internationally renowned business-to-business publication that covers the global confectionery industry from manufacturing to retailing, recently announced its "Global Top 100" list for 2017.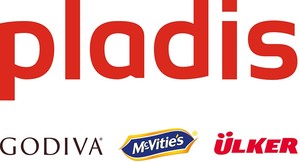 On the list, pladis, which combines Yıldız Holding's snack products under one roof, was also included in regards to its estimated net sales, number of employees and products.
Yıldız Holding had previously ranked 15th on the list, with net sales of almost $2 billion in 2015, and came in at 12th, with net sales of $2.144 billion last year. With the founding of pladis this year, it improved its rose to the seventh position.
Founded in 2016, pladis operates in 34 countries with its 34 plants. The brand, combining Yıldız Holding's snack products, under a single roof, has strengthened its place among the world's leading companies, with its new structure. The company annually produces a million ton of biscuits, 460,000 tons of chocolate and 40,000 tons of gums and candy. It has 26,000 employees worldwide and plans to invest TL 5 billion ($1,361,544,650) by 2021.
Turkey and the U.K. are the two largest markets for pladis, which incorporates Ülker, McVities and Godiva chocolates. The Middle East, Africa, the U.S., China and South Asia are also among pladis' fast-growing markets.