Istanbul New Airport (the third airport) the city's third airport, once operational, will recreate an aerial 'Silk Road' and become a part of the prestigious "100 Million Club," a trademark for airports that host 100 million passengers a year, said İstanbul Grand Airport (IGA)Executive Committee Chairman Hüseyin Keskin.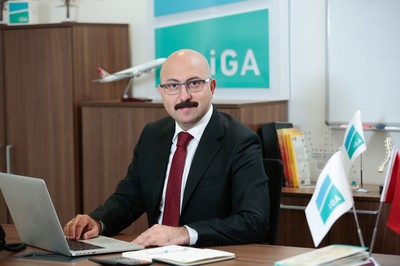 It will also attract an array of airline companies from different parts of the world, some of which have never flown to Turkey before.
In an exclusive interview with Turkish newspaper, Sabah, IGA Chairman Keskin said the Istanbul's new airport will enter service employing some paradigm-shifting innovations.
Emphasizing on the technological developments at the project, Keskin said the new airport will be a technological base besides constituting a natural hub.
He said it was sure to bring new companies to Turkey from different countries, some of which had never flown to Turkey before, as he revealed that the IGA has so far met with 400 brands.
It was previously announced that terminal construction at the airport has been 95 percent completed while negotiations with airline companies were also ongoing.
Keskin said that they have spoken with some 46 airline companies that are currently flying to Turkey, and their pre-requests for the new airport have already been taken.
In addition, that they have also gathered all the necessary information related to these airlines, such as the number of passengers and planes they will have, lounge requests, and the types of the aircraft they will operate here.
Pointing out the fact that there are aircraft that are not able to land at Istanbul's Atatürk Airport, Keskin said, all the airline companies will be able to operate all their aircraft at the new airport while slot problems will also disappear.
"For example, from the U.S., only one air carrier is flying to the Atatürk Airport. There are no airlines flying from Africa, or China or India. That is why we have started an intensive marketing activity here. We plan to bring airline companies from all over the world. We were in the U.S. last week. We negotiated with State Airports Administration officials and we also examined the Atlanta airport, one of the largest in the world," said Keskin.
Istanbul's third airport eyes '100 million club'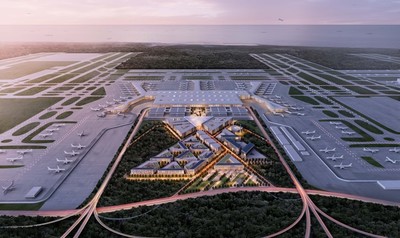 "One-hundred-and-four million passengers arrived in Atlanta last year. They are in the 100 million club. They were talking about us. They told us, in three to five years, they were also expecting us to enter the 100 million club," Keskin said, pointing out that there are no other airports in the world, except in Atlanta, that serves 100 million passengers annually.
Saying that they may be the second, he reminded that almost 200 million passengers may arrive at the third airport once it starts operating at full capacity.
Clarifying that another advantage of the new airport is that it will be a natural hub, Keskin said, it will also provide time saving in transits.
Saying that they have analyzed the way Atlanta uses its runways, their designs, and their winter and baggage operations, Keskin added, "We got to corroborate our project there. We are fully equipped."
World's biggest duty free deal signed with Unifree
The IGA Airport Operator Inc. CEO noted that they have signed the world's biggest duty free deal with Unifree and were designing leasable areas at the moment.
Saying that the TU'M had won the food-and-beverage tender for the airport, Keskin said at least 400 renowned world brands will serve at the airport, enabling passengers to eat and shop easily.
He said that according to world standards, over 1,000 square meters of area was necessary for the airport's retail department. Compared to 400 square meters at the Atatürk Airport, the Istanbul New Airport will have a shopping area of 1,450 square meters.
Airport City of about 10.5 million square meters
Keskin said they were currently working on the Airport City that spans over almost 10.5 million square meters, in the southern part of the airport. The area will include hotels, outlets, fairgrounds, hotels, and residences, as well as places of worship, logistics bases and free zone. The project is set to be featured at the ongoing MIPIM Fair in Cannes, France.
New airport to break ground
Referring to the innovations at the airport, including some world firsts, Keskin highlighted that the project will be a game-changer. He revealed that the passenger experience will be supported with technology such as activation of applications installed on smartphones and push SMS notifications.
"If you are having a stressful day and your flight still has two hours to departure, you will be directed towards the sleeping room. If you are a pizza lover, your phone will receive related information," Keskin said.
Suggesting that the data of the passengers coming to the airport will be collected and the services will be designed accordingly, Keskin assured that queues will decrease during the check-ins and the airport will have a parking lot with an 18,000 car capacity.
"If you arrive by car, you will get a message on your phone saying, 'There are three vacancies in the parking lot near the check-in island, please make a reservation'," Keskin said, underlining that this will be an innovative technology that will pave the way for the Turkish air cargo sector.
Keskin said that they were weighing on the possibilities of creating a ground services company and were calculating its economic return.
"We are always considering how we can set higher standards in service," he said.