Turkey is a dynamic and growing G20 economy that links east and west in a unique way. In addition to being one of the world's fastest growing economies, Turkey also supports international investors' growth via a business-friendly agenda and by permitting access to a large domestic market and neighboring international markets.


Turkey's strong market fundamentals, such as a young and dynamic population with an average age of 30, a well-educated work force, increasing rates of employment over the years, a growing middle-class, and a unique geographical location have all helped transform Turkey into the fastest growing OECD member country. As of end-2016, Turkey is the 16th largest economy in the world, with an average growth rate of around 5.6 percent since 2002.





Turkey's location, at the crossroads of Europe, Central Asia, and the Middle East, provides easy access to the European, Middle Eastern, North African, Central Asian, and Gulf markets that comprise more than 1.6 billion people and a total GDP of $28 trillion. More than half of the world's trade takes place within a four-hour flight radius of Turkey – a key reason why multinational companies like 3M, Coca-Cola, Microsoft, and Intel have chosen Turkey as a strategic regional hub for their operations.





Taking cues from the strong foundation that it built to attract international investments, Turkey put into practice successful economic reforms to support its internal investment environment. Structural reforms over the last decade have ensured that all international businesses have the same rights and abide by the same regulations as domestic companies, providing a secure environment for international investors. Some of the reforms and incentives introduced for the improvement of the investment climate include research and development and tax reforms, regional and sectoral incentives and a general incentives scheme, all of which provide attractive opportunities for investors looking at Turkey.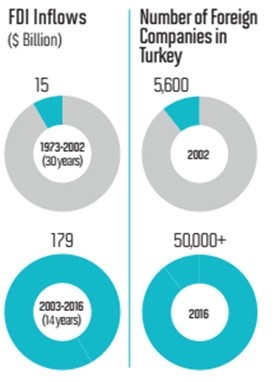 As a result of these reforms, Turkey started to climb up in the World Bank's Ease of Doing Business ranking and became a global economy with a rising level of inward investment flows. As of 2016, the number of companies with foreign capital in Turkey reached 53,000, up from 5,600 in 2002. Up until 2002, total foreign direct investment (FDI) into Turkey stood at $15 billion, but from 2003 to December 2016, Turkey has attracted more than $179 billion of FDI.
There has also been transforming its source countries and sectors for FDI. The trajectory is clearly towards high-quality FDI. Turkey has not only been receiving more FDI into the manufacturing and energy sectors, but it has also been diversifying its FDI sources. In addition to $140 billion of equity FDI, Turkey has also attracted nearly $40 billion of inward investment into real estate over the last 14 years. International investment in real estate is a strong signal that the international community has confidence in Turkey's business environment and its legal framework, highlighting that Turkey is a livable and investable country.
Impressive Real Estate Sector in Turkey
Accounting for approximately five percent of Turkey's GDP in the last decade, the Turkish real estate industry has been growing dynamically, driven by the robust domestic market, lucrative opportunities, and entrepreneurial spirit of Turkish private sector. With growing commercial, housing, and industrial output in addition to being strategically situated at the crossroads of Europe, the Middle East, and Central Asia, Turkey offers great opportunities for real estate developers and investors.
Turkey has enacted a batch of new legislation paving the way for foreign investors to invest in the real estate sector and, as mentioned above, this commitment enabled Turkey to attract around $40 billion worth of foreign direct investment into the sector over the last 14 years. The most prominent investors from the Gulf region in the real estate sector in Turkey include Qatari Diar and Emaar Properties, who have been investing in the country for several years.
With a 4.1 percent CAGR increase in prices from 2010-2015 due to the ongoing process of replacing approximately seven million old buildings with high-quality new ones under the urban transformation project, there has been impressive growth in both housing and commercial properties. Legally, foreigners have been allowed to buy property in Turkey since 2012, and a recent amendment to that law eased access to Turkish citizenship for foreign investors. Accordingly, foreigners who have bought property worth a minimum of $1 million and do not to sell it for at least three years become eligible to acquire citizenship under the new regulations.
Turkey - Qatar Relations
There has been a rapid increase in Qatari investments in Turkey in the past 14 years. The equity investments of Qatari companies in Turkey has reached $1.5 billion since 2002. As of end-2016, more than 100 companies operate in Turkey with Qatari capital. These include Qatari Diar, QNB, Commercial Bank of Qatar, Qinvest, Retaj, Al Jazeera, BeIn and Al Sraiya Holding among others.
Turkey and Qatar remain, and will continue to remain, important and strategic economic partners. In 2016, the trade volume between the two countries stood at $710 million. While this figure took off in the past five years, it is still low. Turkey's Ministry of Economy has identified Qatar as one of the top priority countries in 2016 and 2017.
The young and dynamic population, growing middle income class with growing purchasing power and the SMEs in Turkey constitute the backbone of the economy and can forge beneficial partnerships for Qatari and Turkish companies to grow together.
*Mr. Arda Ermut is the president of the Investment Support and Promotion Agency of Turkey (ISPAT).