Transport, Maritime and Communications Minister Ahmet Arslan said late Tuesday that the government will invest TL 227 billion ($64 billion) in infrastructure in the coming years and will complete roughly 3,500 projects in the country. Hosting members of the media at an iftar (fast-breaking) dinner held in the capital Ankara, Arslan said that the government plans to invest hundreds of billions of Turkish lira in infrastructural projects, as the government works on more than 3,400 projects already underway.
"We will make investments worth TL 227 billion [$64 billion] effective from today onwards. The works related to more than 3,400 projects are ongoing. Some of these projects have already been completed, some are still in progress and others were recently launched. Namely, public-private partnership (PPP) investments worth TL 51 billion ($14.3 billion) are also in progress," Arslan said.The minister emphasized that the government has allocated more than TL 26 billion ($7.2 billion) for investment projects in 2017. "We will spend TL 17 billion ($4.79 billion) and complete 179 projects this year," Arslan said.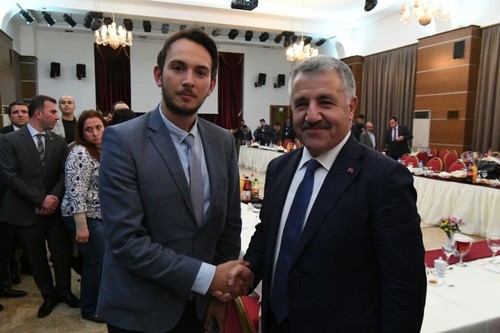 Transport Minister Ahmet Arslan (R) and Daily Sabah's Yunus Paksoy (L).
The minister said that the Justice and Development Party (AK Party) government has spent roughly TL 350 billion ($98.75 billion) over the last 14 years. Of that amount, TL 49 billion ($13.82 billion) has been spent on PPP investments, according to Minister Arslan.
Explaining the ongoing construction of tunnels and bridges across the country, the minister said that the government plans to complete 32 more tunnels in Turkey, noting: "A total of 32 tunnels spanning 68 kilometers will be completed by the end of this year." Arslan went on to say that the AK Party government has built tunnels spanning 300 kilometers across the country in the past 14 years, compared to previous governments in Turkey which could only build tunnels stretching 50 kilometers over 80 years.
The government will hold a tender for 12 additional tunnels in the upcoming political term, the minister also noted.
On the other hand, bridges across the country also top the government's agenda. Arslan said that a total of 131 bridges stretching 57 kilometers in total length will be completed by the end of 2017. The minister said: "Work is currently ongoing for 65 kilometers of bridge-way for 431 bridges. We are building bridges, tunnels and viaducts in every corner of the country," he asserted.
Works for Turkish space agency underway
The Transport, Maritime and Communications minister told members of the media that joint efforts between Turkey and Japan will be made for the establishment of the Turkish Space Agency.
Stressing that Turkey already sends materials produced by the Military Electronics' Industries (ASELSAN) to Japan in collaboration with the Japanese Space Agency, Arslan said that aeronautical research is ongoing. "We will send materials produced at Istanbul Technical University (İTÜ) for the manufacturing of satellites which will later be tested. Materials sent for testing will be returned and, if successful, we will extend the use of it," he asserted.
Number of Turkish-flagged vessels increase
Commenting on a recent law that requires yacht and vessel owners to change their foreign flags to Turkish ones while in Turkish waters, Arslan said that the number of Turkish-flagged vessels has increased, to a large extent.
The Transport, Maritime and Communications minister said that 3,515 yachts and vessels have changed their foreign flags to the Turkish flag. "Our goal was 6,000 vessels for 2017. We are pleased with today's numbers as we have not even completed the first half of the year yet," he added.
Previously, Arslan said in an exclusive interview with Daily Sabah that those who refused to change their foreign flags to Turkish flags would be sanctioned. In early May, the minister said: "More importantly, we want Turkish-flagged vessels in our marinas, rather than foreign-flagged ones. The prestige of our flag is crucial for us. We have also expressed this clearly and, despite the ease of fulfilling this requirement, if certain Turkish-owned vessels refuse to comply, we will enforce sanctions. Those vessels in violation of the new law will either promptly flag their vessels with the Turkish flag or will be obliged to do whatever foreign-owned vessels are obliged to."