One of the world's leading names in the manufacture of electrical and electronic products, Mitsubishi Electric, opened its first room air conditioner production facility in Europe in Turkey's province of Manisa. During speeches on the opening day, the company's representatives said the brotherhood between Turkey and Japan contributed to Mitsubishi Electric's decision to invest in Turkey and confirmed their trust in the Turkish economy and its political stability. They further emphasized that the factory will contribute to the country's economy, production, employment and exports.
According to the representatives, the new production facility, established with capital of about TL 382.5 million by the Mitsubishi Electric Corporation's local affiliate, Mitsubishi Electric Turkey Klima Sistemleri Üretim A.Ş., has become an important production base for the Japanese giant with an annual production target of 500,000 sets (indoor and outdoor units) and employment of around 400 people by the end of March 2021.
The opening ceremony was attended by Science, Industry and Technology Minister Faruk Özlü; Arda Ermut, the head of the Prime Ministry Investment Support and Promotion Agency (ISPAT), which also exerted efforts for the factory to be opened in Turkey; Manisa Governor Mustafa Hakan Güvençer; Japan's Ambassador to Ankara Akio Miyajima; Manisa Parliament member Selçuk Özdağ; Mitsubishi Electric Corporation President and CEO Masaki Sakuyama; Mitsubishi Electric Corporation Executive Vice President and Group President of Living Environment and Digital Media Equipment Takeshi Sugiyama; Mitsubishi Electric Turkey Klima Sistemleri Üretim A.Ş. President Katsu Wada; Mitsubishi Electric employees; and a large number of guests.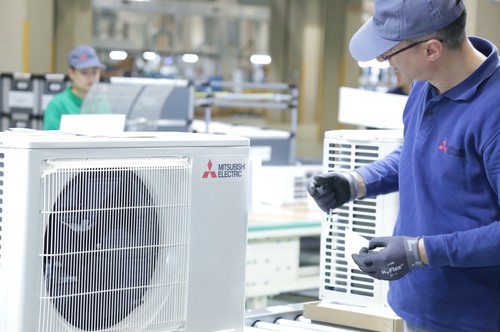 During his speech, Mitsubishi Electric Corporation President and CEO Sakuyama underscored his belief in the potential and strength of the Turkish market, saying, "Mitsubishi Electric Corporation has sales operations for air conditioning and refrigeration systems and factory automation systems in Turkey."
"We have also been successful in a multitude of other businesses, such as elevators and escalators, transportation systems, power generators, transformer equipment and satellite systems," he added. "Now this new room air conditioner factory in Turkey, which we consider a priority market, has also become an important production base for Mitsubishi Electric."
He also stressed that the new factory will contribute to the friendship between Turkey and Japan. Sugiyama, the executive vice president and group president of the Living Environment & Digital Media Equipment Group of Mitsubishi Electric Corporation, emphasized that Turkey and the surrounding European countries make up some of the most important markets for the company's air conditioning and refrigeration business. Sugiyama added that Mitsubishi Electric, which operates in 43 countries with more than 138,000 employees, would continue to invest in Turkey keeping with the company's corporate slogan "Changes for the Better."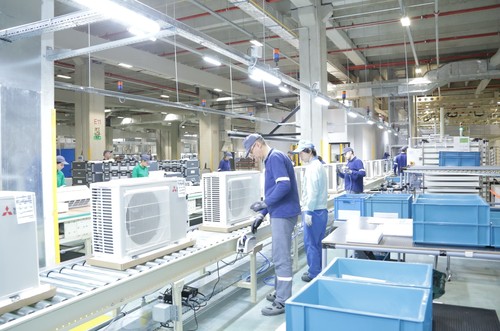 Answering journalists' questions, Wada indicated that one of the most important reasons why the company chose Turkey was the country's geographical position thanks to which they will be able to deliver products to other countries much faster. Among other reasons, he referred to incentives such as customs, corporate tax and insurance provided to the company by the Turkish government.
Underscoring that they have joined many projects in Turkey so far, Sakuyama said that if the opportunity arises, they would evaluate making new investments and joining other projects as well.
He also stressed that due to his busy agenda, he had an opportunity to travel to many countries, indicating that new properties are being built everywhere in the world; however, when it comes to Turkey, he said they can very well see that there is a high economic growth in the country.
Speaking of the reasons why they chose Manisa as a home for their new factory, he pointed to the attractiveness of the province, its sub industry and availability in terms of exports.
On the same issue, Wada said they chose Manisa due to its large sub industry that is located in its organized industrial zone and pointing to the railway system that is directly connected to the industrial zone, which will contribute to their exports and imports.
Sugiyama pointed out Turkey's economic growth compared to the region, saying that they aim to strategically expand their sales in the country and abroad.
After paying a visit to the factory, journalists also met Factory Manager Nonoue of Mitsubishi Electric Turkey Klima Sistemleri Üretim A.Ş., who shared details about the factory ahead of the opening ceremony. Nonoue indicated that the company would export products to Europe, Russia and supply them within Turkey in the beginning and export to other countries in the future.
He told journalists there were around 210 workers at the moment, suggesting that the number would increase as they aim to expand production.
Nonoue also said that they partly commenced delivery in January, underscoring that the deliveries will naturally increase in February and March.
He also said 50 percent of the raw materials were being imported, while the other 50 percent was being procured in Turkey.
The company's target for 2018 is to carry out production of nearly 300,000 sets, Nonoue said, indicating that they plan to reach around 400 workers by 2020.
Four Japanese engineers currently work at the plant, which is also being visited by Japanese supervisors from time to time.
Women constitute nearly half of labor force at factory
Another point that really drew my attention during the visit to the factory was the high number of female workers in the factory. When asked about the issue, the factory manager said nearly half, about 45 percent, of the workers were women. Nonoue also praised the efforts of local workers, saying they were eager and hard working.
Nonoue also said that as of April, the company would put into action the research and development (R&D) segment of the factory.
Stressing that Turkey and Japan were two brother countries, Nonoue suggested that this situation contributed to Mitsubishi Electric's decision to invest in Turkey, adding that the company also benefited from incentives provided by the government.
During his speech at the opening ceremony, Science, Industry and Technology Minister Özlü said any enterprise and factory that adds value to the production, exports and employment of Turkey is immensely important and valuable for the government.
Minister Özlü emphasized the factory was an indicator of trust in the Turkish economy and its political stability.
"The economic success we achieved in recent years, stability in the growth rate and increase in exports has made Turkey a strategic country for everyone who wants to make safe investments. From now on, Turkey will keep growing with all its fields as a whole. It is vital for Turkey and Japan to further increase their collaboration in the fields of science, technology and industry. Japan is one of our most important economic partners in the Asia Pacific region. It is in our common interest that we bring our trade volumes in parallel to the economic growth of our countries and to increase it by fivefold/tenfold in the near future," Özlü said.
Minister Özlü also said he wholeheartedly believed trade, cultural and political relations built on the foundation of friendship will keep growing in the future as well. "I wish for the Mitsubishi Electric factory, which is built in the Manisa Organized Industrial Zone and will increase the number of employees to 400 in the following years, to bring the best for all shareholders and prove fruitful."
Indicating that the importance of Turkey for international investors has been confirmed once more with this investment, ISPAT Chairman Ermut said: "We have been working closely with Mitsubishi Electric regarding this investment since 2013. We provided a lot of information to contribute to their feasibility studies. We accelerated the bureaucratic processes. We have conducted visits to many locations in Turkey for investment land. We have successfully negotiated with the Manisa Organized Industrial Zone management. We held important meetings in Japan. And, ultimately, two years ago, in February 2016, our team in Japan was delighted after meeting with Mitsubishi Electric when they told us that the company had made an investment decision."