With a 7.4 percent growth rate in 2017, Turkey's economy surpassed all expectations forecast by international institutions and has become a pacesetter in the world. The ruling Justice and Development Party (AK Party) Deputy Chairman Cevdet Yılmaz, who is in charge of the economy, said that the growth results are a "gladsome result" and he underlined that the composition of this growth is also promising for this year.
Responding to allegations that a high growth rate doesn't reflect the real conditions of the public, Yılmaz explained that Turkey has created 1.6 million jobs in the last 12 months and therefore the arguments are farcical.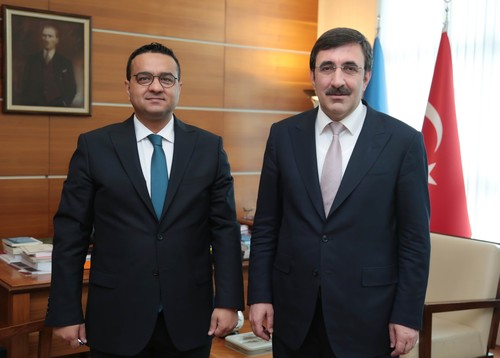 Commenting on Turkish lira's negative trend in comparison to emerging markets in recent days, he stressed that Turkey is doing well in terms of the real economy while adding that there have been always fluctuations caused by international and domestic developments in financial markets.
He provided information about the government's objectives and expectations in 2018 and said that they expect around 5.5 percent growth for 2018. He added that they aim to create at least 1 million employment opportunities.

Rejecting claims that Turkey started lose its economic growth momentum and will start to regress significantly from Q2 onwards, Yılmaz said that all the economic indicators are robust and therefore economic growth will not lose its momentum in 2018.
Daily Sabah: It was announced that Turkey grew 7.4 percent in 2017. How do you evaluate this rate?
Cevdet Yılmaz: First of all, it's very significant growth; we have the highest rate among G20 countries including China and India. The G20 constitutes 85 percent of the world economy. In this respect, Turkey's economic performance is topnotch. This is a gladsome result. Another prominent aspect of this growth is that it was achieved in all sectors. For instance, agriculture grew 4.2 percent, industry 9.2 percent, construction 8.9 percent and services 10.7 percent.
Other welcoming news is the composition of this growth; it's constituted by numerous diverse components. It's growth that is a balance of domestic and foreign demands, consumption and investment, and public and private sector expenditure. In this sense, it's a well-composed growth with substance.
The third aspect, which is the most important part for me, is that it fosters employment. Comparing it to the last year, Turkey created around 1 million new jobs. If we take the period between January 2017 and January 2018, our economy created more than 1.6 million employment opportunities.
DS: In your opinion, what has led to this growth rate?
CY: I believe it has three components. We are in a streak of success after the July 15 coup attempt in 2016. This coup attempt wasn't only political, but economic as well. Nevertheless, it was thwarted.
The first component is the economic reforms enacted by the Justice and Development Party governments within the past 15 years. As the government consolidated and reinforced the economy, this coup failed to even weaken it.
Secondly, our governments took the necessary precautions accordingly. It expanded the credit guarantee fund mechanism. There were various tax reductions and restructuring involved. We provided facilities to small and medium sized enterprises. All of these rejuvenated the economy. I may say our governments used finances efficiently. This bolstered the growth; in turn growth allowed our finances to balance out.
Thirdly, public confidence fostered this growth immensely. If the public wasn't confident in our government and Turkey's future, this success wouldn't be possible. I believe our economic success is indicative of trust in a Turkey which is cleansed of all illegal organizations like the Gülenist Terror Group (FETÖ). Similarly, the increased production, exports and investments also exemplify this confidence. Despite all terrorist attacks and threats, our public stood tall; they are the greatest contributor to this growth.
DS: Could you inform us about the government's objectives and expectations in 2018?
CY: Our objective is to surpass last year; as you know, this high growth rate is related with the relatively low growth rate in 2016. In 2018, we have to overachieve.
Our government's midterm program sets the framework. According to this program, we expect around 5.5 percent growth for 2018. We also expect this growth to be employment-friendly; we are looking to create at least 1 million employment opportunities.
Another aim is to have growth that is heavy on exports. In this respect, we desire to increase last year's $157 billion exports to a record high of $170 billion in 2018. Of course, this means that both domestic and foreign demands will contribute to growth. We also expect a good economic performance in terms of tourism and investments. On the other hand, considering the improvement of investment environment and incentives, we believe investments will once again contribute to our growth in 2018. TL 1 trillion ($250 billion) is our goal. As you know, our national dividend is over TL 3 trillion now; approximately 30 percent of this is constituted by investments.
DS: There are some people claiming that this high growth rate doesn't reflect the real conditions of the public and that the unemployment rate and inflation being over 10 percent is proof of this. How would you respond to this?
CY: The most obvious indicator that this growth indeed benefits the public is the employment figures, as it's both an economic and a social indicator. As I have said, our economy has created more than 1.6 million employment opportunities within a year; this means more than 1.6 million households have an extra income now. This will definitely reflect positively to their living conditions. I don't know another country which could create such employment in relation to its population within a year. For instance, the European Union's population is more than 500 million and they have created a combined 2 million employment opportunities. Turkey all by itself created more than 1.6 million. Therefore, these arguments are farcical.
Meanwhile, the consumption figures also indicate the standards of the public. We observe an increase in private consumption numbers: vehicles, appliances, electricity and such. Of course, one shouldn't expect the public to transform radically within a year; it takes time to aggregate and accumulate. In short, these claims don't reflect the truth as this growth is beneficial for the public.
DS: What do you think about the double-digit unemployment rate?
CY: There is a significant increase in labor force participation rate; in this respect, even if we create substantial employment, this doesn't reflect adequately to the unemployment rate. Turkey has a young population and hundreds of thousands of people participate in the labor force every year. On the other hand, the AK Party has invested heavily in education. As the education level increases, there is also a mirroring increase in labor force participation. This is especially true for women; labor force participation rate is over 70 percent among higher education graduate women.
This is a positive development. Sure, high labor force participation rate is problematic about unemployment rates; however, it's definitely important in terms of growth potential and production capacity. We're working on decreasing unemployment rate with employment mobilization initiatives. Our priority is to increase employment substantially; we especially aim to increase the employment of women and the youth. We're enacting necessary policies to accomplish this.
DS: How do you evaluate the Turkish lira's negative trend in comparison to emerging markets in the recent days, especially in the light of increasing exchange rates?
CY: Firstly, we have to make a distinction between financial markets and the real economy. In terms of the real economy, we're doing well. Meanwhile, there might be fluctuations caused by international and domestic developments in financial markets. This has always been the case.
We have a set policy regarding exchange rates; it's floating exchange rate. In this respect, we don't have any specific exchange rate target for the U.S. dollar. This is determined by the markets, even though speculations also occur occasionally. They aren't caused by our economic structures; moreover, our respective public institutions and the central bank are taking the necessary precautions.
Soundness of the economic structure is the more important thing. As long as the economic structure is sound, these fluctuations will cease over time and will find balance. Turkey's economy is strong in this respect; therefore, I believe these fluctuations are only temporary.
DS: There are comments going around that Turkey has started lose its economic growth momentum and will start to regress significantly from Q2 onwards. What is your take on these comments?
CY: We have achieved 7.4 percent growth in 2017; we're building on this growth now. Our midterm program foresees 5.5 percent growth. As 5.5 percent will compound with the previous 7.4 percent, it's a significant momentum. The average growth rate during the 15 years of AK Party governments is 5.7 percent; in this respect, this year's expected growth rate is similar to the average. All in all, Turkey isn't losing momentum.
On the other hand, leading indicators like export and industrial production, along with taking domestic demands and investments into consideration, demonstrate Turkey is still growing. Certain sectors might experience a slight decrease in growth rates in comparison to previous ones, while some might experience an increase. The average growth rate is more important than individual growth rates and the average growth rate doesn't indicate a loss of momentum.
DS: As the AK Party vice chairman in charge of the economy you have launched the Economic Expectations of Cities Forum and will visit all 81 provinces of Turkey. Why was this forum launched and what are its aims? What data have you acquired until today?
CY: The AK Party has always been a grassroots movement. We don't sit at our office all day and assume what the people are thinking about our policies; we go on the field. All the cities of Turkey and their inhabitants are dear to us; their views shape our policies. This is why we launched this initiative. Also, this initiative is indicative of our emphasis on the economy. Regardless of developments, we have always prioritized the economy and this initiative demonstrates it clearly.
We have an emphasis on macro-economy and we have achieved a balance in terms of this. Yet, we never neglected micro-economy. We believe this macro-economic perspective has to be interlocked with micro-economic agendas of cities, provinces and districts. Beside Turkey's economic agenda, all cities have their individual agendas. This initiative takes these individual agendas into consideration and evaluates them. On the other hand, we embrace a participatory approach in our party; we'll hold counsel with our local branches for half a day in cities we visit. During the other half, we'll talk with and listen to the local populace, academic institutions and the business world. This is done according to a certain methodology.
In every city we visit, we'll collaborate with a moderator from the local university. We'll ask five questions to those living in these cities. Five questions we'll ask are as follows: "What services have you used the most and which projects satisfied you? Which ongoing projects are more important to you? What kind of services and projects do you expect to be realized? Are there any issues regarding services and projects and what are these issues? What do you envision for the future of this city?" After collecting the answers, we'll give them back to the participants and want them to sort them according to priority. Then we'll prepare five tables and merge these tables at our headquarters. We'll also conduct polls which are coordinated by our R&D division.
In addition to these, we'll come together with members of the parliament in Ankara and ask for their opinions. This will conclude our reports on cities. Then we will look at priorities of all 81 cities; we'll determine the priorities of Turkey according to feedback. We'll have the chance to analyze them region by region. Thus, we'll determine the priorities of both individual regions and the whole nation.
This will also create a vast database. We'll also categorize feedback by public institutions. For instance, we will gather all feedback about the public waterworks and relay this data to the respective minister. Moreover, we'll convey our reports on each city to President [Recep Tayyip] Erdoğan and Prime Minister [Binali] Yıldırım.
We expect to improve ongoing services and projects. On the other hand, this data will allow us to revise our party program in both municipal and presidential elections in order to serve our people better.
DS: You have visited 61 cities as a part of this initiative. What were some of the more memorable suggestions you have heard?
CY: There are lots of them; however, I believe the establishment of new universities in cities is the most prominent. We saw that new universities have excited the people across Anatolia. People are very satisfied with them and want these universities to improve further. They believe these universities will contribute to the development of the region. Transportation and healthcare are also appreciated greatly by the people along with many other services.
Meanwhile, we see that agriculture, rural development and tourism are important topics in Anatolia. At the local level, you can see that these are prioritized. This indicates that our citizens are once again interested in agriculture and rural development and that they have expectations about these matters.
In terms of industry, we see that national projects are well received, especially the national brand car. In every city we visited, people were demanding certain parts of this car to be produced there. This indicates that our people enthusiastic about national and local production in industry.
Regarding complaints, we see that many people complain about bureaucracy. In almost all cities people complained about encumbered bureaucracy, relatively slow resolution processes and redundant procedures.
Lastly, we see that local administrations are serving the people and trying to improve living conditions; however, they have issues in facilitating the job environment. We believe economic municipal works should be underscored in the following years. People expect municipalities to facilitate permit and certification processes along with constructing necessary infrastructure for industrial and service production. Of course, these are my general observations.
DS: A reform package aiming to improve the investment environment was introduced last week. Prime Minister Yıldırım has stated that a new package was on the way and it would be discussed in Parliament in the following weeks. What do these reform packages foresee? What are its priorities?
CY: The World Bank has an ease of doing business index which compares countries internationally. We're currently ranked around 60; our aim is to rank among the top 20 countries by presenting a better investment environment to both our domestic and foreign investors.
Our government is making strides in this matter. A crucial reform package coordinated by Deputy Prime Minister Recep Akdağ was ratified by Parliament. This package includes many reforms that facilitates permit and certification processes in many sectors. Through this reform package, the business world will have access to a business environment that isn't hindered by excessive bureaucracy.
Nevertheless, we believe we should further reforms. As Prime Minister Yıldırım stated, a new reform package is being prepared. While I can't provide the specifics of this package, I can say that the e-state is important in terms of ease of doing business. This is why we have to improve it. Citizens and businesspeople should be able to do their business electronically. I believe this will be prominent in the new reform package as it creates a better investment environment by reducing bureaucratic procedures.
DS: You are also responsible for the commission that is to restructure the executive in accordance with the presidential system. Could you inform us about what you are doing?
CY: As you know, five commissions were established within AK Party. The first is about restructuring the executive. The second commission is on revising the regulations of high-ranking officials. The third commission works on local administrations, while the fourth commission is engaged in the parliamentary bylaws. Finally, the fifth commission is working on political party and electoral laws.
These commissions demonstrate how seriously AK Party is working for the new era. What I've said about our perspective on economy is also true in this case. AK Party's perception on any subject matter is comprehensive and extensive. The party doesn't shy away from working hard on a matter; moreover, it always seeks counsel of experts. This is how we're preparing for the adjustment process.
With the elections in 2019, the presidential system will come into force. This requires many adjustment laws. We have to be meticulous in their designs and this is what we're doing. Actually, this should be done by all parties as it's not only AK Party's responsibility. Regardless, we're focused on preparations as we have great expectations of the new system. Turkey rose from lower-middle income to upper-middle income; with the implementation of the new system of governance, I believe we will rise to the high-income level. We will achieve our goals regarding 2023, 2053 and 2071 with this new system. From democracy to social policies along with foreign policy and security, this new system will take us to the next level.
Let me express what we expect in terms of economy. Three aspects will facilitate our economic growth. Firstly, the new system will render stability permanent and systematic. While the AK Party achieved this stability for 15 years, it's not systematic; it's about the party and its leader. Therefore, this systematic stability will allow our economy to flourish further as it won't be hampered by turbulence. Secondly, the new system will reduce the level of uncertainty.

Elections will take place every five years; presidential and parliamentary elections will be held simultaneously. I'm in politics since 2007; in these 11 years, I have seen 10 elections, including referendum and municipal elections. In this new system, we'll have elections in every five years which will make the schedule certain.

By eliminating this uncertainty, we expect an increase in investments and economic activities as uncertainty is the bane of economic development. Thirdly, the new system will speed up the decision-making processes with executive orders, allowing swift institutional adaptation. By eliminating redundant bureaucratic procedures, the bureaucracy will become more efficient. In turn, this will improve our economic development.
Therefore, I believe the presidential system will be the herald of a new economic development era. Our commissions will set all institutional and legal frameworks for it.
DS: How compatible is the 2019-2023 11th Development Plan with Turkey's 2023 goals? What are the priorities of the plan?
CY: It's a rather important development plan as 2023 is now on the horizon. We're holding council with many participants; this plan's technical infrastructure is also being designed meticulously. This plan obviously coincides with a new era in which we're transitioning to the presidential system. In this respect, it will be compatible with the new system; it will have the same dynamism as the new system. The main aim of this plan will be to raise Turkey to the high-income level. It will also invest more in our human capital and create a developed economy that has higher added-value. This is the focus of the plan. We'll also invest more in information, research and development, and digitalization. Turkey's adoption of digitalization will be crucial.
Of course, this plan is yet to be submitted to the Parliament and is a work in progress. Our minister of economy and peers are currently in the field. I believe it will be submitted to the Parliament in the following weeks as it has to be discussed during summer. After its ratification, this plan will come into force together with the presidential system in 2019.