After a one-and-half-year period of political tension in Turkish-German ties, the two countries have recently embarked on intensive efforts to normalize and further ameliorate political and economic relations with mutual visits and supportive remarks. The two sides have recently entered into a new period in bilateral relations as they aspire to capitalize on a win-win approach that prioritizes a common line of attack on global and regional issues from a strategic perspective. Following his meeting with German ministers on Friday, Treasury and Finance Minister Berat Albayrak said in a press conference that Turkey and Germany held a very productive conference to further improve on the areas that both parties agreed on.
Minister Albayrak was accompanied by Energy and Natural Resources Minister Fatih Dönmez and Trade Minister Ruhsar Pekcan during his visit to the German capital, where he met with German Economy and Energy Minister Peter Altmaier and Finance Minister Olaf Scholz.
The Turkish finance minister said that Turkey and Germany have increased their bilateral trade volume to $38 billion over the last 16 years as both countries are determined to expand commercial ties.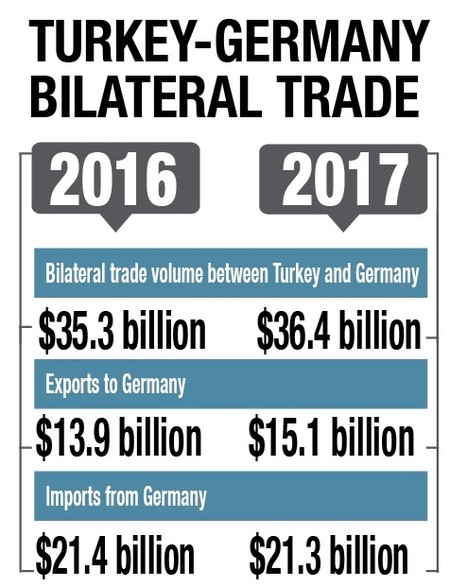 Referring to President Recep Tayyip Erdoğan's upcoming visit to Germany next week, Albayrak said that it will be the president's first official state visit to the country in Turkey's new era of presidential governance. This particular aspect of President Erdoğan's visit demonstrates the importance Turkey attributes to its ties with Germany.
Speaking at the press conference, German Economy Minister Altmaier said that both Turkey and Germany have worked to overcome the problems.
"The two countries have ties dating back to more than 100 years. Turkey harbors more than 7,000 German companies and we want to further our economic ties," the German minister said.
He stressed that Turkish and German ministers have agreed on mutual geostrategic interests in Friday's meeting.
"In the upcoming period, we will also work to improve Turkey's ties with European Union," Altmaier added, emphasizing that strong ties between Turkey and the EU offer great opportunities for the economic growth of each side.
Citing his upcoming visit to Turkey in October, Altmaier said the first Joint Economic and Trade Commission (JETCO) meeting will be held then.
As part of the JETCO meeting, a forum evaluating Turkish-German economic relations and investments will be held. German companies investing and operating in Turkey will explain the opportunities in the country to new potential investors.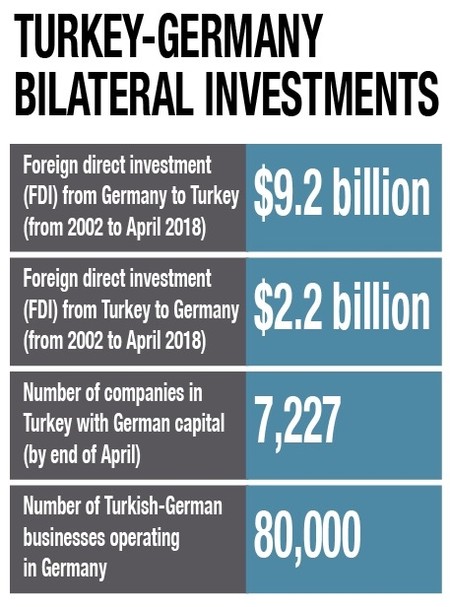 Trade Minister Pekcan also stressed that both Turkey and Germany are willing to enhance their economic rapport as they strive to build on century-old ties.
"Negotiations for the modernization of the Customs Union must immediately commence and we have observed Germany's willingness to support Turkey to update the deal," Pekcan said.
As the only non-EU member country that has had a customs union agreement with the EU since 1996, Turkey has been one of the largest trade partners of the union with an export value of 69.8 billion euros and an import value of 84.5 billion euros in 2017 in goods alone.
In its Dec. 21, 2016 assessment, the EC proposed the modernization of the current deal, which only covers a limited range of industrial products, and excludes agriculture, public procurement and services. Highlighting that the upgrade of Turkey-EU trade relations forms an essential part of efforts made by Turkey and the EU to deepen relations in key areas of common interest, the EC reiterated its resolution to continue delivering on the commitments it has made as part of the deal with Ankara.
Germany is the top destination for Turkish exports, making it Turkey's biggest trading partner.
Bilateral trade between Turkey and Germany in 2016 totaled $35 billion. Turkey's exports to Germany amounted to $13.9 billion, while imports were $21.4 billion. Bilateral trade between the countries increased, reaching $36.4 billion in 2017, according to the data compiled by the Turkish Statistical Institute (TurkStat).
Last year, Turkish exports to Germany rose to $15.1 billion and imports from Germany slightly fell to $21.3 billion.
During the January-August period this year, Turkey's exports to Germany rose to $10.4 billion, a 9 percent increase compared to the same period last year.
In particular, Turkey's exports to Germany consist of road vehicles, parts and accessories for motor vehicles and parts for piston engines, while the main imports from Germany are road vehicles, medicaments and parts and accessories for motor vehicles.
For the period from 2002 to April 2018, direct investments from Germany to Turkey amounted to $9.2 billion. This figure is $2.2 billion from Turkey to Germany in the same period.
The FDI from Germany, which generally invests in the energy, insurance and manufacturing sectors, is at least 6.2 percent of total FDI in Turkey.
About 80,000 Turkish-German businesses operate in Germany with an annual turnover of approximately 52 billion euros, while employing almost 500,000 people in 50 different sectors.
According to Trade Ministry data, 7,227 German firms operated in Turkey as of the end of April and Germany tops the list of companies with foreign capital in Turkey.
Meanwhile, more than 3.5 million German tourists visited Turkey in 2017.
Germany reaffirmed on Friday its support for Turkey's economic stability and announced that high-level talks between Berlin and Ankara would continue in the coming weeks.
"We have a great interest in Turkey's stability, also its economic stability. On the other hand, I think that Turkey is capable of making necessary decisions to restore stability," Foreign Minister Heiko Maas told a news conference in Berlin.
Several media outlets reported early this month that the German government was examining ways to support Turkey's economic stability, amid worries in markets after currency falls and exchange rate fluctuations.
Maas said his visit to Turkey early this month was the beginning of a new process to improve ties between Berlin and Ankara and stressed that high-level visits will continue in the coming days and weeks.
"It think it is much better if we engage with each other and talk to each other, instead of talking about each other," he said.
President Recep Tayyip Erdoğan is scheduled to pay a key visit to Germany next week.
Germany's Economy Minister Altmaier, a close ally of Chancellor Angela Merkel, will also travel to Turkey next month, with an 80-member business delegation of leading enterprises.
Political relations between Ankara and Berlin suffered several setbacks in the past two years, but both sides took steps in the recent months toward the normalization of ties.
Minister Albayrak had a very busy agenda in the recent period, during which he held official talks with his counterparts from many European countries.
Earlier this month, Albayrak visited London for talks with Britain's Finance Minister Philip Hammond and the Minister of State for Europe and Americas Duncan. A week earlier, he was in Paris where he met with his French counterpart Bruno La Maire.