With a more than $20 billion trade deficit with China according to last year's data, Turkey is one of the countries that have a trade imbalance with the world's second-largest economy. Indeed, aside from commodity-rich countries like Iran, Australia, Germany, Saudi Arabia and Brazil that generally have a trade surplus with China, most countries import from the Far Eastern economy much more than they export. For Turkey, it does not seem plausible to reduce this trade deficit with China in the near future; however, some steps could be taken. In order to be more active in the Chinese market, Turkish businesspeople should change their perspective of the country, Ankara's Ambassador to Beijing Abdülkadir Emin Önen said. Önen suggested that the businesspeople of Turkey must start thinking about what they could sell to the second-largest economy instead of what they could purchase from it.
In an exclusive interview with Daily Sabah in Beijing, Önen evaluated Turkish-Chinese economic and diplomatic ties that have gained momentum over the last couple years in detail, suggesting ways to approach the immense Chinese market for Turkish businesspeople.
Across the globe, China is known as the largest supplier of goods for many countries, enjoying a trade surplus with most of them, including the world's largest economy the U.S., amounting to $370 billion according to 2017 figures. Last year's data showed China's exports reached $2.26 trillion, generating $422.5 billion in trade surplus. However, Önen pointed out, China is also the world's second-largest importer after the U.S. In 2017, the total value of China's imports saw a more than 15 percent increase compared to the previous year and reached $1.8 trillion. The country announced last year that its imports will reach $10 trillion over the next five years, which means that China's annual imports will reach $2 trillion. This huge market of imports has a significantly large population of high-income earners that like to spend money, the ambassador stated. In addition to high segment spenders, China also accommodates a middle class of 300 million people with annual incomes exceeding $20,000. "With such a huge import market that has great population potential, Turkish businesspeople must adopt a different approach to the Chinese market and change their perspective. They should focus on products to sell China, instead of looking for goods to buy," Önen said. Before entering this market, he added, the Turkish business world must conduct a very thorough sectoral analysis and act like a local Chinese actor.
For the first time, China will hold an international import expo in Shanghai Nov. 5-10. The expo will host 2,800 exhibitors from 130 countries, including Turkey. Turkish Trade Minister Ruhsar Pekcan is also expected to attend the expo with a delegation of Turkish businesspeople.
Ambassador Önen also highlighted that Turkish exporters might benefit from the U.S.-China trade war. One of the products China imports from the U.S. is soybeans. Although China imposed 25 percent import tariffs on soybeans, the country still continues to buy the product from American producers, Önen stated. "If we multiply our soybean production in Turkey, Turkish producers will be able to enter the Chinese market since our products will be much less costly and more competitive," he added and continued, "That's a very good opportunity created by U.S.-China trade conflict." The ambassador also underscored that Turkish exporters might also work on projects to sell mulberries, nuts, and dried fruit on which China levied additional import tariffs.
Turkey is natural partner of Belt and Road Initiative
Since the launch of the Belt and Road Initiative (BRI) by Chinese President Xi Jinping in 2013, Turkish-Chinese economic and political relations have gained momentum. As for the political and diplomatic relations, the two countries have intensified the frequency of visits. Over the last few years, President Recep Tayyip Erdoğan and Xi have met five times in addition to a number of phone calls. This year alone, six Turkish ministers visited the Far Eastern country, while three Chinese ministers and three undersecretaries came to Turkey. Moreover, four or five Turkish ministers are also scheduled to visit the country to boost bilateral ties, the ambassador said.
Regarding economic cooperation within the framework of the BRI, the number of Chinese firms operating in Turkey has exceeded 1,000; the involvement of Chinese companies in Turkey's significant megaprojects have also expanded.
Önen highlighted that economic ties constitute a very important dimension of Turkey's relationship with China, and the BRI has increased the significant of economic ties.
"Turkey is located on the highways and railways connecting China to Europe. Therefore, Turkey is the natural partner of the BRI project, which we fully support," Önen said.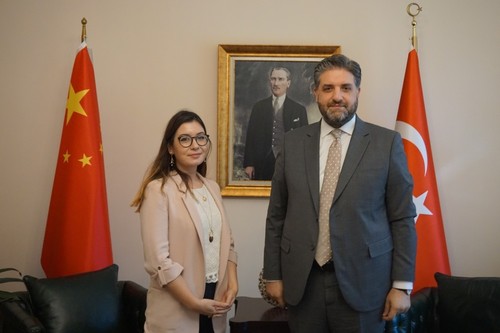 Daily Sabah Economy Editor Elif Erşen spoke to Ankara's Envoy to Beijing Abdülkadir Emin Önen.
Turkey's location straddling two continents gives access to 1.5 billion customers in Europe, Eurasia, the Middle East and North Africa. Turkey is able to reach markets with a combined gross domestic product (GDP) of $25 trillion, all within 4 hours flying distance.
In order to give an official character to the cooperation within the framework of the Belt and Road Initiative, Turkish and Chinese governments signed the Memorandum of Understanding on Aligning the Silk Road and the 21st Century Maritime Silk Road and the Middle Corridor Initiative between the Government of the Republic of Turkey and the Government of the People's Republic of China was signed on Nov. 14, 2015 in Antalya during the G20 Summit to harmonize Turkey's Middle Corridor vision with China's Belt and Road Initiative.
A series of energy and transportation deals were also signed during the Belt and Road Forum for International Cooperation in May 2017.
When the Middle Corridor project is completed with all the marit​ime and railway projects, Turkey will see increasing traffic in the transport of goods from China to Europe, Önen opined. "The intensified traffic of goods will also carry European goods to China via Turkey and will certainly give a major boost to the country's economy," he added.
Turkey has also attracted significant investments from China in transportation, energy, finance, e-commerce, technology and real estate. As a strong partner of the BRI, the country is eyeing more investment projects with Chinese partners. "In order to secure more investment from China, Turkish businesspeople should present concrete projects to the Chinese undertakers," Önen said. Citing his presentations and meetings at the leading Chinese business associations and government institutions, the ambassador stressed that Chinese investors are highly aware of the Turkish economy's potential and are looking for concrete projects to evaluate the feasibility.
Chinese tourists fit the profile for Turkish tourism
The tourism industry is one of the most highlighted sectors in boosting economic cooperation between Turkey and China, and Turkey's envoy to Beijing also elaborated on Turkish-Chinese tourism cooperation. Although there has been an increase in the number of Chinese tourists Turkey has hosted so far this year, the country's share from the Chinese tourism market is still needs developing.
In 2017, approximately 130 million Chinese citizens traveled around the world, and the number is expected to reach 134 million this year. Providing information on the Chinese tourist profile, Ambassador Önen said: "Chinese tourists do not look for all-inclusive vacation packages on resort towns. They want to travel around and examine historical, cultural and natural beauties. They also like shopping wherever they go," he said and continued, "While an average tourist visiting Turkey spends $400 to $500 per capita, a Chinese tourist spends $2,400 to $2,500." Considering the historical and cultural heritage as well as the natural beauty of Turkey, Önen said, Turkey is a perfect location for Chinese tourists.
In order to boost tourism cooperation and as a result of joint efforts by the authorities of the two countries, China has declared 2018 Turkish Tourism Year. As part of Turkish Tourism Year in China, the Turkish Embassy organized nearly 60 events in different Chinese cities and promoted Turkey.
The number of visitors Turkey hosts from China is a rising trend resulting from bilateral efforts, like the launch of Turkish Tourism Year and cultural events that promote Turkey for a Chinese audience. From January to August, a total of 259,462 Chinese tourists visited country. The ambassador said that the number of Chinese visitors will reach around 400,000 by the end of the year. Last year, a total of 247,277 Chinese citizens came to Turkey while the number was only 167,570 in 2016.
"In order for Turkey to attract more tourists from China," Önen stressed, "The country must offer products and services that best serve Chinese cuisine and dietary habits." There should be more Chinese restaurants and more tourist guides who can speak Chinese very fluently. Önen also emphasized the importance of using more Chinese signboards at bazaars and shopping malls.
Regular flights pose a hurdle for reaching the target of 1 million tourists from China. Currently, Turkish Airlines (THY) has 34 weekly regular flights from various Chinese cities, according to a report in May, and some of these flights are organized with Chinese airlines with whom THY has code-sharing agreements. As Önen explained, in 2019,Turkey's national flag carrier THY will launch flights to another Chinese city, and more aviation agreements will be signed between the civil aviation administrations of the two countries.