A new Turkish school in Qatar's capital city Doha, which was built upon the request of Turkish President Recep Tayyip Erdoğan, has been inaugurated with a ceremony on Wednesday by Presidential spokesman İbrahim Kalın.
The 250-student capacity Doha Embassy Turkish School is set to give education according to the Turkish education ministry's official curriculum, mostly in foreign languages.
Meant to provide both primary-school and high-school education, the institution covers 10,000 square meters, and has been built at a total cost of 20 million Turkish liras ($5.45 million).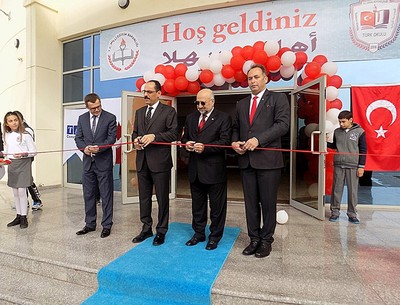 The complex includes 2,500 square meters of confined space, along with a laboratory, library, and playfields. The institution employs 22 people, including 15 teachers and two administrative officials.
Presidential Spokesman Kalın said the opening of the school is the crowning of Turkish-Qatari bilateral relations, while noting that it will help further develop ties.
''This school will provide educational services for both Turks settled in the country and the citizens of other countries living in Qatar,'' Kalın added.