A group of 12 Turkish schoolgirls paid a visit to their Palestinian peers in Dar'ul Tifl el-Arabi Girls' School in Israeli-occupied East Jerusalem, staying with Palestinian families and attending school together with their new sisters as part of a unique student exchange program.
Students at primary, middle school and high school levels from Edremit district in Turkey's Western Balıkesir province stayed at the homes of their Palestinian peers for a week, following the visit of Palestinian schoolgirls to Turkey in October 2016 and allowing them to get acquainted with Palestinian culture. The group of Turkish schoolgirls was accompanied by the Director of National Education of Edremit district Yusuf Koç and teachers.
The program included touristic visits to Nablus, Hebron, Bethlehem and other ancient cities and the Turkish students were acquainted with Palestinian history, museums and religious sites. They attended Friday prayers in the famous Al-Aqsa Mosque in the historical center of Jerusalem and were received by the Turkish Ambassador to Jerusalem Gürcan Türkoğlu.
The Turkish students also attended class together with their Palestinian peers.
Following the exchange program, students from both nations stressed that they thought their cultures were very similar and perceived each other as friendly, warm-hearted and hospitable. Turkish students were met with strong interest in their native language and Turkish TV series, which are very popular among Palestinians. Both Turkish and Palestinian students were able to learn new words and sayings in Turkish and Arabic.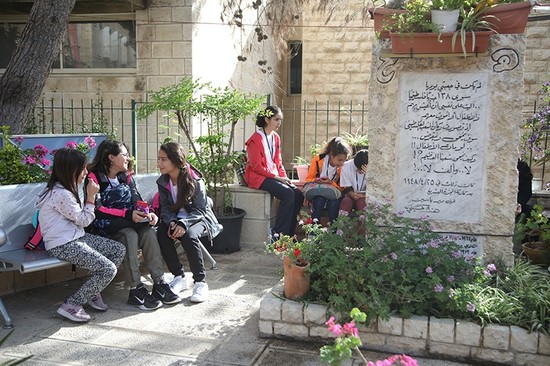 The student exchange forms part of the Foreign Twin Schools Project.
The project coordinator of the Twin School Project Yıldız Koçyılmaz Artan told Anadolu Agency that he had first harbored the idea of a student exchange with a Palestinian school when he saw a video of Palestinian children under Israeli occupation and became aware of their sad and lowly state and thought about a way to offer them some positive experiences.
While it has become usual for Turkish schoolchildren to visit European countries as part of exchange programs, the student exchange with a Palestinian school has been realized for the first time, Koç said. He hopes that the project will be an example for others to follow and underlined its importance. As for the Turkish schoolchildren, they seem to be very happy with their new experiences and opportunities for cross-cultural friendships, with one of them stating: "We have so many aspects in common that it was very easy to understand each other and become friends."