Turkey's Ibn Haldun University and Malaysia's Al Bukhary International University have partnered up with a collaboration protocol as the two states look to further their cooperation as Muslim-majority countries.
As part of the partnership, a collaborative education program will begin with the start of the new academic semester in September.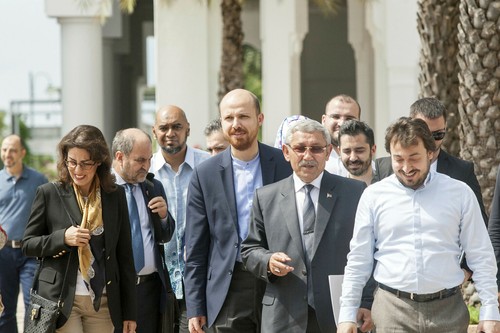 Officials from both universities (AA Photo)
In the first day of partnership, an event was organized in Alor Setar, Malaysia, where the Al Bukhary University is located.
Various educational units of the university were introduced to the audience during this event. A ceremony in honor of the students who passed the English training class was also held.
The International Al Bukhary University's campus is in the capital of Malaysia's Kedah state, Alor Setar.
The foundation-run university is known for its strong infrastructure and support for successful international students who mainly come from Africa, Asia and other countries in the region.
Turkey's Ibn Haldun University is based in Istanbul, with educational programs held in Turkish, English and Arabic.
Also a foundation-run university, Ibn Haldun provides high education in many fields, including the social sciences, law and political science.
Speaking to TRT World, Recep Şentürk, the dean of Ibn Haldun University, said, "I believe that academics in Malaysia and Turkey, if they collaborate and bring their forces together, can produce ideas and solutions for the problems of the Muslim ummah as well as the larger world."
Bilal Erdoğan, a board member of both Ibn Haldun and Al Bukhary universities, told Anadolu Agency that the collaboration would add a new dimension to Turkish-Malaysian relations.
"It is an important step for our relations not to be confined to economic ties but to expand them to cultural and social fields," Erdoğan said.
He noted that Malaysia and Turkey shared many common cultural traits and values.
"We will have student and lecturer exchange programs. We will have students from Turkey here in Malaysia for Asian studies and likewise, Malaysian students will go to Turkey for European, African and Eurasian studies, to learn Turkish and other languages," he said.
He added that apart from education, they foresaw cooperation on culture.
"For instance, the Museum of Islamic Arts in Kuala Lumpur, funded by Al Bukhary founder Tan Sri Mukhtar al-Bukhary, is one of the few museums in the world in its field. If we can combine this expertise with our experience on Istanbul's historic heritage, we can launch exciting projects," he said.
Apart from the usual curriculum, students will be offered Malay, Chinese and Japanese classes.
Irfan Gündüz, the chairman of Ibn Haldun University, says that students who will benefit from the cooperation would be able to build social changes both in the world and in their own countries.