A school for Syrian orphan girls opened in Turkey's southern Hatay province Wednesday.
The Khubaib Foundation Pakistan sponsored the "Damascus-Pakistan Primary and Secondary School" comprising 33 classes.
The school was built in a 100-acre piece of land in the province's Reyhanlı district where Turkey's Humanitarian Relief Foundation (IHH) and Qatar's Sheikh Thani Bin Abdullah Foundation for Humanitarian Services (RAF) as well as Turkey's Ministry of Family and Social Policy cooperated in the building for a "life center" for children where they live.
Speaking at the opening event, IHH Vice President Hüseyin Oruç said the center in Reyhanlı would prepare children for the future of Syria.
"The IHH did not do this alone," Oruç said, adding that institutions and organizations from Gulf countries and all-around the world had supported the agency for building schools.
"We have completed the opening ceremony for one of these [schools] today," he said.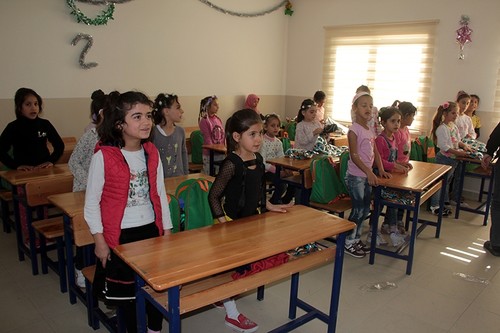 Orphaned Syrian refugee girls at a classroom in Damascus-Pakistan Primary and Secondary School (AA Photo)
"Pakistan, a country we have been sending aid for 25 years, is now collecting charity for Syria… and they built this school too."
After the opening ceremony, Pakistani officials visited the school and distributed gifts among children.
Syria has been locked in a vicious civil war since early 2011, when the Assad regime cracked down on pro-democracy protests with unexpected ferocity.
This led to a military conflict between the Syrian opposition groups and the Assad regime over the war-torn country's territory. Iran has been supporting the Assad regime during the war while Russia intervened in September 2015.
Peace talks were launched in Geneva in 2012 aiming to find a political solution for the conflict while Astana talks began in 2017 discussing cease-fire that has been fragile so far.
Hundreds of thousands of civilians have been killed in the conflict mainly by regime airstrikes targeting opposition-held areas while millions more were displaced. During the conflict, Assad regime was accused many times by many international actors of targeting Syrian civilians by chemical weapons.