Politicians cast their ballots on Sunday, as they emphasized participation in Turkey's historic constitution reform referendum was key to determine the country's future.
Prime Minister Binali Yıldırım was the first political leader to cast his ballot at Gölcükler Adnan Olcay Middle School in Menderes district in southern İzmir province. Hundreds of İzmir residences gathered at the schoolyard to see the prime minister, who greeted them amid extensive security measures.

He made a brief speech, in which he said the people throughout 81 Turkish provinces will vote to have the final say and they highly value the decision.
President Recep Tayyip Erdoğan cast his ballot at Saffet Çebi in Istanbul's Üsküdar district with his wife Emine Erdoğan and grandchildren.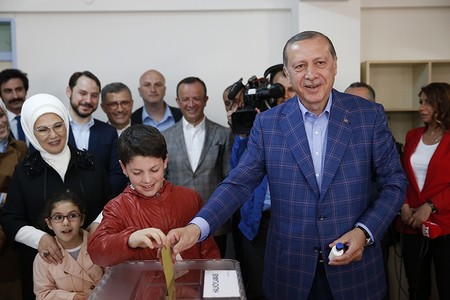 Hundreds of people gathered at the school where the president cast his ballot chanted for him.
"Today's referendum is not an ordinary one" Erdoğan told the press after he cast his ballot, as he said it will mark a transformation for the country.
He continued by saying that the transformation will allow Turkey to develop at a faster pace.
"We have faith in the common sense of the Turkish people, and the results will hopefully show this" Erdoğan said, and thanked the people for participating in the referendum.

Main Opposition Republican People's Party (CHP) chairman Kemal Kılıçdaroğlu cast his ballot in the capital.


Kılıçdaroğlu arrived at Arjantin Elementary School with his wife Selvi Kılıçdaroğlu and said that he hopes all citizens go to the ballot boxes with a sense of responsibility.
"Today we are voting for Turkey's destiny" Kılıçdaroğlu said, adding that he hopes "no" votes win.

Opposition Nationalist Movement Party (MHP) Chairman Devlet Bahçeli, who supports the "Yes" campaign, also cast his ballot in Ankara.

Foreign Minister Mevlüt Çavuşoğlu cast his ballot at Ayşen Cengiz Urfalıoğlu Elementary School in southern Antalya province's Alanya district.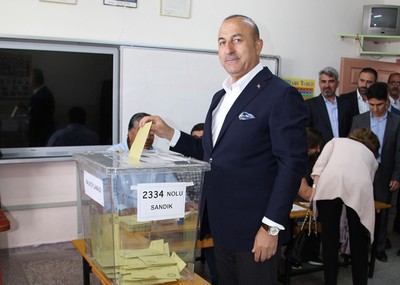 "Today the people have the final say and decision" Çavuşoğlu said, adding that some foreign countries tried to influence the elections by telling the Turkish people what to do.
"They took sides but today the decision belongs to our nation," he said.