Incumbent President Recep Tayyip Erdoğan declared victory after receiving 52.5 percent of the votes with more than 99 percent of ballot boxes opened while the alliance led by his ruling AK Party securing the majority in the parliament.
Main opposition Republican People's Party's (CHP) presidential candidate Muharrem Ince has so far received 30.8 percent of the votes.
Sadi Güven, the Supreme Election Council chairman, announced on early Monday that Erdoğan secured absolute majority votes and remaining uncounted votes will not affect the results.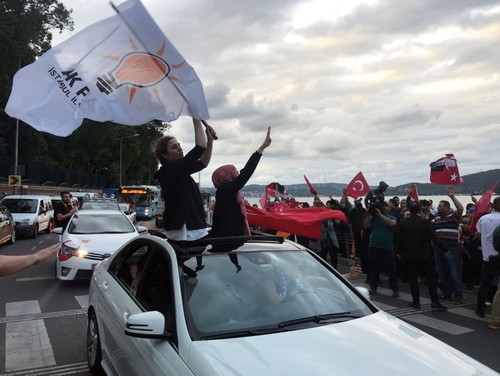 AK Party supporters head to Huber Mansion, Erdoğan's official residence in Istanbul, start to celebrate the election outcome as preliminary results suggest victory for the incumbent president
Meanwhile, the newly formed Good Party's (İP)' presidential candidate Meral Akşener gets 7.5 percent of the votes and the pro-PKK Peoples' Democratic Party's (HDP) candidate Selahattin Demirtaş has won 7.2 percent.
Temel Karamollaoğlu for the Felicity Party (SP) had 0.9 percent of the votes and Patriotic Party (VP) Chairman Doğu Perinçek managed to garner only 0.2 percent of the votes.
In a speech at the presidential mansion in Istanbul's Sarıyer district, Erdoğan claimed victory and thanked Turkish electorate for their support to himself and the Justice and Development Party(AK Party).
İnce said that he will make a statement after Turkey's Supreme Election Board (YSK) announces provisional results
In the parliamentary elections, the People's Alliance formed between the AK Party and the Nationalist Movement Party (MHP) received 55.8 percent of the votes with 72.1 percent of the total votes counted.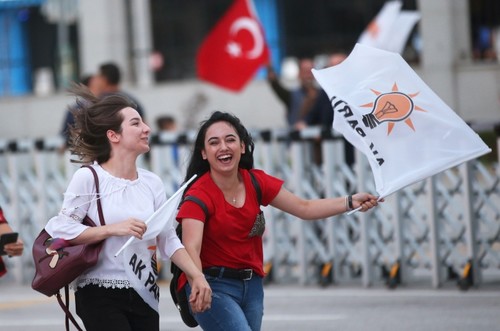 Supporters of Turkish President Erdoğan hold Turkish and AK Party flags and greet after closing voting for the Turkish presidential and parliamentary elections in Ankara, Turkey, 24 June 2018
The National Alliance formed between the CHP, İP, and the SP collected 32.8 percent of the votes.
With the polls officially closed, electoral committees across the country's 81 provinces have started counting ballots.
Votes were cast in 180,065 polling places across the country.
Voting at Turkish customs gates with adjoining countries, which began on June 7, has also ended.
Votes by Turks living abroad who cast their ballots in 60 countries at 123 embassies and consulates will be counted at the same time in the capital Ankara.