Istanbul's top two mayoral candidates on Sunday sat down for a televised debate a week ahead of a rerun of polls in the Turkish megalopolis, home to some 16 million people.
The debate between People's Alliance candidate Binali Yıldırım and Nation Alliance candidate Ekrem Imamoğlu at Istanbul's Lütfi Kırdar Congress Center started under the moderation of veteran journalist and TV presenter Ismail Küçükkaya.
Millions of Turkish citizens tuned in to the debate between Yıldırım and İmamoğlu, gathering in squares and cafes to watch the live broadcast on seven channels.
Küçükkaya opened the debate by asking each candidate to weigh in on what happened in the March 31 elections and the rationale behind the decision for a rerun.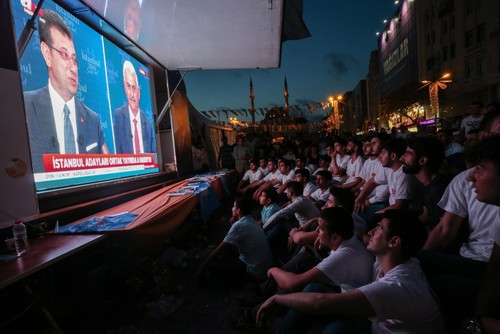 Yıldırım insisted that his Justice and Development Party (AK Party) did not prefer a rerun, but the opposition People's Rebuplic Party (CHP) did not accept its suggestions for a full recount of the vote.
"Our preference was not to renew this election. We tried very hard for this, but the CHP did not help us. They refused our request for a full recount and rejected the decision, so we had to go to the election," he said, adding that "stolen votes" necessitated the rerun.
"If my vote was tallied for the CHP or another candidate, this was theft. There's no explanation for this," he added.
Imamoğlu fiercely refuted his opponent's assertion that votes had been stolen, asking who had stolen the March 31 election, in which he was briefly named mayor before Turkey's election authority overturned the results over irregularities and illegalities.
"Are your words for AK Party polling officials, for the Good (IYI) Party, for the MHP's (Nationalist Movement Party) or the CHP's? Or for the heads of balloting committees?" he asked.
"The renewed election is a struggle for democracy, it's not just a local election," Imamoğlu said.
Speaking on Imamoğlu's attempt to copy data from the Istanbul Metropolitan Municipality during his brief tenure in office, Yıldırım said: "This copying data work is a FETÖ (Gülenist Terror Group) tactic. FETÖ did it in its history," referring to the group behind the defeated 2016 coup attempt in Turkey.
Yıldırım stressed that three experts from outside the municipality were also appointed for the process of copying the data.
"This is a disastrous thing in itself," he added.
In response, Imamoğlu said a mayor could do any work or examination regarding his city government. He also said the process posed no security risk.
Regarding the situation of over 500,000 Syrian refugees living in Istanbul, Imamoğlu said: "We will establish a special unit to address the Syrian refugee crisis in Istanbul. We will hold a refugee population census, especially among children."
Responding to the same question, Yıldırım answered: "Syrians living in Turkey are under temporary protection. They will return home. Nearly 500,000 people returned to areas liberated from terrorists by Turkey and more will leave after area east of Euphrates River is cleared."
He also said Syrians living in Istanbul who disturb the peace or engage in illegal activities would be apprehended.
In regard to green spaces in Istanbul, Yıldırım said he would create 20 "green corridors" and integrate them with Istanbul's northern forests and planned "public gardens," greatly boosting the city's green space.
In regard to the issue of transportation and traffic in Istanbul, Yıldırım said, "We will add 50 kilometers of railway systems annually, saving Istanbulites an extra 30 minutes of time spent commuting."
Imamoğlu responded by saying that "To reduce traffic and improve transportation, we will work with all actors on the roads — including drivers of taxis, minibuses and service vehicles — as well as develop sea transportation."
Yıldırım also said his administration would provide 10 GB of free internet for youth, in addition to making entry free to municipality museums, theaters and sports facilities.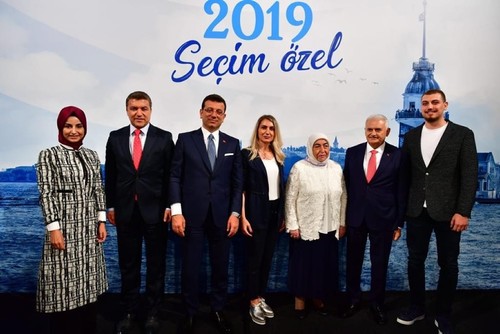 Yıldırım and Imamoğlu are vying for the Istanbul mayor's seat again after the Supreme Election Council (YSK) ordered a rerun of the March 31 Istanbul polls.
The results of the vote were canceled after the ruling AK Party and MHP appealed to the council, citing irregularities and violations of election law.
The two candidates concluded the evening by taking a photo together with their family members and Küçükkaya in a show of unity.