Speaking to Daily Sabah Thursday, Energy and Natural Resources Minister Berat Albayrak avoided making any statement about the export of Israeli gas to Europe through Turkey, saying that diplomatic relations between Turkey and Israel should be normalized so that the natural gas resources from the Leviathan field can be transported to Europe through Turkey.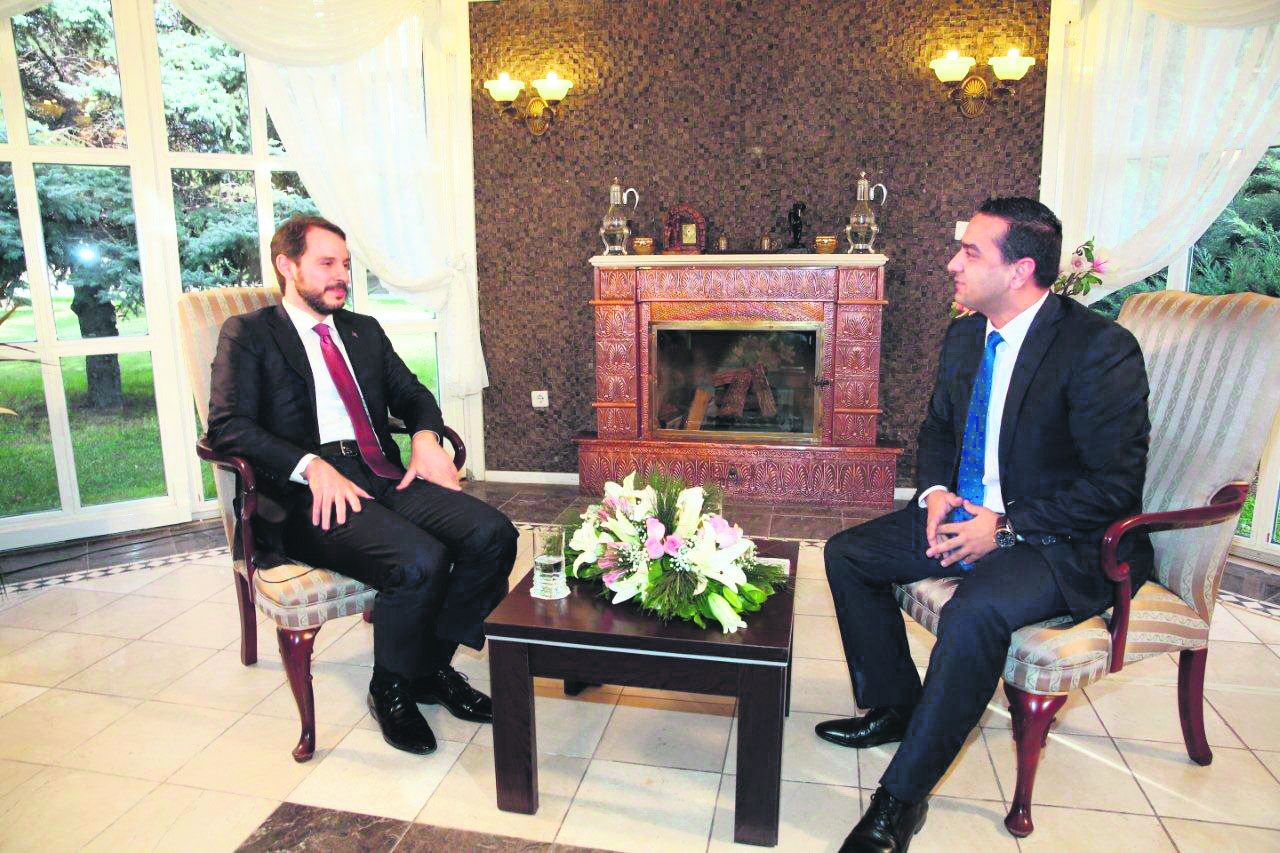 Energy and Natural Resources Minister Berat Albayrak (L) spoke with Daily Sabah's Ali Ünal Thursday in Ankara.

In reference to the three conditions that President Recep Tayyip Erdoğan laid down for the normalization of diplomatic ties with Israel, Albayrak said it would not be realistic to think that Ankara would normalize any kind of its relation, including energy, with Israel unless it fulfilled these three conditions. Underlining that the normalization of bilateral ties would make positive contributions not only to energy, but also many other fields, Albayrak said the government would not frown on energy projects with Israel if the foreign policy crisis with the country is resolved and relations return to normal. Regarding the Turkish-Russian tension and its effects on the energy sector, Albayrak said that Russia, which is Turkey's largest natural gas supplier, has not made a negative statement about energy exports to Turkey despite the ongoing tension between the two countries. "We do not think we will face a major crisis about the flow of Russian gas, but we have measures and alternatives to it. We are taking all kinds of measures to avoid any gas problems during the winter," he added.
Concerning how Turkey's bid for receiving a discount on Russian gas will occur in an environment with strained bilateral relations, Albayrak said the situation stems from the agreement between Turkish and Russian gas companies and Ankara would not give up the agreement about the discount.
Albayrak also said that as opposed to last week's news reports suggesting that Russian Rosatom State Atomic Energy Corporation ceased the construction of the Akkuyu nuclear power plant, the Russians have not yet officially notified Turkey about the cessation of the construction of the nuclear power plant and the work on the construction is under way. He said that both Turkey and Russia are obliged to fulfill their responsibilities as stipulated by the agreements.
Stressing that Turkeys should have annual growth of around 5 percent and integrate between 5,000 and 10,000 megawatts of energy to its system every year to satisfy its increasing energy requirement, Albayrak suggested that the Energy and Natural Resources Ministry should develop projects to enable the public and private sectors and foreign investors to gain so that Turkey can continue its stable growth over the next 10 years.
"We have so far launched many successful projects and achieved growth," Albayrak said, adding that the government has many other projects to go beyond its current policies in terms of the diversity of energy products and the market. "We aim to actualize and develop the use of different instruments and technological investments and research and development activities in Turkey and we approach this issue with plans that cover 100 years," Albayrak said.
Touching on the nuclear power plant projects in Turkey, Albayrak said the projects are continuing as planned and the location of the third nuclear power plant has not yet been determined. According to Albayrak, the contract process and all other procedures regarding the third nuclear power plant are expected to be finalized by 2017.
Albayrak said that the decline in oil prices is a positive development, as Turkey will reduce its energy imports, and that the estimated oil price for 2016 is around $40. "Because the decline in oil prices affects other energy sources, the total energy cost shows a significant decrease, which will bring a significant decline for Turkey as well," he explained.
Since Turkey is not an energy-rich country, Albayrak also said that work in the field of energy needs to be looked at with a perspective for the medium term. He said: "It is evident that energy has been the key element to Turkey's economic and political growth since 2002. In a region where intense developments are taking place, we must look at medium- and long-term goals." He said that there are plans to establish energy storage facilities and further develop Turkey's energy capacity: "We need to do our projects at the maximum level in the next four-year plan while establishing a 100-year plan. We are looking at it with this perspective." He said that energy policies have always been important, but have become more forward in this period, and that the ministry is in close cooperation with other ministries as well as stakeholders in the field.